i hate it when it rains. especially when i'm outside or when i need to go out. may bagyo ba?
prang gusto ko na lang mag-stay sa bahay at magmukmok kasama ang sandamakmak na gamit, gadget at isipin.
hay, hirap 'pag lutang ka... sobra.
the only good thing about the rain is that it gives additional texture to lighting design by wetting the streets. wet streets absorb more light and it doesn't make your film look dull. notice how night scenes in most hollywood movies have wet streets, na parang kakaulan lang o sinadya nilang paulanin ng konti tapos wala na para wet ang street. that is actually for cinematographic purposes. i learned that from an american cinematographer eons ago when i was still young and wanted to be a cinematographer myself.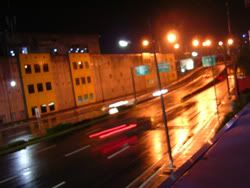 comme ca
eto, hindi ko binasa ang kalye. kakatapos lang umulan at nasa isang establishment ako sa the fort yata ito (can't remember; the night was forgettable). good thing i was outside in the overlooking area and had my camera then kaya may-i-shoot ko itong flyover na itich. the speeding car reminded me of the delorean in
BACK TO THE THE FUTURE
. kyut.
anyway, stay dry, folks. will try to do the same.
read muna review ko ng
UNDERWORLD EVOLUTION
here
.