a sincere goddess's beacon of light descended upon me a thought that has been long overdue:
--- !!!!!!!analysis paralysis!!!!!!! ---
such is the disease i am afflicted with now. for the past year. past two years. or more. i cannot recall.
boredom
information overload
memory loss is a sure symptom of it. ay-ay-ay....
gosh...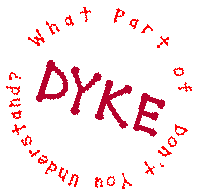 drew, i think i was trying to be a model in the picture below hwehwehwehwehwe. this was in baguio, my film production company's boss' baguio vacation house, circa 1996. we just bought that top thingie i was wearing for 25 pesos (or rather, my friend made pilit na bilhin ko at isuot para mag-pictorial kami hahaha). kaya ayan. a camera and imagination with beer produces such records of posterity. punyeta, 27 pa ang waistline ko niyan!!!
eto pa isa: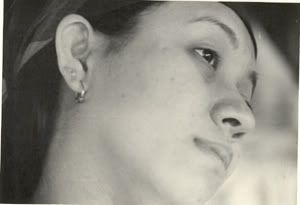 this was then...
ehehe byaning na ko nito eh. look closely at the earrings, kung di kayo madokleng. :) upwritersworkshopwork.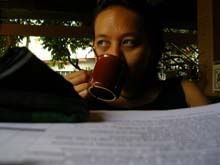 this is now
wondering whether drinking a second cup of coffee is better than reading words full of surface tension
sans
grounding...
anyway, not to be totally incapacitated, read
my analysis of THE L WORD
put in an asian/pinoy context na lang. thanks to the
L word meet-up group manila
for your insights, gals. will show up in the next meet-up na, promise. :)
hmm, i like what my reading today implies:
"The last few weeks have been a time to rethink old ideas, reconsider plans and to travel mental territory already covered. Now, however, we are ready to apply what we've been thinking. Details will begin to take care of themselves and we'll be free to focus on the future."
methinks the stars are correct! winner! hay. as a friend used to say to me, everything will fall into place. i think they already are. i'm glad the universe has an ear pressed on the wall of my world to listen in, and actually did some shaking up to rock my world when it heard my pleas... thanks cosmos. may the force be with me talaga...
phvwuuung!!!