what does "lateral mass" mean? ewan... abangan.
i'm in between episodes.
queer as folk
episodes, that is. i feel like the beginning of season 4 and then vacillating towards the middle of season 2. yeah, i think that's it.
this was the time when brian kinney, my favorite no-nonsense guy, finds out he is not so perfectly young and beautiful anymore. well, he is, but like any other human being, he is not Rage the gay supehero all the time. so there. and then this is also the time when emmet our favorite nelly gay dude waits over the weekend to find out if he is HIV-positive or not. lucky for him, he isn't. too many poz characters in it already, actually, kaya buti na lang spared siya.
heniwey, dis wos a crezy week. nag-ritual ritual kami a few days ago sa opis kasi board meeting ended and it was time to let go of a few people who let go of us na. ayun. ritual served in orocan or gladwrap, take your pick. it depends on the motivation at hand at that time.
and GUESS who was chosen (read: pinilit!!!!!!!!) to be the ritual master...
'nyemas. i was trying to channel grace nono [enter bkk2004 flashback: "mic test, mic test, tok tok tok" reaction shot ni indi: "!#@%*"] but for the life of me, i don't know why the contestants of Ms. Gay Philippines were the ones i channeled! bading!
in sisterhood! manash! hahahahahahahahahaha. you have to be there to believe all this. it was so fucking funny at that time. fuck-ing fun-ny.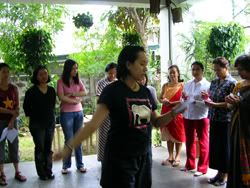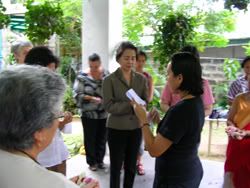 cirque du libay teeheeheeheehee men ang laki ng wepaks ko! potah.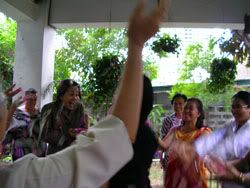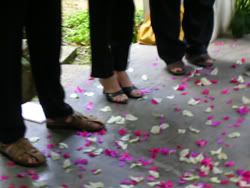 a bading! zizteeer! ayan kalat nyo, walisin nyo!
special thanks to my
isis
sisters for holding their giggles and laughs in, in order for me to concentrate on the ritual chuva and appear to be solemn about it.
'ika nga ni manay lolit solis
"solemn daw, o!"
tapos kahapon, funder meet. wow dude, hippie si german funder hahaha. ayos. and
i
thought
i
should channel brian kinney the savvy advertising account manager at that time. i was overdressed!!! pero ayos na rin. at least mukhang shinampoo ang hair koh hahahaahaha. hindi yan rebond!




anyway, was fooling around with the coolpix... and google... and entertainment choices teeheehee. wala talaga magawa hane? nah, i'm just happy kasi may natapos akong trabaho today.
results are in!
separated by d'sport: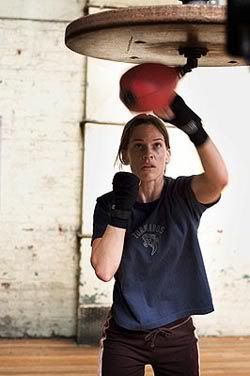 million dollar baby meets...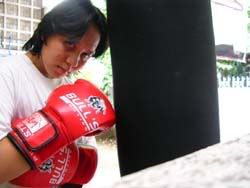 million dollar debt op da pilipins to imf/worldbank baby
separated at birth: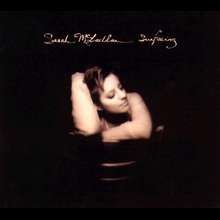 sarah mclachlan: surfacing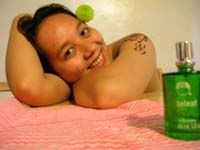 zarah naglaklak: sopas-ing
BILLBOARD TAGLINE: leaflens, the new spokesmodel for beleaf, one of body shop's newest scent.

RADIO AD: "Try it. Hindi siya amoy dahon

or

bagong putol na damo."

hahahahahaa tangina naloloka na ko. lateral kasi e. shall i go to mass tomorrow? palm sunday nga pala. should we get one of 'em palaspases? wala lang... mga mariang palad ba magsisimba bukas? palm eh. hahahahaah. poonyetah gutom na 'ata ito.
inaaliw ko lang mga kaibigan kong nasa malayo. hello sa inyo!!!
*waves*
kia, glad you liked zsa zsa heheheheh. para di mamatay ang kinang ng iyong inner vakla. hihihihi.
sya, gonuts donuts muna ko.