it's holy week. are we supposed to be holy? 'ika nga ng sosyal, "no naman."
but, we are supposed to reflect on things. sabi nga ng isang mabuting kaibigan sa akin, have a meaningful holy week. now let's see what kind of meaning will be revealed to me these next few days...
actually, nagsimula na kahapon, with that revelation i talked about in my earlier post. today was spent reflecting on yesterday's new-found knowledge. was it worth it? yes, worth knowing, because ignorance is not an option for me. like i always tell people, i would appreciate it if they tell me to my face straight up the brutal truth about things. better this way. i hate guessing. i am sensitive enough to feel certain things, but i'm not built to be a psychic. plus, i love learning about new things about anything and everything. sophist ba ang tawag doon? basta, i like learning lots of stuff, yun na. kaya i hate ignorance e. ayun.
as i continue my reflection today, in the wee hours of the day when christ supposedly dies on the cross, i think about selfishness and selflessness. i have been guilty of the former, i know, several times last year and even this year. maybe i should change that, but the trick is, how to change that without sacrificing who you are or what you need and want. it's hard. i'm still struggling with that thought this very minute. now this is a real challenge.
as for selflessness... there have been times that i gave up a lot of things for the good of someone else's wishes and dreams. i've had my fair share of these thrown my way, too, and i appreciate those who do that for me -- those who take care of me, look out for me, care for me, are concerned--genuinely--about my welfare and all, those things. i am amazed that despite the yabang and the brattinella personas taking over sometimes, they can still stand me. now that's their challenge. and i thank the heavens for their presence.
i guess it's also time to cleanse the mind of extra thoughts. trim the fat, as nvm used to say to me. not only does that apply in literature, but in life as well. kaya ako, with all these new knowledge combined with the old ones, i should say i need a reboot of system and i definitely need to defrag. a trip to the beach could do wonders for me. maybe during the summer's peak. we'll see. i need to leave and disappear again. i have to save up for that first.
share muna ko photos.
A MISHA MORNING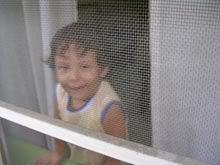 ang bata sa bintana sa tabing bahay... my nephew.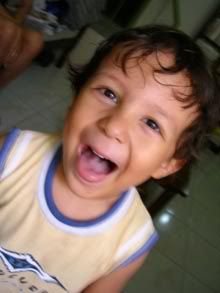 yan ang aking 5am alarm clock, falsetto pitch mode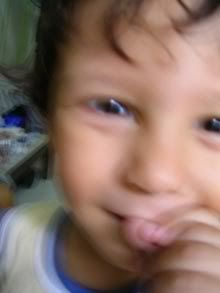 he loves to be photographed and has warmed up 2 me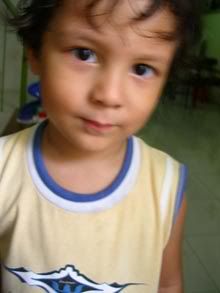 kagwapo hane? he's half french kasi.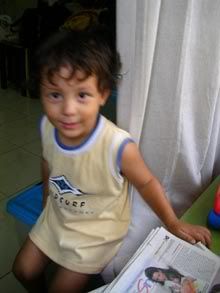 cutesome!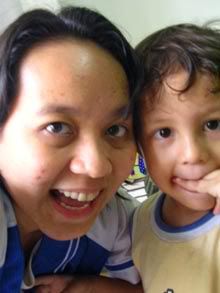 separated at birth kami. baby pic ko kamukha nya!
LAMAN TYAN LATELY
i love photographing food. kaya hapi noong time na kinarir ko ang pagre-review ng restos and bars all over. dami ko nice shots of foodies pero nasa negatibo sila lahat. man, thank goodness for this new technology talaga. it's truly a digital revolution.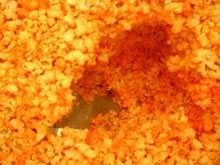 popcorn cave!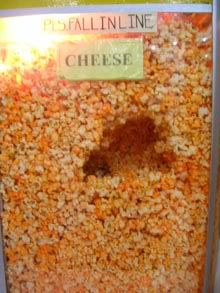 galing yun dito.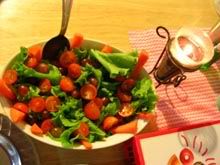 luuuuv those cherry tomatoes in salad man. gawa ko yan. pero may pasaway na gonuts donuts naman dun sa tabi hihi pa-healthy kunwari.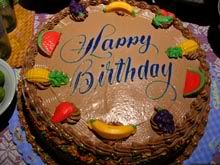 i didn't eat this (i hate cakes, i'm a pie/mousse person) but it looked good enough to shoot (and i dig those fruity thingies all around); raij's, she turned, er, how old na nga? just this week.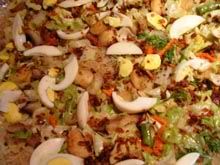 pansit na namaaaaaaaaaaaaan???
hehe in fairness, msarap sha. handa ambag namin.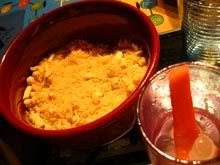 chicks n swirls
yung mga foodie na naririnig ko lang sa laro kong mga city-bulding computer games dati, nakakain ko na sila lately! this is chickpeas, and some bread cracker thingies made of chickpea flour, dala ni susanna. dati naman i was able to eat figs na from iran. hehe. oh, that drink there is my recipe naman. with a carrot stick as swirl stick. eh, wala kasing celery eh, so carrot na lang hehe. vodka with something. can't remember the combi.