while waiting forever and ten days for this ellen youtube clip to load (sensha na baba sahod sa guro ng peyups kaya di namin afford ang broadband sa bahay) e nagtrabaho muna kong konti. ay hindi pala, nag-attempt magtrabaho to no avail. so i just did what i haven't done for a while -- google myself. feeling vain ako ngayon e, or perhaps "waiting in vain" for this clip.
as of this writing, i checked the 20 pages na nakalista sa google na naglilista daw ng name ko or some permutation. same old same old lang din naman. the usual isis stuff is there of course, sa dami ba naman ng sinulat ko dun e. tapos the usual literary reference chenes, like ginagamit din palang part ng syllabus ang mga kwentong sinulat ko dati. kaka-flatter naman yun. tapos minsan, i run across some thingies that make me say, "wow, i said that?"
like this:
Women's perspective is "an engendered perspective, or what NGOs usually term 'gender sensitivity'," said Libay Linsangan Cantor, media and "infocom" campaigns associate of the feminist nongovernmental organization Isis International-Manila. Basically, she explained, it means women's welfare should be taken into consideration, the objective being to remove any bias against women and ensure equality with men "in anything, including news reports."

Among the issues that need to be discussed in the media but are hardly taken up, Cantor and Azarcon-de la Cruz mentioned reproductive rights and reproductive health and abortion. The provisions of the reproductive health bill, for example, have not been thoroughly presented, Azarcon-de la Cruz said. "Where in the bill does it say that it legalizes abortion, as its opponents claim?" Cantor also raised issues like sexuality or sexual orientation, indigenous women and other marginalized groups like farmers and the urban poor, and "issues that the mainstream media avoid so as not to irk the Catholic Church."
ah, ang tarush ng lola mo. during my very lucid moments, ang harshness ko pala no. hehe as if i didn't know that. ching! chika lang.
read the rest here .
pero minsan nakakagulat ang mga ibang discoveries. like na-mention ako sa blog ng isang gaydude na di ko kilala. may nag-recommend sa kanya (o siya ang nag-recommend) ng short story ko sa isang tao. kewl naman.
o kaya matitisod mo ang blog ng mga colleagues mo at may excerpt na ganito:
Pangalawang beses na itong naiatas sa akin, ang pagpili ng mga pinakamabuting kwento. Noong una, sa taong 1997, binanggit ko ang pamantayan ng pagpili—una, ang kasinsinan, kundi man inobasyon, sa gamit ng kumbensyon sa pagkukwento; at ikalawa, ang kasinsinan sa politikang tinangkang gamitin at palawigin. Tatlong taon matapos, sa taong 2000, hindi naman lubusang nagbago ang pamantayang iyon.

Sa unang pamantayan, dapat ay higit ang lamang ng "senior" sa nakakabatang manunulat. Pero kapansinpansin ang interaksyon ng mas nakakatanda at batang manunulat. Nandito sina Reynaldo Duque, at ang henerasyon ng Katha—sina Eli Rueda Guieb III, V.E. Nadera Jr. at Orlando Maliwanag. At nandito rin ang umuusbong na bagong henerasyon ng kwentista—sina Daniel ______, Mario L. Cuezon, Alwin Aguirre, Libay Linsangan Cantor, Jose Maria Bayani, Alva Pao-Pei Marano, at marami pang iba. At ito ang nakakatuwa sa kwento ng 2000: kahit pa limitado ang publikasyon, patuloy pa rin ang mayamang produksyon ng kwento. Integral ang mga publikasyong ito sa pasusustena ng buhay at pag-unlad ng panitikang Filipino.
o ha. winner talaga si lola roland ! hehe.
minsan din may ganitong quote, na medyo lumilihis ng slyyyyyt konti:
Libay Cantor, 32, filmmaker, the Palanca Award-winning writer and lesbian advocate reveals, "Bisexuals are a marginalized group within a marginalized group." "Bisexuals are typecast 'bi and bye'—that they will dump you for a guy. Some advise that to have a lasting, loving relationship, do not get a bisexual for a partner. Their partners, especially the heterosexual ones, suffer. What do you do when they [bisexuals] look for a body part that you do not possess?"
well at least binawi naman sa huli, comme ca:
All respondents noted a growing trend among the youth in favor of bisexuality. Though Pro-Gay states that there are no exact figures on the number of homosexuals and bisexuals in the Philippines, Cantor notes, "They [the youth] don't want to be labeled. They are more open to experiment." Falguera affirms observations on the dynamic sexual orientations of today's youth and notes that this may erode commitment and support for the LGBT movement. However, Cantor reassures, "The rainbow represents us. There is an entire alphabet we can add to LGBT."
anyway, read the rest here na lang.
freyndsheep ko naman ang awtor kaya keri na rin. his heart is always in the right place.
pero ito kakaiba. may ganito rin pala hehe.
이 책에는 필리핀에서 꽤 알려진 레즈비언 작가인 Libay Linsangan Cantor의 글도 실려 있 >다. 필리핀 최초의 대학 내 레즈비언 조직인 UPSappho
foreign language literal! ano kaya ibig sabihin niyan? but judging from the sappho tag, baka lezsite ito ng mga orgs sa korea or somewhere. noh? malamang.
minsan magugulat ka rin kasi biglang may excerpt na andun pangalan mo, like this one blog saying favorite niya ang fridays kasi dahil sa class ko, o kaya happy siya sa grade niya sa film niya dahil binigyan ko siya ng uno, o kaya they are beginning to like me as a person chenes -- yes folks, blogs ng students ko. heartwarming naman.
kakaiba sila. walang pakundangang magsulat. merong andun na sasabihin o magrereklamo kung bakit mababa ang grade nila sa scripts nila (binasa kaya nila ang assessment ko?) o kaya tatawagin akong fat biatch or something, at gagawa ng stage play na isa akong karakter. nakakatawa sila. creative, at nakakatuwanatutuwa naman ako kahit nilalait ako minsan dahil nakakapag-express sila ng ganun. kasi nga liberating na ang medium na ito, so i highly encourage it, kahit laitin nila ko o puriin. so sige lang, sulat lang ng sulat. para mahasa ang mga utak pa.

*
my long lost friend in paris dropped me a line in ym lately (sa wakas sabay kaming naka-online after ten thousand years), and i so envy her! she was a hug away from voldemort! ralph fiennes, that is. and in cuba, no less! ayayayayay!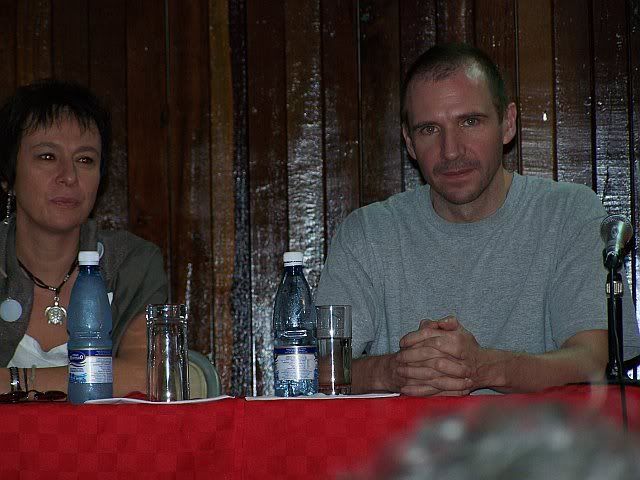 inggit mode me! arrrr! je t'envie, pascale! hehe (did i get that conjugation right?). i hope you shagged him hahahaha! kidding!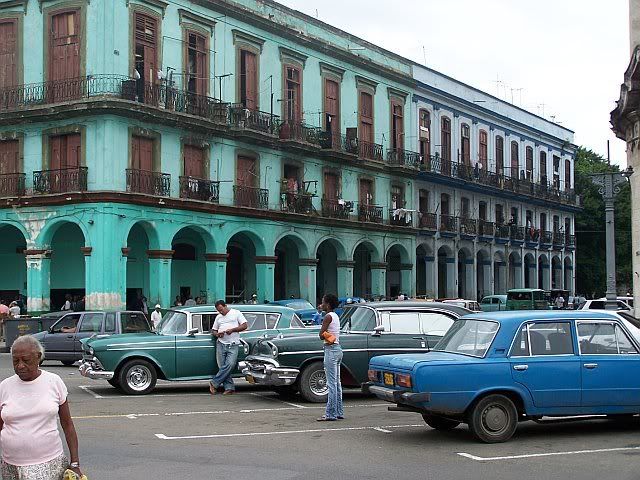 arrr! mas inggit mode! the architecture and the culture! havanaaaaaa! vamos vamos tayo dun!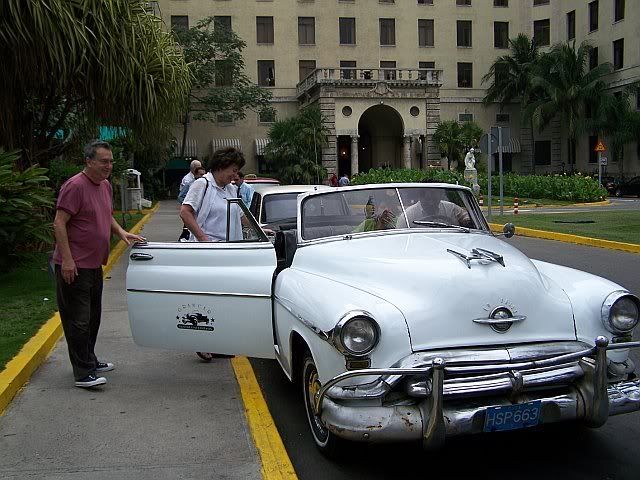 mega-inggit mode! arrrrr! i so love the cars there talaga. ganyan mga dream cars ko kasi e hehe. viva cuba! cuba libre! libre niyo ko papunta dun! hehehe.
but first, off to this place...
punjabi mc anjan ka ba? chos
yep. rajasthan or bust. more like lipad naaaa! yebah india! haha yes, i got it. salamat.

pero kung kayanin din ng powers, paris or bust din. maybe in a year's time, or when i finally get my MA finished and that's my gift sa sarili ko. anesh? puwede. hmmm... pero mas bet ko ang havana e. wat u tink?
a friend is going to paris pala next week. well, i hope she discovers what she's looking for, finally...kahit nasa ibang continent yun. gudlak sa yo, mare. hirap ng sitwasyong yan! hay...
another friend dropped a line sa ym din kanina. sa denmark naman siya. stay well there indi! i'll wait for the postcard! :) have fun! kaya lang ano'ng hitsura ng 4:30pm sunset? patingin picture!

hello din sa friendships in tokyo! we really had a blast, dre, no? sarap. balik kayo agad! now nah! :)
and since we're at it, hello na rin sa friendships in nooyawk! :) stay warm, girls. as in, really warm, ha, you know what i mean hehe.
ponpokopon, sana nakabili ka ng komiks. andito ka pa ba?
thanks din lhen sa solidarity statement hehe. mabuhei!