you just have to love the cool intellectual media advocate misfits at adbusters.org for coming up with a new campaign that FITS my holeydaze mood.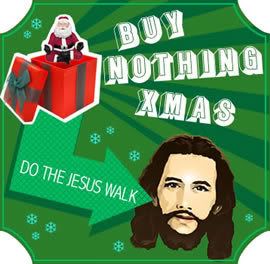 Adbusters Newsletter #35: Reclaim the Season

------------------------------------

WWW.ADBUSTERS.ORG

------------------------------------

Dear Jammers and Cultural Creatives,

If you celebrate Christmas, you likely don't need any reminders that it's just around the corner. You are also probably well aware of how stressed-out, hyped-up, dumbed-down, and just downright expensive the "holidays" have become. Nevertheless, we thought we'd take a moment to remind you that it doesn't really need to be this way.

All it takes is a few simple changes -- less presents, less decorations, shorter "to-do" lists, and a wee bit more good old-fashioned craftiness -- to bring a new rhythm, purpose and spirit to one of the world's chief cultural rituals, now warped beyond recognition. Consider it a long-term cultural project for the those seeking a little consumer sanity, a way to rescue our shared traditions from corporate interests and those who confuse big sales with real cultural meaning.

Of course, re-inventing tradition is not the type of thing that happens overnight. But that doesn't mean we can't start right away. If you need a bit of inspiration, check out our new BNXmas headquarters at www.adbusters.org. We have ideas for holiday actions like "The Jesus Walk," links to extensive web resources, plus downloadable posters, cards, and gift exemption vouchers to give to your friends and family.

Like-minded people worldwide have already posted their plans for a less materialist, more meaningful holiday. Once you've had a chance to see what everyone else is up to, go ahead and share your own thoughts and plans via the web form. And if you have spare second during this busy time of year, be sure to forward this year's press release (below) to your local media and absolutely anyone else that might be interested in what we're trying to accomplish.

Good luck and all the best in the new year.

Cheers,

The BNXmas Team

P.S. Email us at with your BNXmas posters and photos, and we'll try our best to feature them on the site.

---------------------

FOR IMMEDIATE RELEASE

HAVE LESS, LIVE MORE: BUY NOTHING CHRISTMAS

RECLAIMING THE SEASON: Those of us who shiver at the thought of hour-long line-ups and $5 gift tags finally have something to rejoice about over the holidays: fed-up citizens and social activists from across the world are inviting everyone to take part in Buy Nothing Christmas.

Inspired by the international successes of Buy Nothing Day, and disgusted with the personal debt, spiritual emptiness, and ecological damage that the holiday season now entails, writers and activists began to heavily promote the idea of a downshifted Christmas in the late nineties. Since then, the idea has been taken up by individuals, community groups, churches, and schools in at least a dozen countries, with strongest support in Canada, the USA, the UK, Australia and New Zealand.

Despite the name, the Buy Nothing Christmas campaign is not really about refusing to spend a dime over the holiday season. It's about taking a deep breath and deciding to opt out of the hype, the overcrowded malls, and the stressful to-do lists. It's about reminding ourselves to really think about what we are buying, why we are buying it, and whether we really need it at all.

"First and foremost, it's about restoring authenticity to one of the world's great religious and secular traditions," said Kalle Lasn, editor-in-chief of Adbusters magazine and long-time advocate of holiday restraint. "Christmas has been warped beyond recognition by commercial forces. It's about time we took it back."

Most participants will still exchange gifts, but will opt for recycled, homemade, locally produced, or fair-trade items. Some will excuse themselves from gift-giving altogether, and focus instead on valuable time with family and friends, on charitable works, and on rediscovering older, non-commercial holiday traditions as they also invent a few new ones.

Throughout the month of December, activism-minded participants will be taking two of these new traditions to their local malls and commercial districts. Groups of meditating Santas – dubbed "Zenta Clauses" – are offering stressed-out shoppers free soup, coffee, and a place to rest their aching feet as they take a break from buying. This year, they will be joined for the first time by slow-moving activists in robes and Jesus masks, who will be asking their fellow shoppers one all-important question: "What would Jesus buy?"

For more information and media interviews contact

MEDIA LIAISON: Clara Kuoch

TELEPHONE NUMBER: 604-736-9401 EMAIL: clara@adbusters.org

Editor's Notes

[1] For more information on Adbusters, Buy Nothing Day, and Buy Nothing Christmas, and to read comments submitted by hundreds of people on how they are going to reduce their holiday consumption, visit www.adbusters.org.

[2] For a Christian perspective on the idea, and for tips on how to celebrate a Buy Nothing Christmas, visit www.buynothingchristmas.org

[3] Shopping and consumption facts: * Consumer polls from the last several years peg the per capita holiday spending average in the U.S. at around $800 - $1000, with consumer debt growing twice as fast as wages. * Annual per capita consumption in the U.S. has risen 45 per cent in the last 20 years. * Although people today are, on average, four-and-a-half times richer than our great-grandparents were at the turn of the century, Americans report feeling "significantly less well off" than in 1958. * A 2003 article in New Scientist featured research suggesting that the more consumer goods you have the more you think you need to make you happy. Happiness through consumption is always out of reach (New Scientist, 4th October 2003, Vol.180, Issue 2415, p44. Available online after registering at: www.newscientist.co.uk).

END/
emphasis mine.
for the longest time, i've been searching for ways on how to put my dislike for this season. the points raised above hit it on the spot, so to speak. saka gusto ko yung graphics work nila, as always hehe.
well, eto na naman ang inyong friendly neighborhood scrooge speaking. well, i can forgive revelers of this holiday kasi there are a few payoffs i like, like they give gifts even if it's not your birthday and you're not expecting to get any from these certain people, and then there are parties with nice food and drinks where you can chat a bit with people you like to chat with and ignore the ones you dislike -- and win something in a raffle or two along the way.
the last week of classes saw two nice parties in school. the annual "bakit may bayad ang attendance" CMC xmas party had the always absent monbau as the xmas committee chair who thought up a "CMC idol" magic sing contest. well, syempre hands down dapat na nanalo doon ay si mam gigi of upfi dahil hello siya ang ms. savarin lounge singer of the century ano. pero syempre the crowd was all mass-oriented chenelyn and gave it to some dude from admin. and hm, kumakanta pala si atty marichu ng, er, mandy moore songs! at least young ang heart ang lolah. ay, as an aside, habang kumakanta pala ng "paper roses" si mam g ay nag-cage dancing ek kami sa gilid, pero syempre dahil mas ako ang nakatayo, nakita ako and now, i am officially known in the cmc world as "the cage dancer." bow.
sarap lang ng party dahil may nag-order ng pritchon, yung pritong lechon (hm, come to think of it, hindi ba double deads na ang style na ito? but i digress). actually, yun lang ang sinigaw ng crowd "raffle at kainan nah!" in unison ever. e well, they can't go wrong with that. two of my favorite things as a taurus gel: eating good food and having nice thingies.
well, sulit naman ang payment ko kasi nanalo ako sa raffle hehe. ewan ko ba pero madalas e swerte ako sa mga raffle-raffle na yan. i won an electric fan. later, mam gigi also won an electric fan. and then i overheard doc nic saying "eh kasi mahahangin daw tayong mga taga-film! hahahah!" hahahah true ka jan lola. funny yun ever. okei, kalimutan muna ang semi-vegetarian fare para sa pritchon. masarap sha in fairnez.
tapos the day after that, upfi xmas party naman. actually it's more of a xmas lunch which was started last year by anne our insti director. tama nga naman para meron ka pang hapon at gabi to digest the food. hay to die for ang handa, ang isa sa paborito kong lengua!!!! er, semi-vegemode aside na naman, nilafesh ko lang itich sobrah. dedma sa ibang handa. hay nakuh i can focus that way about food ya know. sobra lang... pero after da eating binge, tangna lumobo na naman ang di dapat lumobo sa akin kaya waaah back to kambing mode na naman ako at vegetarian forever, which means tambay na naman ako ng likha diwa. sayang, ang layo na kasi ng greens sa aking lugar eh. mas bet ko pa naman yun kesa sa likha.. not so much because of the food but because of some past history my former org had with da place. sabi nga ni frozone sa episode kahapon, da nerrrrrrv.

speaking of, ANYBODY KNOW OF ANY VEGETARIAN/SEMI-VEGETARIAN EATING PLACES IN THE METRO, QC AREA PREFERABLY? E ME LEAFLENS AT GMAIL PO.
as for the gifts, the usual suspects brought their goodie bags and handed the people there some give-aways. mukhang poor lang yata this year dahil unlike last year, walang raffle gifts chuva. but i don't really mind.
hm, ano pa ba ginawa namin? wala, as usual, like most pinoys, nag-magic singing na naman sila dun while i just stuck to cage dancing. kaya relate ako kay HAPPY FEET, e, kasi i can't sing in a country full of songers but i can dance the heck out of them hehe. sayawan na lang! ano!
tapos nun ngang sabado of that week, LOVELY DAY xmas party naman dun sa wonder island resort sa laguna kung saan nag-shoot ng very first ep for next year kami. it was supposed to be an overnight thing pero marami ring umuwi at sumama na ko (see previous post about this na lang), but not after partaking of the very inviting hotsprings pools there and the "yehey friendly sa semi-vegemode" fudams nung gabi like inihaw na talong, fish and chicken. saraf! nagkaroon tuloy ako ng one-week craving sa bangus belly. buti na lang the neighborhood carinderia carries that in their inihaw fare -- at mas mura pa sa crispy bangus belly ng jollibee na harang naman ang portion kung mega-tomjones ka.
i guess that's the last xmas party i'll be attending this year. pasko na bukas e so wa na no. new year party? nah, pagod na kong pag-party ng talagang party you know what i mean? mukhang na-reorient at na-reprogram ko na talaga ang lifestyle mode ko. buti naman. well, nakatulong ang walang alak sa sistema hehe. hay...
so quiet mode lang ngayon. saka i've been enjoying talking really long walks lately while plugged in to some upbeat music. sabi nga ng friend ko, may sarili akong mundo in doing that. i guess that's what i'm really trying to achieve/create/enhance. nakakasawa na kasi itong mundong ito minsan e. we need an alternative planet. hm, i just wish i wasn't nearly flat footed. argh. oh well. the new shoes will do the trick. yea yea did some shopping na rin pero long overdue naman ito, at saka necessity, not luxury. iba yun e. saka maraming sale this time of year kaya take advantage na diba? kaya ang saya!
so, as the zen santa would say...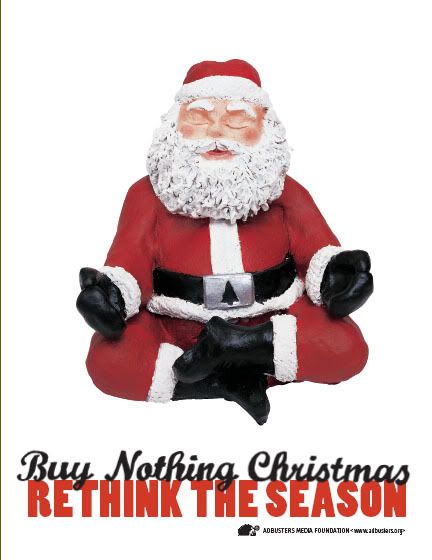 HOPPY HOLEYDAZE, PLANET!