sa lahat naman ng characters...nyeta.
Star Wars Horoscope for Taurus
You are a dependable creature, but you do tend to be stubborn. You like material possessions and love to win at games. You hate being bossed around or losing. You may succumb to your physical strength when upset. Star wars character you are most like: Chewbacca

wala na bang ibang karakter? jedi man lang? nyeta.
hm.
it's 5a na pala pero got hooked checking emails here. nakatulog na kasi ko from 11ishp to 1.30a.was awakened accidentally, and had a hard time going back to bed...and so, here we are. sinus also acted up that's why i can't sleep. shet. ayan. still acting up. nyeta.
while i'm up, might as well post a few.

photothoughts...

it's not everyday that raymund isaac (seated) takes your photo, right? sabi nga nung isang dude na sinundan ko "yay! may pang-friendster photo na ko!" kalokah.
but i did it for icon. a last-minute addition/replacement for aida santos yata ako hehe. maita alerted them bout me. therefore. read the latest issue. the one with borgy manotoc. they photographed him in drag. yes, a Marcos descendant in drag, ladies and gents. mana sa lola nya. haha! ewan.
NOTICE TO THE PUBLIC
sakaling makita niyong naglalakad sa buendia ang babaeng ito,
mangyari po lamang na ihatid siya sa kamuning,
hugasan ang mok-ap sa fez nya,
at itanong niyo sa kanya kung bakit siya um-oo sa gig na ito.
paki-sampal ng dalawang beses para matauhan
at di na niya muling ulitin ito.


haha surely i jest. i had fun. good while supplies last. this issue, where i am included, comes out in july daw. dun nyo na lang ako tignan. bet ko di nyo ko makikilala. bet?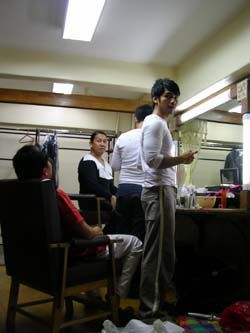 jigs (facing) of (the now defunct)
OUT!
fame did the 'do while his assistant did the face. quote of the day: "Curl?" "No question!" leave it talaga to the badings to make lait your hair in such a fabulous fashion. i forgive them. that's melo (with the black dress) standing, producer something yata nung OUT! lgbt tv show sa ch7before. fabulous siya.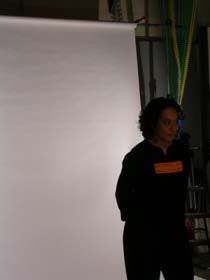 i felt like such a dork before the shoot. fidgety chuva and all that. i really really hate being in front of the camera. but thanks to years and years and years and yearsssssssss of impromptu photo shoots and modeling kuno chuvaness with my film chums the conconistas (and stacks of contact prints of outrageous shots), i was ready for my close-up that day. i kinda felt like what carrie bradshaw was feeling nung na-invite siya sa new york fashion week to model sa
SEX AND THE CITY
. "look, stanley, i'm a mo-del!" ako naman "luk meyn, i'm a mow-del!" ngyak.
but i still prefer working behind the camera.
which led us to yesterday.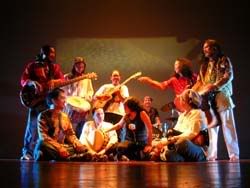 "butanding" song pose
just finished shooting 2 music videos for
pinikpikan
(directed one, camwork for the other). masaya siya. cooperative yung band. and everyone else.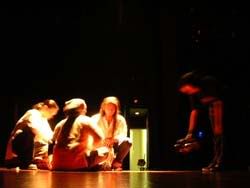 the percs of the job...
handheld moi is back. was surprised to find out that, after all these years of absence, my right arm still functions as the greatest human tripod this side of my mind. ngawit nga lang. meaning i need to work out na. again. as in. now na.
now na!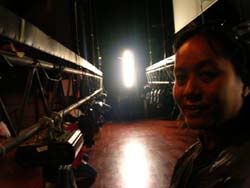 use the force, luke, este libay...
na-delay ng 2+hours ang shoot because of the tech dudes sa rcbc theater. pero smooth sailing na yun afterwards. short glitch, is all...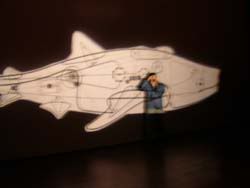 datu butanding?
the
anino shadowplay collective
are plain creative geniuses. i loves them so beri much. katuwa.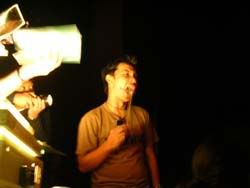 kilawing butanding
and they're such crazies. kaya cool sila ka-work. super.
this shoot made me think of how it still amazes me that i can command such a platoon of people in a calm way as a director. tine-tense ko lang minsan si teta, our lighting designer, sa impromptu lighting design requirements ko hehe pero other than that, ayos naman kinalabasan. masaya sila lahat. saka ako. i can't complain much. i had fun.
this is really where i belong. film world. pero as much as possible, gusto ko camera work talaga. in the tradition of the rebel without a crew ni robert rodriguez, direct-shoot-edit-write. kaya nga ideal ang docu sa akin. pero these kinds of shoot i don't mind doing once in a while. there's some advocacy in it somewhere din naman kaya i like it. and camaraderie. yeah, i had fun.
sige ayan na araw. tulog na ko.