i'm still trying to decide what to blog about right now. there's this strange urge to write when i went outside and the sun shone on my skin as i headed to snackaroo to buy my favorite bulalo of all time... but now, the heat has drained the creative juices. well, i'll wait for it to splash anew. in the meantime, share ko na muna pics para makita na ng haiskul friends ko. sige memory lane na lang tayo muna.
been reconnecting with my high school barkada from
infant
(child rights advocate lawyer eric mallonga's family owns the school). marlo the science boy genius hooked us up to a yahoogroup and voila! we've been in touch ever since. nakakatuwa to reconnect with these guys din. transports me back to when life was complicated na when we were choosing which ice candy flavor to buy (strawberry or orange) in a little town called sss village, marikina, the land of advanced crayola-named streets (i lived in azure street, our school is in russet near scarlet). colorful.
i was a totally different being in high school. a painfully shy bookworm, that's what i was. kaya laking gulat nila ngayon na madaldal na ang lola nyo and everythang. showbiz to the max pag tinodo ang powers. you know the type. basta. gulat sila sa kin hehe. lalo na sa sexuality. crush ng bayan yata lola nyo noon ng mga bois. chika! hahaha. i jest.
but i guess that's how life changes you. for the better or for the worse. i think this is better. for me. i mean hey, i can speak in front of a big crowd now, di ba? slight stage fright pa rin pero once i focus, keri na ko. therefore.
photothoughts...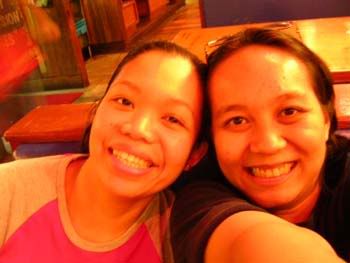 carla!
the reason why we hooked up last may was because carla, our calgary canada girl went home after more than half a decade, methinks. kaya instant reunion na rin. it was great to see her. and her siblings.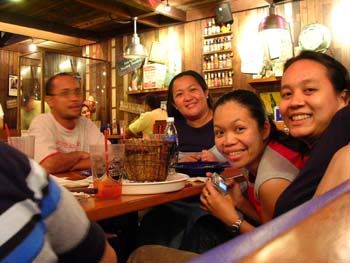 at bubba
we met up at bubba gump in greenbelt 3. there's (from R) me, carla, arca who now goes by the name "inna" (ask her why na lang hehe) and her hubby voltaire, a theater guy from peyups (younger batch).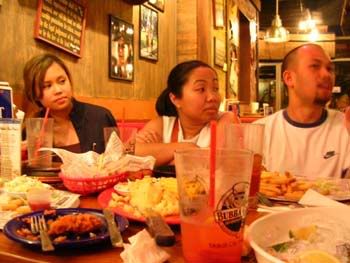 the jamorols
there's (from L) Ann her baby sis, her sis in law whose name i can't remember, and kuya aldo. they're awfully quiet people. gosh. na-culture shock 'ata sa amin.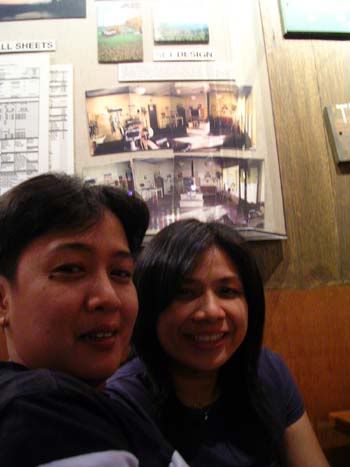 marikina gels 4evr
chet and ogie, katabi ko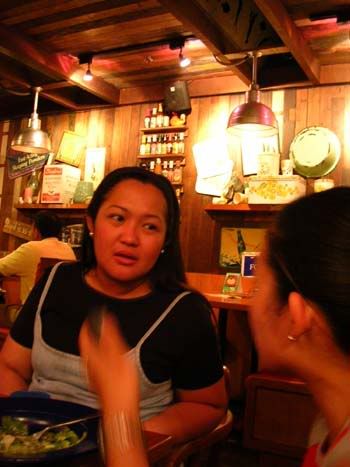 girl talk
inna chatted up carla...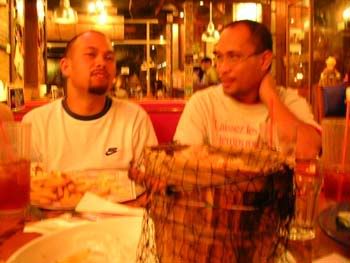 guy talk
...while volts chatted up kuya aldo. that bucket thing, that's where i put the shell coverings of the 16 shrimps i ate. yes, 16. masarap. pramis.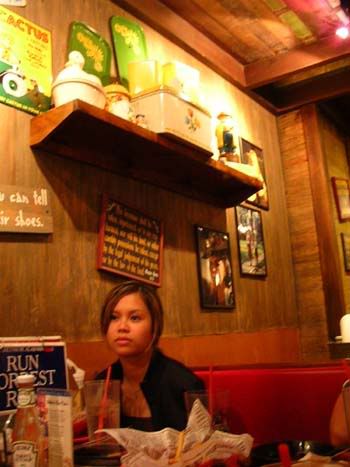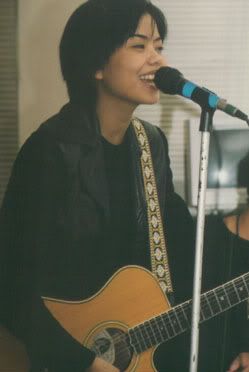 separated at birth?

i swear, ann looks like the younger version of hannah romawac of
session road
. check out this 1998 photo of hers i took...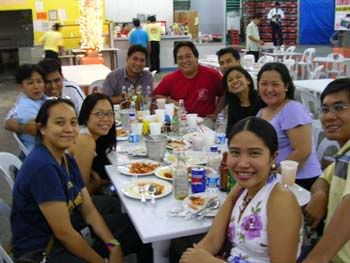 pinagpala sa pala-pala
our last night with carla was spent eating at pala-pala in libis. nomer's bright idea to take us there. sulit pala. masarap. more shrimp! yummy. there's (clockwise from L) me, carla, chet being harassed by athan, nomer, joel, marlo, ogie, arca, cho-cho's husband (sorry nakalimutan ko name!) and cho-cho.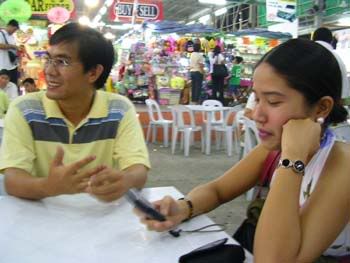 cho-cho and hubby
laging missing in action si payatot girl cho-cho. adik sa kape yan. super.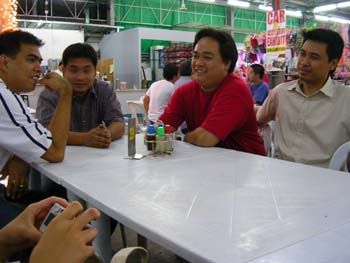 the boys
di pa rin nagbabago mga guys namin. gago pa rin si athan pero going places naman sa career niya which is good to know. nomer is our saudi boy pero thank god he doesn't wear those clunky chaka gold jewelry typical of saudi ofws, no? joel works somewhere, kalimutan ko na. marlo is worshipped in some IT company somewhere in pasig yata. jimmy neutron at dexter yan combined hehe.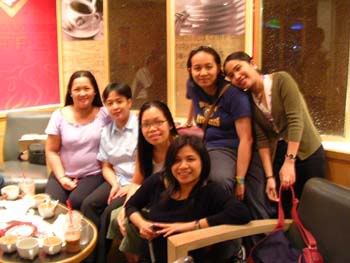 the girls
sayang di kumpleto ang girl barkada. our nurse chiqui's in the US while chielo's in riyadh yata or somewhere in saudi, hobnobbing with an egyptian dude (and she speaks arabic now! nakakatuwa!).
well, that's all for now. saka na ulit pictures.