wowee! i think i just saw a meteor pass! as in, dun sa bintana sa tapat ng kompyuter ko! wowee! sign of good things to come my way? sana nga? wowee!
anyway, came from
this event by wedpro
, at masaya kasi mga tibamers gather and meet. the knowing stares were ever-present, especially when a tune entered the room... ah lezzies, i lab yu gels. chismz galore kayo. haha. but i don't mind. galing ako showbiz e. sanay ako sa ganyan. pero hapi kasi parang...hapi ang reactment baga. hehe. ewan. or maybe it's just my nervous energy continuing from...
this morning's teaching demo!!!
oo, tapus na sha. at abangan ang susunod na kabanata ang drama ng lola nyo. felt good naman pero felt so weird din. dean tiongson was there! kaba of all kabas... tangina yung puso ko dumadagundong sa may tenga ko nah. yah, ganun ako kakabah. ewan ko kung bakit, e alam ko naman yung ginagawa ko... well anyway, i was able to singit that lav diaz movie length crack i wanted to make teehee. they bought it. good sign? let's hope so.
at hindi ako hinimatay na jologs, take note. hihi. i am evil. :P pero sobrang halakhak ko sa
call for papers na ito
hahahahaha. dude, isa lang masasabi ko. rejections niya? itatambak ko sa yo lahat! as in LAHAT!
hay punyemas... anyways, had a good day overall. i'm happy with my usual trinkets souvenir. yipii! new bangles na koh. sa bangkok lang kasi ko nakakakita ng mga ganitong pride stuff eh, kaya tuwa ako pag may mga ganyang purchases. bukas ko na bilhin yung kewl shirts, kulang pera kanina e. tina promised to hold on to my orders naman eh. dapat lang no, order pala yun ng nagpapatinda! aheheh aceh! lola, ingat ka dyan sa aceh. aceh-ceh! hahahaha nababaliw na ko. gudang ko ha! yehei...ay, shet , i forgot, i quit na nga pala. mierda... oh well.
ei, masarap yung salsa ni bok, ha. yummy. ano bang tawag dun sa isinasawsaw dun na parang chips thing, lola? puwede ba umorder lang ng sandamakmak na ganun with salsa? without basil sana, may isang allergic sa basil dito eh.
order kayo kay
bok
. she caters when she doesn't paint. affordable gourmet chuvalu. now nah!
photothoughts...
nakisawsaw
sumali kami sa rally last week ng stopthenewround coalition. hay, i-google nyo na la-ang kuno ano yun. as usual shutterbug ang lola nyo dun. eto sampling...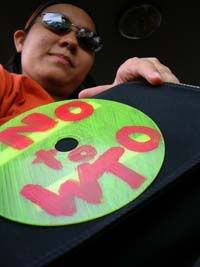 guess what kind of rally this is. yeh.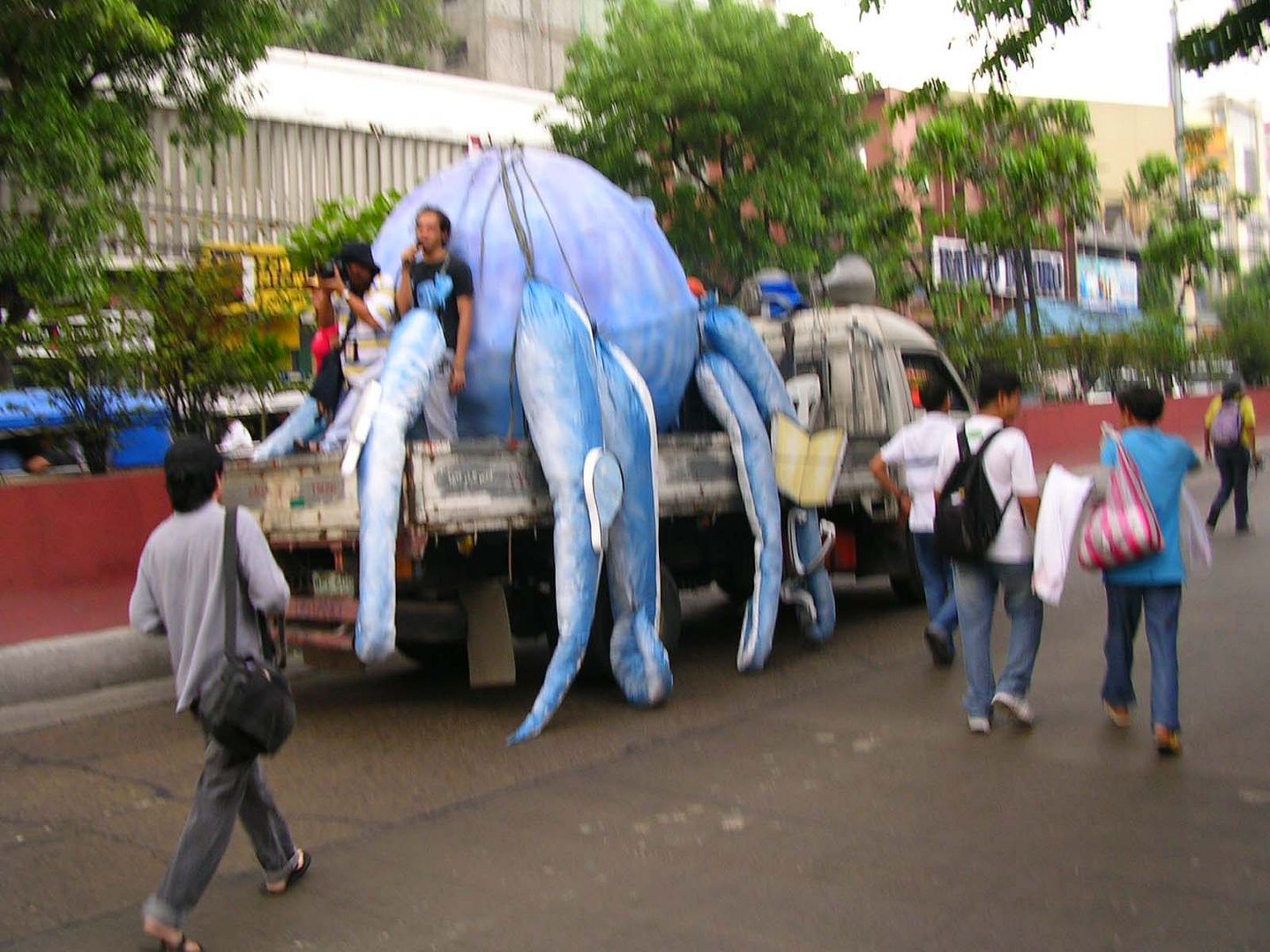 octo-pushy. shigeh, tulaaaaak! hehe. joke. may trak yan.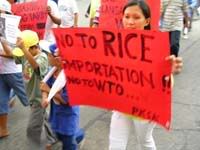 go, sister, rice to da occasion!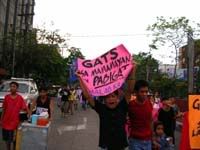 yeh, itaas mo pa boy!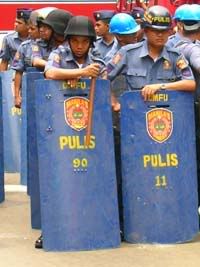 bored ka na ba at wala pang riot?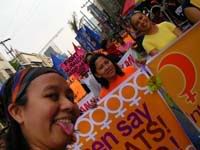 aba, ang lagay e, di ako kasali sa piktyur!
if there's a sensible advocacy to follow, i think this is it. it encompasses all, as in ALL, sectors, mapa-women labor farmers fishers etc etc etc kasi lahat tayo sa earth sakop ng hayop na wto na yan. no, it ain't just a far building in another country. this is where they decide on our daily fates without consulting us. presyo ng gasolina, gasul, tubig, kuryente, isda, dvds, you name it bebeh! while globalisation might be an
occasionally
okay thang (insert samples of ayam salmon spread from thailand and south african choco cereal here), trade liberalization sometimes kills -- our industries, those industries' workers, and those workers are our fellow pinoys in the provinces harvesting tabako and kamatis, or in the cities' factories making parts of electric fans we buy. ganun. sabi nga ng isang magsasaka dati, "kami ang nagtatanim ng pagkain niyo, pero kami ang nagugutom." ano ang isasagot mo doon? for that, i wrote a short short story right there and then nang narinig ko sha... sad. ka rene, mabuhay ka.
kaya di na talaga biro when they say "buy pinoy products." kasi this is not about patriotism lang. in fact, i won't even buy stuff for patriotism's sake lang no pwede ba, parang pitch lang yan ng mga punyetang arroyo at sinu-sino pang corrupt sa gubyerno. this is about helping those workers and their wives and their children and their children's children. kaya mag-isip-isip na tayo, hane? dahil sa totoo lang...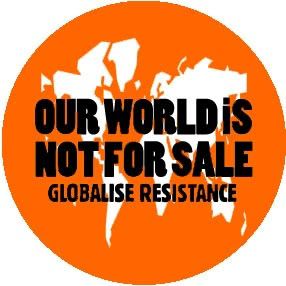 yeh!
ayun...