second wind na nga ito. my stomach is grumbling hours ago but i was trying to ignore it. in trying to ignore it, nagbasa ako ng
HARRY POTTER AND THE ORDER OF THE PHOENIX
pero nagiging exciting na siya (may libog na si harry! haha) kaya i read on and on and on... until i
thought
i got sleepy na, and now, here we are. second wind na pala, been surfing on it kanina pa. hay. oh well.
kaya eto tayo. blogging. oh, speaking of which, there's a
blogging summit
on may 7. lenski and i are checking it out. punta kayo. libre naman e pero you need to register online. it's at UP, and on a saturday, so that would be cool.
well, we'll be missing on attending an office research training thingie. too bad, for the saturday slot seems like the most interesting bit of that lot. anyway, why am i talking in british english? ah, must be that the potter series i'm reading is the brit version. d'you reckon?
well, halu-halo na ito. di bale.
i had some sort of calm descend upon me this morning. it's so zen, i swear. siddharta would be proud of me. it's like, i came to realize that there are limitations on all our engagements, and to think that we are superhumans would be defeatist. i thought it would be best to just live minimally to sustain longevity. while sustaining longevity, more freedom will come, freedom from time, and from want. creative juices can flow and run like a wild river, and i won't stand on its path. so there. makes one less depressed, actually. as a friend said kanina, nakikita na daw niya ang tunay na ako. well, i hope so.
well, did that make sense? i hope so. well, sometimes, you know, i have difficulty expressing my thoughts into words. i made a whole thesis film about this already, mind. (punyetang brit ito, ayaw mawala sa 'kin). sabi ko nga sa isang taong kausap ko, better to plug a microphone directly into my brain and listen to what it's saying, kasi 'pag dumaan na sa bibig, minsan iba ang dating. ewan ko ba kung bakit. kaya relate ako dun minsan sa
THE PIANO
na film when holly hunter's character said "the voice you hear is not my speaking voice; it's my mind's voice." when i heard that, i was like "duuuuude! that's me!" ayun. kaya siguro minsan, better for me to write than to speak. at least that way, wala masyadong interference or white noise or whatever na nadadaanan ang thoughts. iba kasi 'pag sa bibig na dumaan e. basta, ganun.
o kaya, padaanin sa mata.
photothoughts...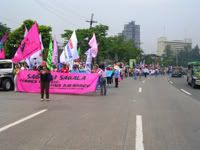 women's march against poverty and globalization. last wednesday. it was so exhausting. very educational, though.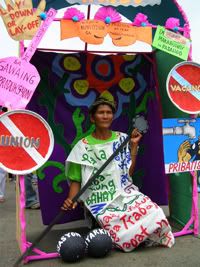 the theme of the lot is "sad na sagala" which is a pasaway asntacruzan. this ale was the atsay ng mundo. tama nga naman. DH.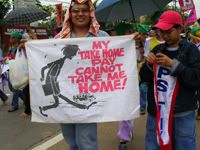 ofw angst.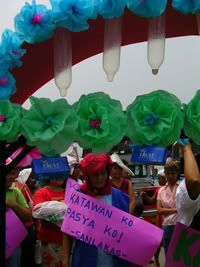 this i really really really love. ratzinger, este, benedict xxxxxxwhatever, mahibang ka!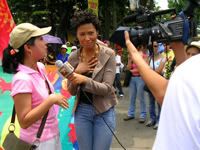 what's the WAZZUP WAZZUP girl doing interviewing the beautiful jean enriquez there? i swear, these networks ha... it's like having marc logan report on the LGBT pride parade. sarap sila sapakin.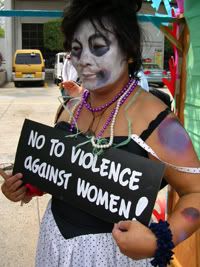 need she say more? visual aid ang katawan, o, kaya mo yan?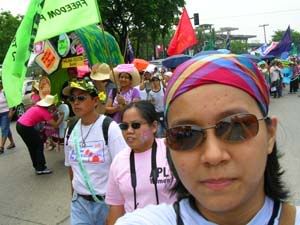 ang lagay e, di na naman ako kasama sa piktyur?
it was indeed educational, but more tiring.
ay, ayan na ang araw, sumikat na. shall i sleep? pang-graveyard call center talaga 'ata ang time clock ko hane? hay...