i almost had a pity party for me tonight. it was totally biting. it was. damn hard.

i guess i know now how m must have felt when she went back to mapagkumbaba and saw that half of her life -- or what used to be half her life -- was already gone, and that half was me. but stupid me, what was i expecting when i passed by there earlier, for the other half to still be there? i guess not... that satisfaction was not meant for me. that would have been too selfish, now that i think about it...

i didn't know that she totally moved out of there some two weeks ago. i don't blame her for not telling me; hey, i didn't tell her that she was losing me earlier, did i? so i guess in that sense, it's just right...

but it stings. stung hard. i never knew seeing that house all empty would affect me this much. save for a few unwanted things -- mostly mine -- the house was all empty. so i had the unfortunate ritual of finally clearing up the house, the place we called home for two years, i think. i still remember the first time we stepped inside that house, and m said she liked it and just needed some new floor tiles, is all. and i remember not wanting it because it had such a low ceiling at the ground floor and it's a small place for us, methinks. we still had b with us then, but we three were able to fill it up, until we all had it to ourselves when b decided to move out. it was blissfully private while it lasted. it was home, a real home, for us... until, i guess, i changed my mind about us. about me, within us. and me, with her. i dunno...

i swore i will not have a pity party here. i swore. well, the cats really helped. c's cats are here, and i'm their official master for the time being. yeah, i swear, their company kinda helped, at least playing a bit with theo as he lazed around the garage and lawn, and chasing after abi who got stuck on the roof next door at rona's was such an activity that helped me out of this pity party pit where i was about to head...thank goodness for the cats. hmm, my friend kia said she really thinks i'm more of a cat person than a puppy person like i always have been. i guess this proves that theory partly correct...although i miss the friendly cuddles of pups. oh well, na-segue na ko ng tuluyan dito, ayan. but it's okay.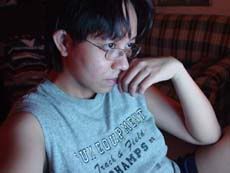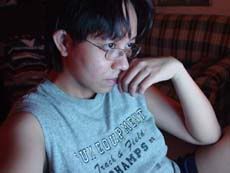 i might as well look like this now... this was taken last december. new year turning point, to be exact... i have yet to photograph me in this new place... not exactly warhol-ish but hey, let it be. it's my blog so just deal with it...

hay, yeah, deal with it. that's what i have been doing now. it has ben biting this past week, bits and pieces. but i guess i needed to see that house empty earlier. all the more reason now to just grin and bear it, and move forward and acknowledge that that part of me is over, that chapter of my life is already written, and it's time to turn the pages and make new chapters in a new place, with new people, and time to create new thoughts and memories to jot down in the pages of the next life chapters... but first, let me just have a good cry. i think my soul needs it right now. so pardon the mush.

i still cry because i feel so sad whenever i think that i hurt her with my decision. i still cry because i remember how good she was to me. i just hope that she will also think that i was good to her. i don't want us to be enemies, even though i really cannot push myself to be partners anymore... is that so selfish? i wish she wouldn't see it that way... i really wish one day that she will find it in her heart to forgive me for hurting her this much. i know i hurt her a lot, i really do. and that really saddens me to this very day. i sometimes wish my heart were made of stone. but i guess you can't change what nature gave you. i just wish i did not have that much of a conscience to boot. but then again, i guess i will never be who i am if i didn't have these things... i just wish sometimes i can take a vacation from feeling things, to just stand in the middle of the universe and be numb to all things human. it's a scary thought but sometimes i wish it for me. i guess in that way, i am weak.

it's funny to have that street name for us. mapagkumbaba. humble. was it ever as such? did we live it? no, i guess we did not, much.

taking one last look around, it was humbling, for me, to realize that interwoven dreams can become untangled over time, due to wear and tear, perhaps, and due to uneven keeping. you know how one side of a handkerchief would turn yellowish if stored forever in your drawer? our weave felt like that in the end. but i guess it was inevitable for me to make latag it all and see what happened in the whole fabric... sad. so sad. i guess madame barbra was right all along when she sang

some good things never last...

i guess i have to be contented with living with this sadness, sadness that i made her sad. it's my own doing, i know. so again, just let me have this good cry, and i hope if she reads this, that she will realize she will be forever etched in my heart, even if it was me who decided to end things. if i can do this without hurting her, i will, but again, i guess that, too, was inevitable, as all things in this universe...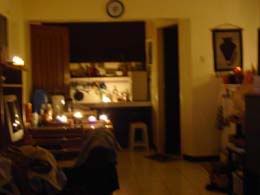 we have this greeting whenever we enter the house.

"hi haus."

but now, i guess i have to say bye. bye haus... once again. and this time, for good. for real. bye haus... bye.

i promised myself this ain't a pity party. but just let me cry. just for tonight, while i'm still feeling this way. so that i can store these feelings, too, for good... after all, it's not only her that has to be brave in these times. i, too, have to be brave, maybe even braver...




say goodbye, libay...

bye.