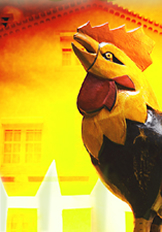 it's the year of the wood rooster...or the
wooden cock
, if you gay friends would prefer. :) would just want to greet everyone a prosperous kung hei fat choi! more about my misadventures in binondo later...
food for thought ang horoscope ko for today, though:
libay cantor:
you are seeking substance through your work now, even if your job isn't all that you'd wish. doors are opening as opportunities present great potential. be careful, for you may gloss over the difficulties. there's no need to be negative; just be realistic.
ay tumpak!!!