TARA SA FRIDAY HA.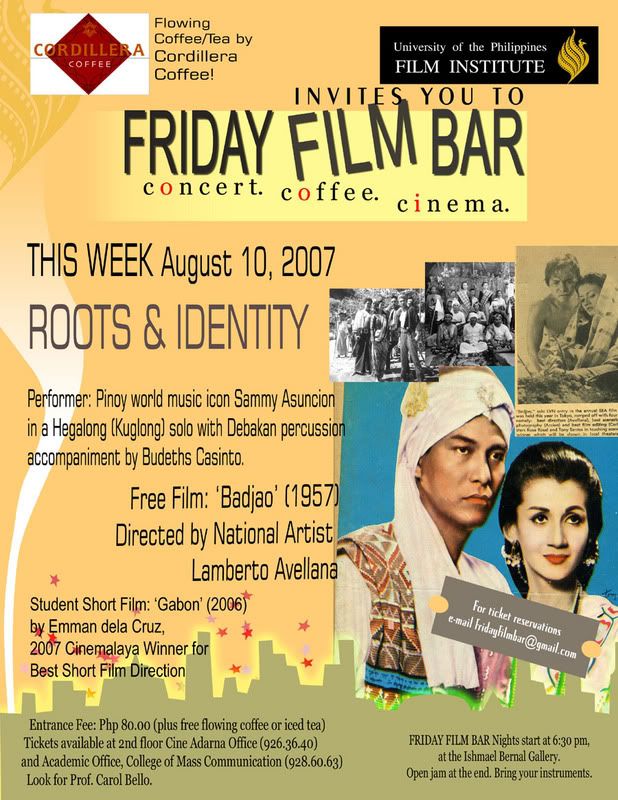 love coffee? love feature films? love short films? love live music performances?
you'll get all that in one night, all for only 80 pesos! show starts at around 6:30pm at the Bernal Gallery side of UPFI Cine Adarna (formerly UP Film Center) in Diliman, Quezon City.
come to the launch of UP Film Institute's first semester event called the FRIDAY FILM BAR (FFB). every friday of this first semester (aug sept til oct 1st week) will have different sets of stimuli for the senses.
...smell the aroma of free endless refill coffee from the coffee bar courtesy of Cordillera Coffee...
...watch the 20-minuter works of outstanding UPFI film students...
...watch classic cinematic works from the best of Philippine cinema...
...listen to groove-inducing and thought-provoking music of veteran contemporary alternative musicians...
...all for 80 pesos!
For inquiries, send email to fridayfilmbar@
gmail.com
or text 09164081550.
----------------------------------------------------
August 10 | 6:30 PM (Launch Night)
------------------------------
----------------------
THEME: Roots and Identity.
Featured Performer: Sammy Asuncion (of world music fusion group Pinikpikan and blues-funk group Spy)
Rock-blues-jazz- reggae-world icon and veteran musician Asuncion shows off a rare moment with the Hegalong (Kuglong), a Filipino indigenous instrument of his hometown of Bukidnon in Mindanao. Budeths Casinto plays the Debakan (Mindanao indigenous drum)
Student short film: "Gabon" (2006)
Directed by Emman dela Cruz, winner of the Best Directing (Short Film) award at the recent 2007 Cinemalaya Independent Film Festival.
Set in a rural Muslim environment , Gabon (The Cloud) intends to tackle the purity of a Maranao child's love to her parents as manifested in her desire to fulfill her duties, even after life.
Featured Film: "Badjao" (1957)
Directed by National Artist Lamberto Avellana, a classic of Philippine cinema starring Rosa Rosal and Leroy Salvador in a love story set amidst the sea-dwelling indigenous group based south of the Philippines.
--------------------------
The official announcement, with the line-up for August is as follows:
FRIDAY FILM BAR BEGINS AUGUST 10, 2007
AN INVITE FOR EVERYONE:
Friday Film Bar is special music and film series that will be held at the Ishmael Bernal Gallery of the UP Film Institute (formerly the UP Film Center).
On Fridays of August to early October, the Ishmael Bernal Gallery will be transformed into an intimate hang-out space. There will be live performances by musicians/artists and readings by poets/writers, in between screenings of short and full-length films by local and foreign
filmmakers.
Friday Film Bar will also feature the best works by students of UP and, possibly, outstanding works by students of other schools and universities.
Tickets, only Php80.00 each, entitles a person to a free drink (coffee or iced tea) and the free film viewing.
Ishmael Bernal Gallery is at the Cine Adarna Theater, UP Film Institute, UP Campus, Diliman, Quezon City.
=======FRIDAY FILM BAR SCHEDULE===
===NINE NIGHTS OF MUSIC, FILMS, OPEN JAM===
------------------------------
August 17 | 6:30 PM
------------------------------
THEME: Against the Flow
Featured Performer: Pinikpikan.
The band, whose songs were used for the music score of the featured film, livens up the Film Bar night with Filipino world music that combines rhythms, instruments and melodies from north to south of the Philippine archipelago fused with the music of Latin America, Africa and Arab nations. Hailed as the 'uncommercialized' pioneer of Filipino brand of world-fusion music in the country, Pinikpikan has its own cult following especially among the artists, art lovers, intellectuals and young professionals.
Featured Film: "In Da Red Korner" (2006)
A film by Dado C. Lumibao and Bong Ramos. The film is about Doring, a 24-year old girl who is engaged in a sport that is not common to Filipino women—boxing. It stars Meryll Soriano. This was a finalist at the 2006 Cinemalaya Independent Film Festival.
Student short film: "Sakdal Laya" (2006)
Directed by Tey Clamor, this experimental film frames visual images of women in a patriarchal society, heightened by vignettes of violence and sexual abuse. The film is the country's official entry to the 2007 Student Oscars competition of the Academy of Motion Picture Arts and Sciences (AMPAS), the award-giving body of the Oscar awards.
----------------------------
August 24 | 630pm
----------------------------
THEME: Face to Face with our Dark Side
Featured Performer: Agaw Agimat.
The alternative/ punk band Agaw Agimat had been known for over a decade for their politically- themed anthems that challenge listeners and clamor for change.
Featured Film: "Manila By Night" (1980)
Directed by National Artist Ishmael Bernal. Manila by Night is considered one of Philippine Cinema's best works. Also released as "City After Dark," the film is recognized locally and abroad as it probes the city's depravity and exposes its strangeness through a string of characters played by the most competent actors of its time.
Student short film: "Bingit" (2007)
Directed by Michael Cardoz, Bingit is about a girl doing field research on headhunting in a remote rural community, where she finds her self faced with a double-sided story – one that is much believed by the community and the other which is the unspoken protected truth. The short was awarded as one of the UPFI's Best Thesis production of 2007.
-----------------------------
August 31 | 630 PM
-----------------------------
THEME: Urban Angst and the Search for Hope
Featured Performer: Heber Bartolome.
Heber Bartolome is the voice of the legendary protest folk-rock band Banyuhay. An advocate for change and reform, Heber sang about the truth. But his songs were always hopeful.
Featured Film: "Maynila sa Kuko ng Liwanag" (1975)
Directed by National Artist Lino O. Brocka. Maynila… (Manila in the Claws of Neon) is the tragic story of a small-town fisherman who went to the big city to search for his sweetheart, and in the process, loses his innocence and humanity.
Student short film: "Nasaan Ang Katawan Ni Baklesh?" (2007)
Directed by Hedge Calagui,
Nasaan Ang Katawan Ni Baklesh (Where is the Gay Man's Body?) is a
video documentary that aims to supply knowledge of the intricacies of contemporary gay culture by opening a door to a more open and more flexible view of homosexuals -- eliminating the stereotypes and rigid typecasting which are unnecessary and very freedom-restraining.
------------------------------------------------