i am what you may call an "accidental snoop" because of the living conditions i always find myself in. kung may accidental tourist as that novel turned into film suggested, ako naman ang accidental snoop.

alam ko kayo din medyo ganito. have you ever found yourself accidentally eavesdropping on your neighbors, dahil sa tabi-tabi style ng tirahan dito sa pinas na para kasing wala tayong konsepto ng firewall (yes, the original as used in architecture, not cyberspace) na
dapat e harang sa pagitan ng dalawang bahay para mas private at in case of emergency ay di ma-damage ang isa't isa or something. o kaya nakatira ka sa apartment o townhouse like most of my friends are, saka ako na rin, na may mga katabi kang kapitbahay na either naririnig mo ang mga conversations by accident, kahit ayaw mo, at anupamang ingay na nagaganap sa bahay nila, kahit ayaw mo.

marami nang confl
icts ang na-produce ng ganitong scenarios. merong mga nagbab
anda na di makahataw kasi magagalit yung lola sa kanto. malas lang din pag yung neighborhood e biglang naging commercial area of sorts, like my writer friend before who lived on nakpil street sa malate tapos boom, eto't kapitbah
ay niya ang episode cafe, verve room at katapat niya ang old gay haunt na blue cafe before and all that. imagine the color of that street! so medyo nabulabog ang mundo nila. dito naman sa tinitirhan ko ngayon, within earshot lang talaga ang gigs sa 70s bistro so that's why i could imagine the irk of the neighbors who sued/are still suing them. kasi naman, all i have to do is open one window sa isang room nearer anonas to listen to what kind of music is on for the night (e.g. ay tunog reggae ngayon, or ay, rakista, ang ingay!). mga ganun ba.

dito naman sa apartment ko, may isang kid with down syndrome na minsan nag-iingay for whatever reason di ko alam.
pero ang alam ko e stimulant niya ang noontime gameshows kasi he always shouts "wowoweeee." so kaya my girlfriend and i refer to him as "si wowowee" for lack of a name. i decided not to be neighborly kasi dito sa unit na ito this time, kasi ayokong nakikialam sila sa life ko at hindi rin naman ako nakikialam sa life nila. minsan lang kasi neighbors are too much, especially yung mga machichismis na ale o manong na nakatambay lang sa porch nila or something and looking at everybody else's business. kahit anong kalye yata sa ma
ynila, may isa o dalawang ganito sa neighborhood. hindi uso ang village idiot sa pinas pero maraming village snoops. ayan sila.

naisipan ko la
ng isulat ito kasi na-assault ako ng isang rumaragasang ale na kakadating lang sa bahay nila at may na-miss na phone call na nasagot nung manong na topless na nakatambay sa garahe nila. nasa second floor ako while this all happened that's why i accidentally saw all of this, at kahit mag-turn off ako e naririnig ko pa rin ang usapan nila. hay...

kaya sa mga moments na ganito, marami ka talagang makukuhang mga bits and pieces of stories from other people. sabi ko nga sa mga students ko, buksan lang nila mata at tenga nila, marami na silang masusulat na storya dian sa paligid. and they agreed naman, base
sa resulta ng latest eavesdrop a dialogue exercise namin sa scriptwriting class kung saan karamihan ng na-eavesdrop nila ay sa kanilang pagsakay sa public transportation of some sort sa maynila. actually, sa accidental snooping na ito ko naisipang gawin ang eavesdrop exercise na yun para ma-train ang tenga ng mga bata. fruitful naman at nasasayahan sila sa resulta. so that is good.

*

well, while we're at it, let's chichirya some cine i saw lately.




BORAT: CULTURAL LEARNINGS OF AMERICA FOR MAKE BENEFIT GLORIOUS NATION OF KAZAKHSTAN


d. larry charles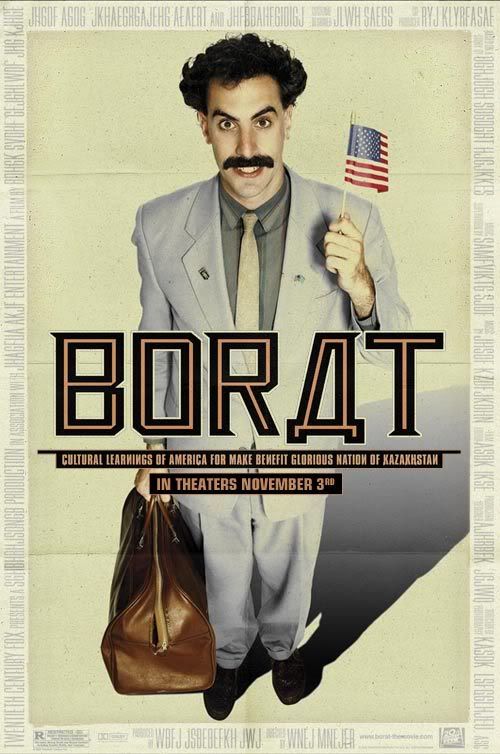 i missed this sa big screen when it came out but i'm glad we featured it this month sa cine adarna para big screen experience pa rin. i have this purist thing kasi about watching films on dvd, specific films lang naman, na kapag i deem one film na "pang-dvd watching" lang e medyo demotion siya ng kanyang production values. basta.

this one is okay. naging super-popular siya dahil sa no holds barred docu style chenes na ginawa ng seemingly clueless foreigner traveling across america. that is such a nice concept, and a brave one at that. actually, puwede nga siyang mapatay sa ginawa niya and i am not surprised kung nabugbog man siya ng aktwal dito.
pero ano ba ang pinapakita nya? as usual, we see slices of the real american people who are not as tolerant, understanding nor knowledgeable of multicultural/multiracial issues na dapat e alam na nila, given the current stature and longtime citizen composition of that country. in short, marami pa ring sexist, islamophobe lalo na, racist, homophobic, classist and all bigotries you could imagine. but the thing is, it's just funny. i don't know why we laugh at these things pero siguro kasi our laughter shows us that people are still...weird. strange. or whatever. basta.

i guess his approach is also
satirical din kasi. we laugh at him and laugh at ourselves and laugh at the bigotries because at one time or another, either we were guilty of the same thing or we were victims of the same thing, or both. most instances, it's both. so therefore, it's very human. timely, political, brave. that's how borat showed us the current state of this kind of world. and it's effective.




IN GOOD COMPANY


c. dennis quaid, topher grace, scarlett johansson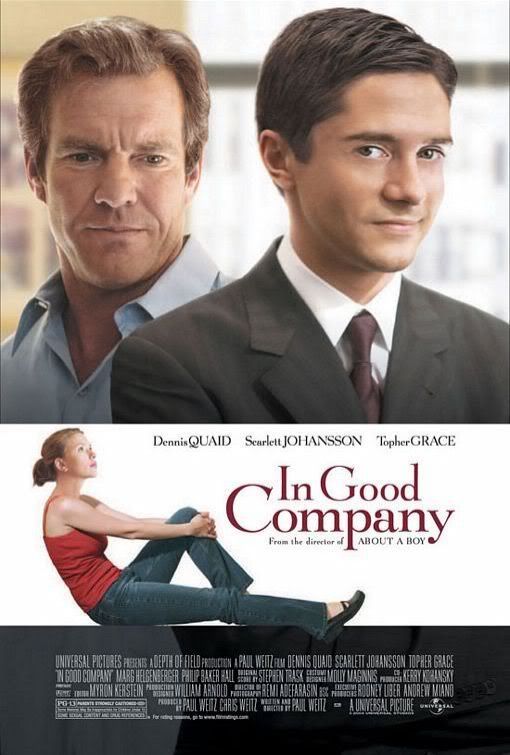 some months back, nonoy our cinema programmer sa film institute showed this for like one or two weeks, na medyo na-off ako kasi well, it's just another hollywood flick as i saw it. the current hot dude of the moment in an
other usual city-set story about the battle of the ages. pang-dvd, to my taste.

so tama nga. sa cinemax ko yata ito naabutan last weekend at doon ko na lang pinanood over dinner. at tama, pang-dvd lore nga siya pero hindi pala siya typical hollywood story din. of course nandoon ang mga rise and fall of characters chenes, pero gusto ko yung nangyaring character development nung 26 year old executive hotshot. he had a fall from grace thingie pero humanized, di tulad ng usual corporate world-set stories wherein mga saksa
kan sa likod chenes ang nangyayari.

actually, the whole treatment sa film is human, quite tender but not sappy. cautious lang, and quite realistic in a way. for instance, i like the story arc of scarlett as the new nyu creative writing major (yun pa lang inggit na ko! hehe) na hindi apologetic getting it on with this guy and at the same time athletic siya pero she chose cw as a course at sinuportahan siya ng magulang dahil nyu yun at kahit mahal, go pa rin sila. that was really nice, pero hindi siya heavyhanded sa treatment. tapos yung anggulo na nangyayari i'm sure sa mga 50something executives na napapalitan o threatened ng young executives nga. ang daming ganito kasi, at ako mismo witness--if not subject--ng ganitong klase ng age conflict before, that's why i understand where it's coming from from both sides of the corporate fence.

tapos ang ending, the old exec gets his justice chenes pero tender pa rin ang approach, tapos yung young exec ay naiwan sa pagmumuni-muni kung ano ang gagawin niya sa buhay niya, a very realistic characteristic of people that age who are in that state. interesting. siguro kasi relate lang din ako sa kanya kasi it was also at that age that i left the corporate calling and headed to...tadaah, creative writing. hindi nga lang nyu hehe. although sarap sana kung ganun ano. well, maybe later, who knows.

maganda siya, well written, directed, and acted, except for that topher guy na kahit saan siya lumabas e dala pa rin niya yung mannerisms niya sa THAT 70S SHOW. i hate when he does that, parang yung sa SPIDERMAN 3 siya. men, leave the acting quirks at ho
me. or adapt naman sana to the story at hand. labo niya eh. nakakairita lang minsan kasi. sarap putulin dila.





THE DA VINCI CODE


d. ron howard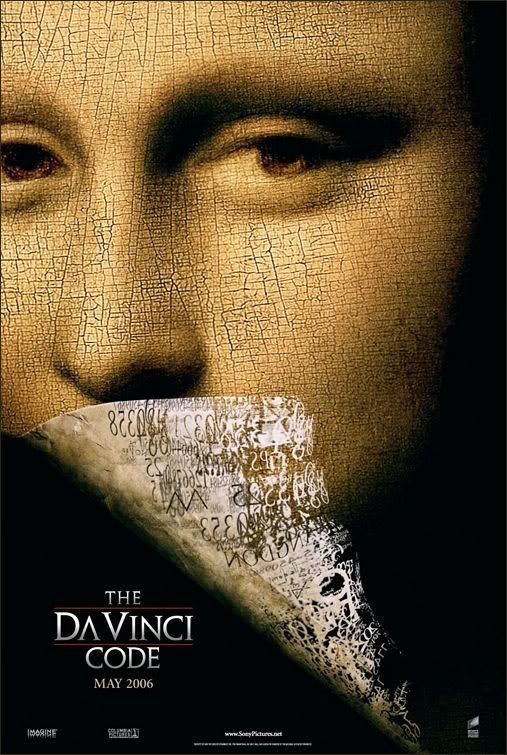 also caught this one on cable lately, sa hbo yata. for lack of a better programmed evening, and because of a migraine that incapacitated me to roam around and prompted me to just sit on the sofa for a good deal of time, i just hung out and watched this again.

seeing it again for the second time made me think of how ron howard romanticizes stories a lot, most times to a fault na. kasi if treated as it is sa book (which, surprisingly, wasn't such a snorefest as i expected, although i am not a fan of dan brown's writing style in general), baka mas okay pa ang approach. nakakainis lang yung hollywoodized chenes sa treatment ng shots, na parang nagpapaka-noir siya pero hindi achieve, o nagpapaka-old hollywood whodunits siya, pero di rin keri.

bakit hindi keri? kasi siguro the way he directs is so maarte. hello BEAUTIFUL MIND na lang kaya? maganda sana yung materyal na yun pero how he handled it just turned something concrete into mush. sayang. ganda sana ng inner conflicts ni john nash pero halatang hindi naiintinidhan ni ron howard kung ano ba talaga ang nagaganap sa isip ng karakter niya. in short, hindi niya talaga kilala yung characters niya, and the way he shot it ay lumabas ang paghuhusga niya sa kanila, na mababa pala ang tingin niya sa mga characters na ito.

well, kinda same with this one. the way he paced the shots and scenes and the way he blocked the actors kinda made me feel as if the actors just needed to deliver their lines the best they could because it's the job. case in point, yung revelation chenes scene ni no less than the ultimate gay rights icon sir ian mckellen when he was being taken away by the police. nagmukha lang siyang lunatic spewing nonsense chenes. masyadong maarte. dapat na-tame down ng director yung ganung treatment, but no. hay... o kaya minsan parang it just feels like the actors are delivering chunks of information because they need to, but it doesn't necessarily have heart. buti na lang at mahilig siya sa special effects at nilagyan na lang ng some kinda picture in picture scenes of the things the characters are talking about while they are talking about it.

hay. clearly i am not a ron howard fan, dahil naiinis ako na maganda sana mga materyal niya like APOLLO 13 pero hay... laos.

lalo na kung whodunit film ito, at maganda ang pagkakagawa, maeengganyo ka to watch it again and again dahil sa pagkakahulma. sadly, mas lumabas ang flaws sa subsequent watchings. like i don't know if audrey tautou was struggling more with the dramatic acting or the english speaking (huwat ees eet, prufehszorh? jacques saunier ees may ghrondfutherrr.). actually, hindi ko nga siya nakilala sa film until after i read the end credits! hm, nag-dye lang ng buhok at nag-inggles, nawala na ang charm niya... sacre bleu! n'est pas bon.

sayang. ganda pa naman ng discussions na nilabas ng libro at pelikulang ito sa kamunduhan ng relihiyong katoliko. na sana e kung minarapat nila, kababaihan ang tunay na asawa ng diyos at ang nararapat na tagapangalaga at head nito. it is strikingly interesting. and concepts such as this one will not really have smoke na sobrang kinatakutan ng mga chenes diyan like opus dei kung wala siyang mayadong bearing na apoy, hane? and i agree with some points. the bible is really just a good read of a book full of tall tales, and it is sexist to boot most times. kaya nga naiinis ako kapag ito ang pinangangalandakan ng mga moralista. malamang di pa nila nabasa lahat ng entries at they just take verses out of context and use it as ammunition to assault people who don't believe in it much as they do. sad no?

pero maganda rin na material like this would shake up foundations and cores of institutions like the church and all. high time artistic works did that. ayuz.


*

o shah, yan na munah. laterz.