i like my horoscope for yesterday. so apt:

Everyone may be more emotional than you today, but don't let their dramas destabilize your world. Your feelings are well-grounded now, so listen attentively to what others say without fear of being swept up into their tumultuous storms. No matter what you encounter, hold on tightly to anything that increases your overall security.

yesterday was saturday and the very last day of shooting LOVELY DAY narrative spiels for the year. we went to this island about 10 minutes away from the calamba pier for the shoot and after that, the show's own version of their christmas party. i didn't stick around for the party and went ahead with the group who also had to leave that night. not that i want to be branded as an aloof director -- on the contrary, gustong-gusto kong uminom kasi smooth yung flavored lambanog na dala ni ace cameraman billyboy namin. delish. kaya lang nga, after discovering this liver problem of mine, i shunned liquor muna in my life. kaya bad trip. so if i stay there, mate-tempt akong uminom talaga. hotsprings resort pa naman yun.
the thing with me is medyo hindi ko na trip mag-hang out sa mga groups of people na hindi ko naman talaga katsokaran ng malaliman. lam mo yun? hindi na kasi ako ganun e. siguro after hitting 30 and after having been around lots of diverse groups of people (and i do mean LOTS, man, from showbiz old-timers and newbie artistas to literary feelingeros and writing luminaries, from career academicians and advocate students to cosmopolitanized and proudly heritaged indigenous peoples, from down to earth military and hambog political personalities to fun-loving underground people, from sosyalista hacienderos/deras to urban poor residents, from clean and dirty media practitioners to international/multinational advocates and cultural personalities, and more) talagang minsan e hahanapin mo yung mga ka-close mo lang o yung mga talagang ka-wavelength mo na usually e you share lots of things in common talaga, na kahit papaano e talagang kilala ka. and the biggest common denominator na hinahanap ko ay yung advocacy, yung genuine respect for it and general recognition for it, lalo na sa kababaihan at ka-LGBT-han. sadly, sa karamihan ng mainstream media outfits and groups na napupuntahan ko, wala nito. bibihira, few and far between. isa na rin ito sa mga reasons kung bakit di ko feel mag-venture out with people i don't share my personal life with and have relationships with them on a professional level only. parang sa school sa UPFI. ganun din. kaya i want to kick back and relax with like-minded individuals who know what i'm about and who respect that by being nice and kind and not insensitive.
kung sinabi ni gandhi na "be the change you wish to see in the world" e i'm doing that naman in my own capacity in my line of work. pero kung talagang sobra na ang sexism at homophobia sa paligid ko, as an advocate, i know when to recognize that a situation is a "lost cause" category na or not. in this case, i'd rather deal with it the best way i can -- hence the distance, and the professional level dealings. c'est tout. tricky talaga to handle stuff like this. naturingan kang lesbiyana at peminista, naku, may certain alerts na silang nire-raise sa kani-kanilang mga isip at kampo. nalulungkot lang ako kasi kadalasan, di nakikita ng karamihan sa mga mainstream people na ito na napaka-potent ng kinabibilangan nilang industriya at ang change na sinasabi ni gandhi ay puwede nilang maisubo sa mga tao nang walang kahirap-hirap. kaya nasasayangan ako madalas. if youth is wasted on the young, as that saying goes, i guess opportunity is wasted on the oportunistas...or something.
hay nakuh. yun lang siguro masasabi ko. mahirap maging peministang lesbian rights advocate sa media. ngayon. tulad ng mahirap maging vegetarian na pilipino, kelanman. subukan niyong sampolan ang mga karinderya sa tabi-tabi at kadalasan, iisang gulay lang (kung meron man) na ulam ang nakahain sa kainan nila. buti na lang mahilig tayong pinoy sa mga side things na nilalagay sa main ulam, like mga talong-talong diyan o kamatis man lang. at least may nakakaing galing sa halaman. parang kahapon, ang lunch lang ay parang kalderetang ewan na may carrots at patatas. so puro carrots at ilang piraso ng karne ang kinain kong sapilitan. kasi walang ibang makain, at marami ako energy na nailalabas at nawawala kada shoot, kaya kelangan ng replacement in food. kaya permissible ang karne. buti na lang at nagkaroon ng isda, gulay at manok nung dinner kundi... waaah.
so, sabi nga, don't let their dramas destabilize your world. whatever happens, alam kong may idinudulot akong kabutihan at kagandahan kahit papaano kahit hindi ito nire-recognize o takot i-recognize due to some insecurity or other. secure ako sa knowledge at talento ko without being hambog about it. i know my capacity as well as my limitation. kaya keri lang ako whatever happens. que sera sera nga, di ba? whatever will be, will be. even if people want to control others' futures, the future is not really ours to see, sabi nga ng song. kaya dedma na. kasi ako, puwede akong pumunta sa ibang lugar. yung iba kasi diyan, stuck.
sad lang pag nakaka-encounter ako ng ganitong mga tao. highly talented pero stuck. sayang. nasasayang ang talento nila. wala kasi genuine thirst for knowledge. or hindi sila yung tinatawag na "multiple intelligence" na nakita kong feature sa tv dati. more than gifted kids daw ang mga nasa MI school na ito (na kung tama ang pagkakaalala ko ay nakita ko somewhere near katipunan area). nakakatuwa lang yung categories nila: people smart, math smart, word smart... art smart din yata, hm. forgot. tapos nung ineksplika nila, sabi nila e yung each smart chuva ay mga capacity to deal with things. like kung ma-PR ka or good with people, people smart. kung keri mo ang math, math smart. ganun din sa ibang larangan like sports or arts. e hello, paano kung matagal na kaming ganito? a handful of my closest friends and i are kinda "all-smarts" kung tutuusin kasi hindi kami involved lang sa isang bagay o larangan. hm, multiple intelligence na pala kami without knowing it. dibala? hehe. kasi di ba, kung isa lang yan ang smart ka, luz pa rin. dapat minimum of two smarts per person this day and age. para di ka laos. deva?
o eto pa horoscope ko for today:
You may be working in collaboration more than you prefer these days. If you are struggling within a close relationship, marriage, or professional partnership, setting mutual goals can help you align your energies and head out in the same direction. Tensions may still arise, but this can be part of a healthy process if you don't bury them. Keeping feelings out in the open minimizes any negative impact.
well, not always siguro, especially kung mga lost cause ang kausap/ka-deal mo. it's best to keep some feelings not out in the open in this case. kasi you know better. people smart nga e. devah? define a different strategy na lang with them.
zaturnahhhhh! poof!
*
sya, bago pa man tayo malunod sa chorva of life, eto muna sampol ng pride photos. those who want the original higher resolution pix, just contact me po. i deliberately blur the people na di ko kilala at di ko sure kung out o hindi. respeto lang sa mga kloseta syempre. di ibig sabihin nagmartsa ka e out ka na. it doesn't work that way, if you don't know yet.
back in malate! happiness! la vie boheme ever!
yezzz, after how many years of bringing it to good ol' kyusi, wala pa ring tatalo sa malateh. kaya narito kami ulit, sa comvergence point sa usual remedios circle na ngayon ay pinaganda na. buti naman.
this year's theme. yah, now nah!
this year, it was all about the pending ANTI-DISCRIMINATION BILL which does not reiterate same sex marriage. what it does, though, is criminalize discriminatory acts against members of the lesbian, gay, bisexual and trans community like being denied entry to an establishment (like what happened to inday garutay at aruba bar), being fired from work because you're gay (like what happened with marlon the librarian when miriam college fired him for having a union ceremony with his boyfriend) and being harassed/maligned/bugbog by people because you are an LGBT person. many thanks to akbayan partylist for carrying it forever in congress (albeit the homophobic wahoos haranguing them), and now the senate.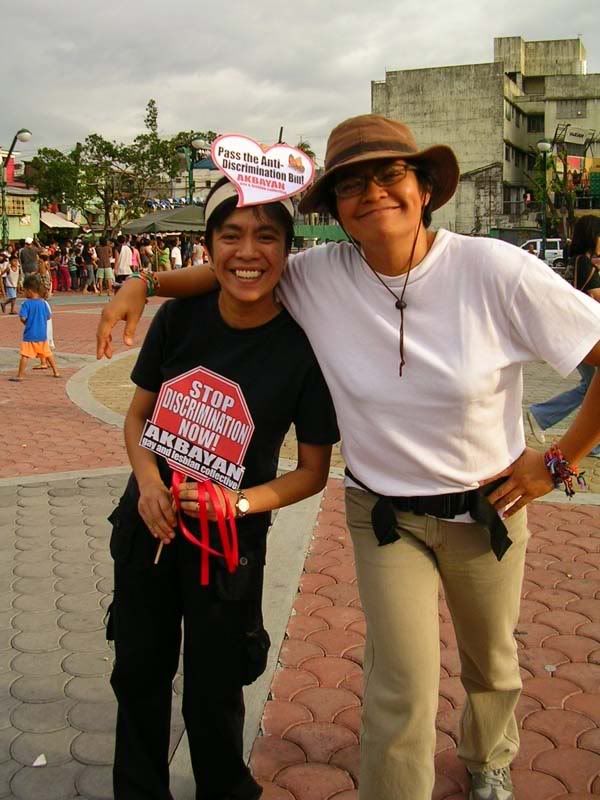 friend-spotting
fellow advocates and kachokaran sa mga kalesbiyanahan briggs and irma lacorte the visual artist.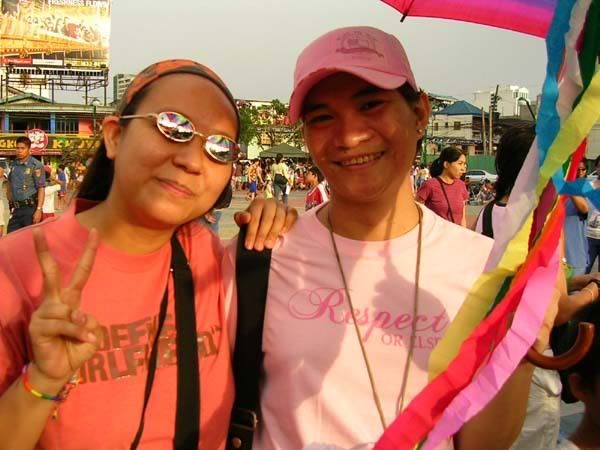 friend-spotting photo op-ping
happy to bump into purs again. my shirt read "define girlfriend" at sabi niya "friend... na girl? e puwedeng ako yun di ba? hahaha" hahaha honga naman.
bless you father for having cool threads
the metropolitan community church/order of st. aelred people assured me that "the god" was on our side marching that day. the gods are always with us, you know, kasi nice kami. at fabulous.
they call me a space cowboy...
hmmm, di ko alam ku ng contingent si manong o manong marshall siya or what. mukha siyang wannabee space shuttle commander eh.
flags up!
time for the rainbow to hit the streets and walk our talk! and that we did! tangeena ang layo ng nilakad noh.
my partylist in the years to come.
and this is the group i joined for the march this year. there's (from L) ging, danton and germaine. pink power it is.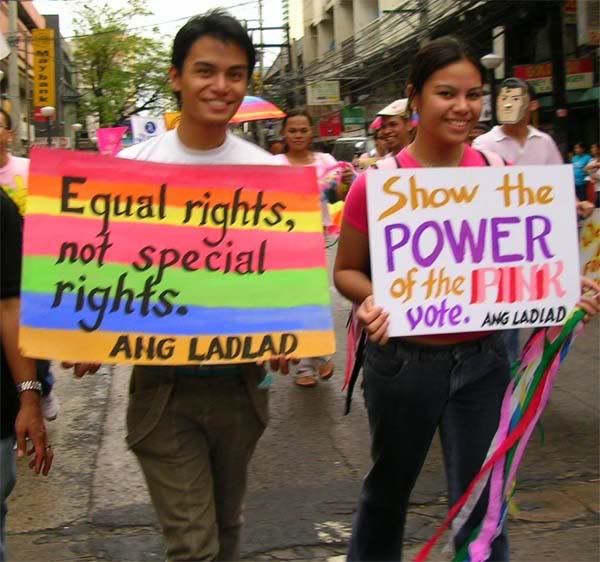 sez moi
more banners carried by angladlad vice-chair doni and another colleague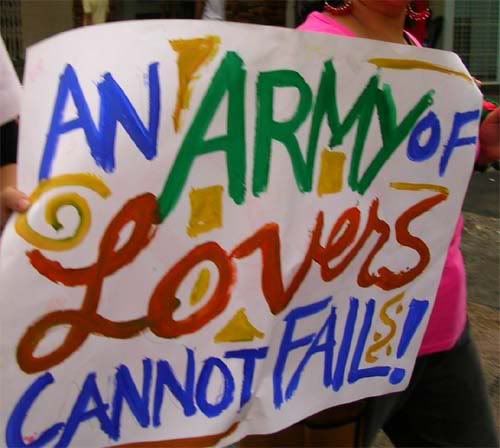 blast from western past
echoing the very first slogans of the very first pride marches in san francisco yoo es op ey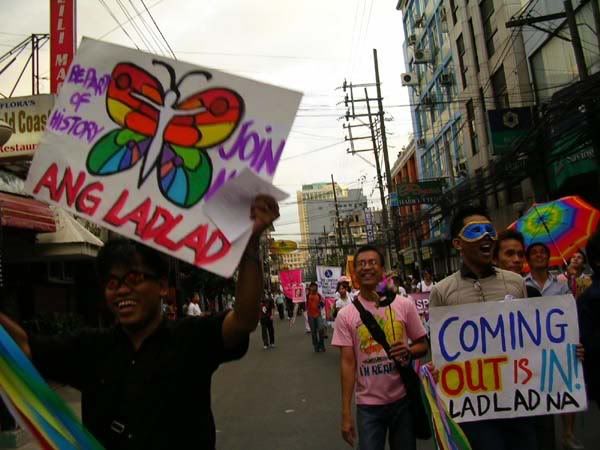 more banner chuvaness!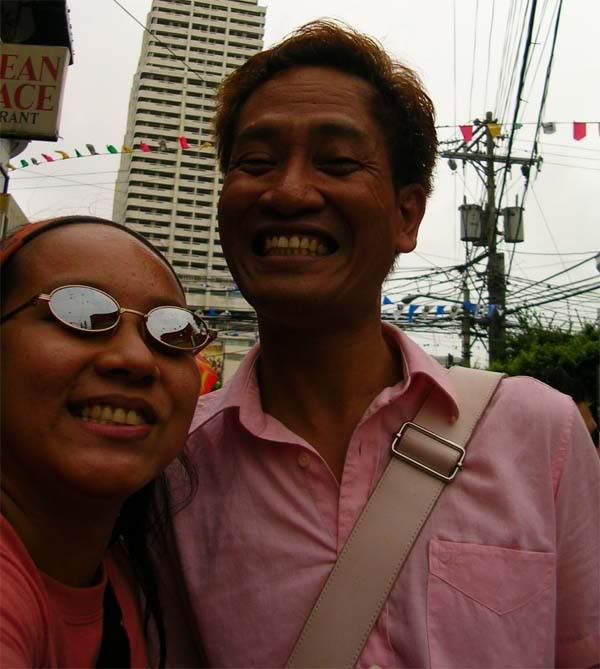 pink writers
hamming it up with professor danton remoto, angladlad's chairperson and my former classmate sa MA creative writing fiction class ni mam jing hidalgo. riot yung class na yun grabeh. hehe. miss those writing workshop days!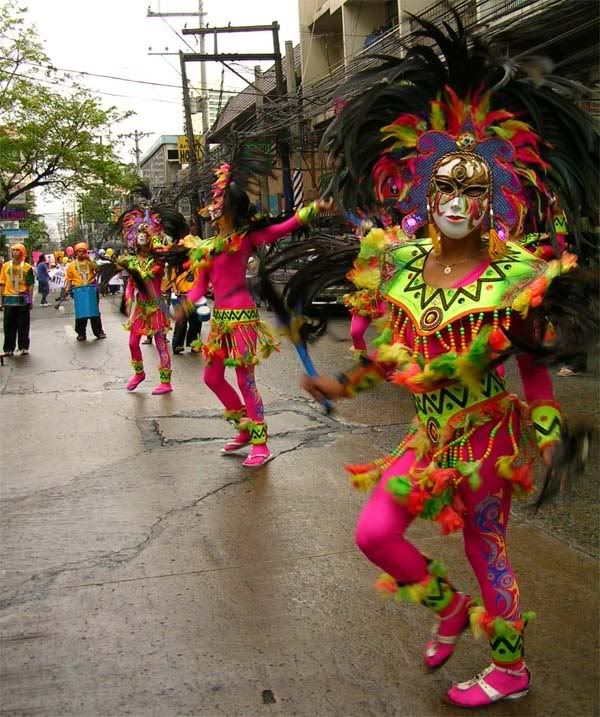 atee-atee-hun
ang cool lang nila tignan, sobra. kakaiba. pink eh hehe.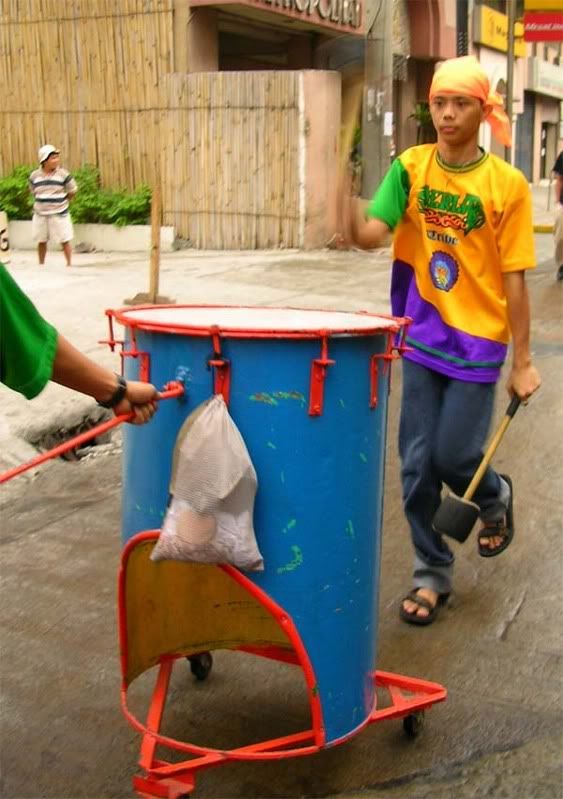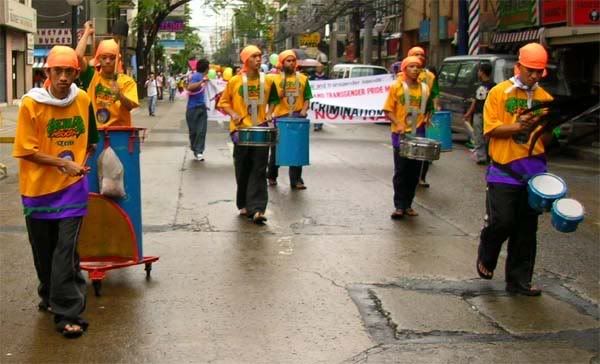 drummer bois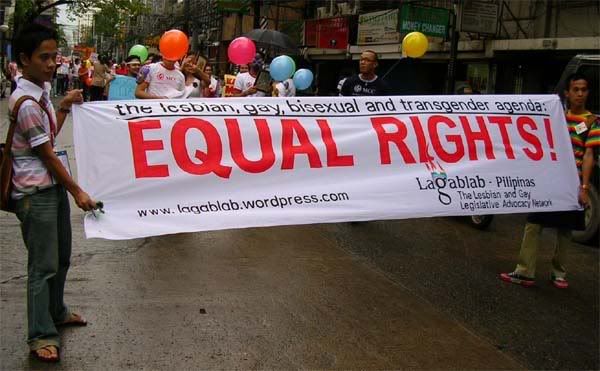 the official banner, kasama na ang LAGABLAB (lesbian and gay legislative advocacy group) banner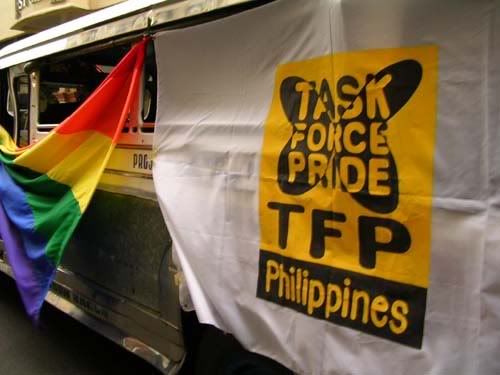 tfp4evr pa rin!
the organizers of the annual pride march.
jownaz
kung ang animation world may "the incredibles" ang lgbt advocacy comunity ay merong "the indefatigueables" na siguro. pinangungunahan yan ni jonas bagas, secgen ng lagablab na super-sipag sa pagbabantay sa ADB. yehey kay jonas!
jesse jeep
isa pang indefatigueable, si jesse ng akbayan. laging may megaphone na kakabit ang kamay at bibig niya. ever.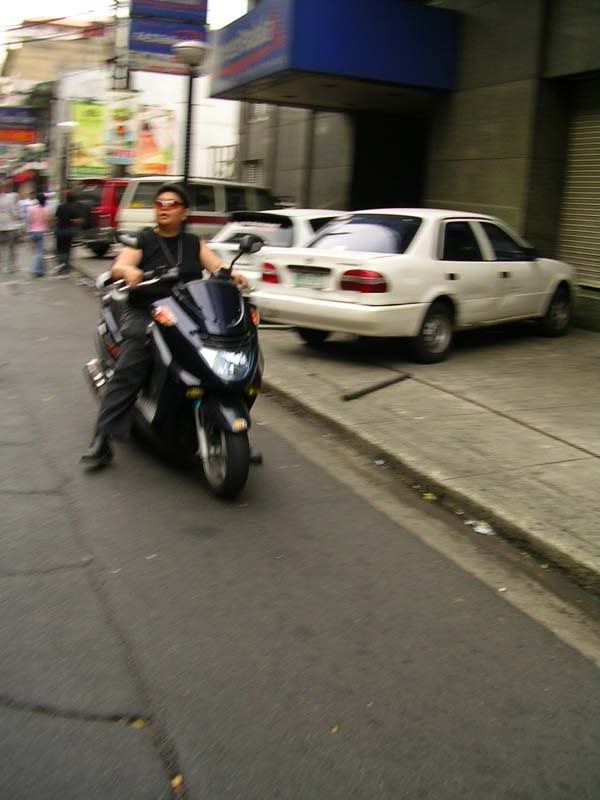 and yet another indefatigueable, chrisjo. hindi si batman yan pramis. mukha lang.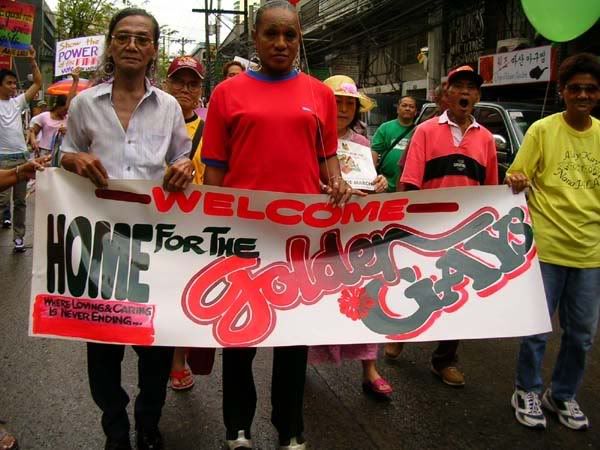 lola literal
syempre hindi mawawala ang mga matatandang bading na magaling!
batang-bata ka pa...
and the young ones were also there. here's UP babaylan's tivoli contingent. opo, mas marami nang gels doon ngayon. hmm. wonder why... shucks na-miss ko tuloy ang UP sappho society days namin... kia dre cathy asan na kayooooooooooo...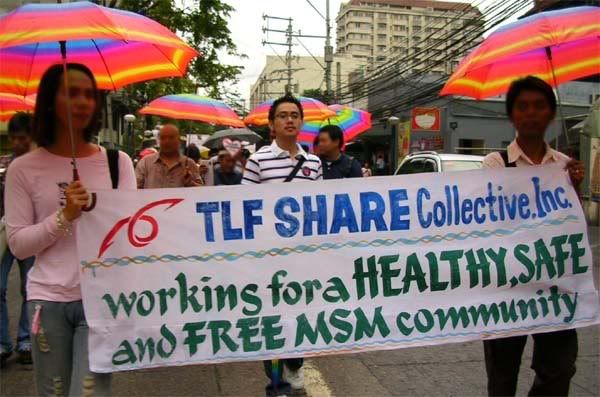 paminta? sabi nila. ching! joke.
the library foundation's share (forgot the meaning). basta for men having sex with men (msm) ang chu nila.
tama! go nah!
in response to that commitee on human rights chair
yebah, okei sa sign yan hane! go lang! anything goes, 'ika nga ng kanta ni b-boy cole porter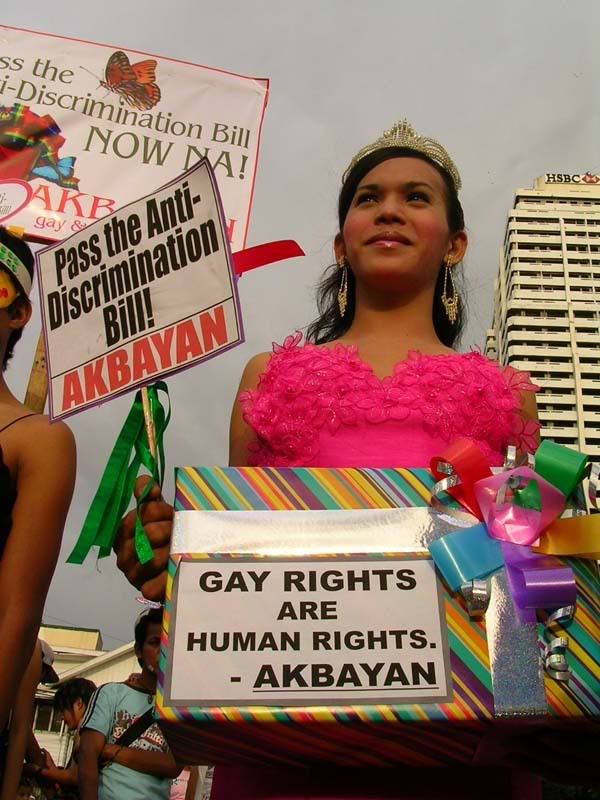 true ka jan, at! and look good saying it. yebah!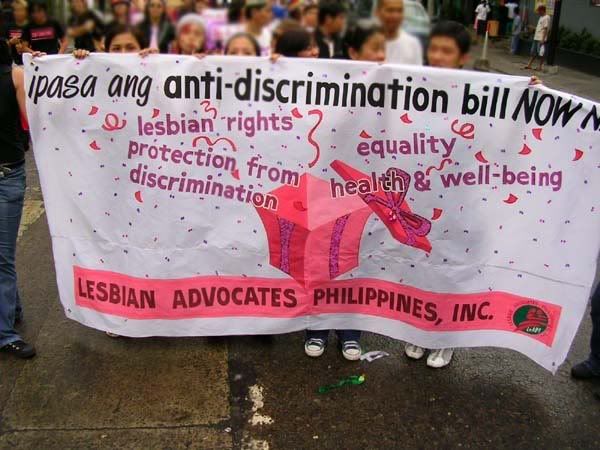 leaping lesbians, batman!
the LEAP girls tell it like it's hot. hehe. spotted a fewlword egroup gelays here. guess that drag kingidea didn't quite fly, huh? at least nag-marcha kayo.
AI always there!
parang bago to. teka, dax di ba AI ka?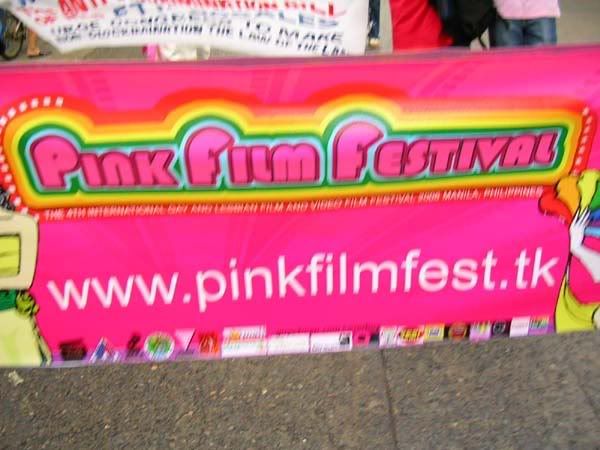 okei, kahit 5 films lang meron this year...
keri sana to pero my beef with them organizers is that dapat tawagin na lang nilang GAYandminsanmaylesbian filmfest ito. lagi kasing ganun eh. efort naman diyan for lesbians and everythang!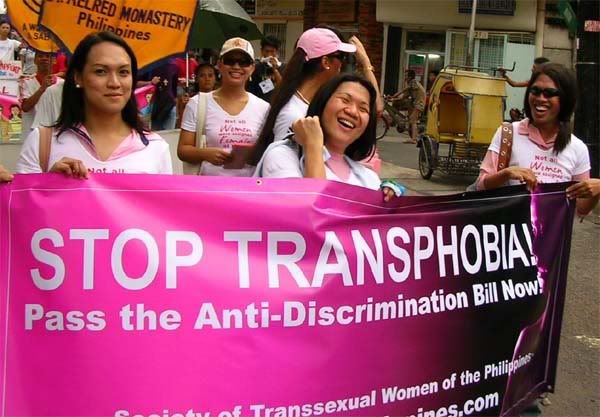 the lovely ladies of STRAP
sana ma marami pang non-manila continent like lakambulacan.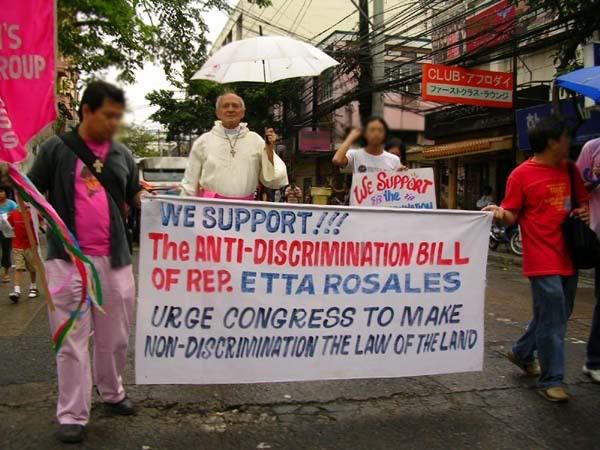 fr. mickley's message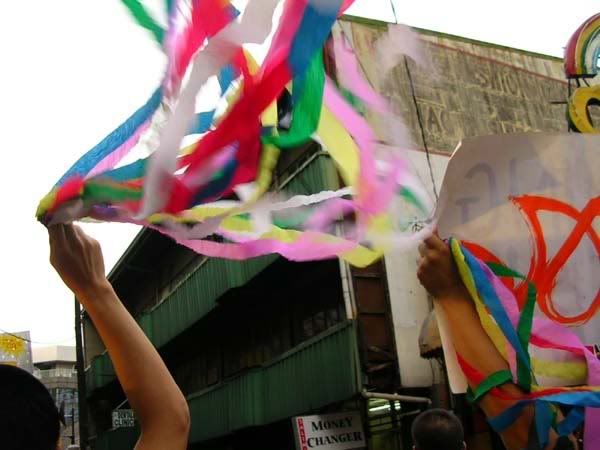 tuloy lan ang rampa sa kalye, naka-sneakers ka man o high heels!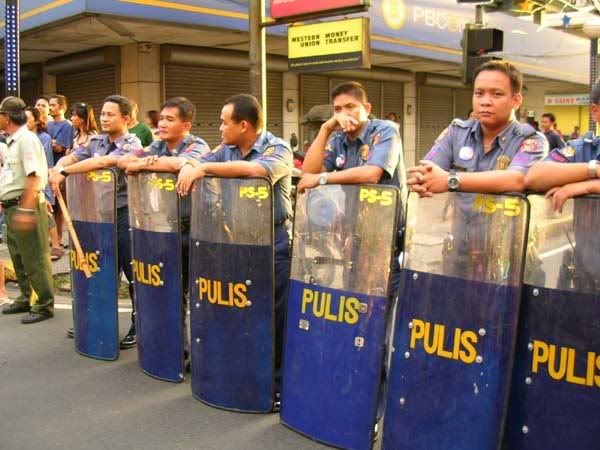 hmm parang now lang ako nakakita ng ganito sa pride march, since 1997...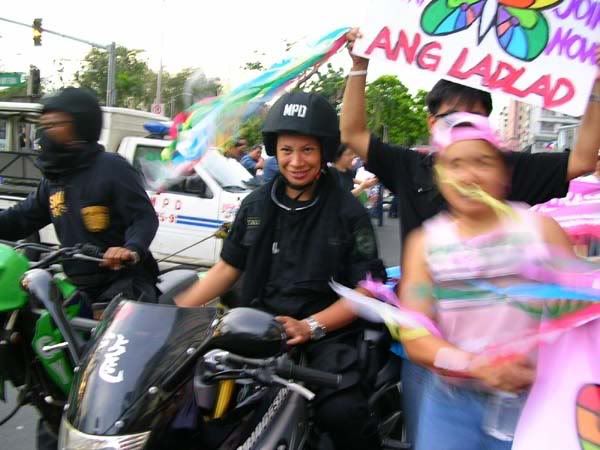 ...at pag may mukhang kabaro, photo op! hehe.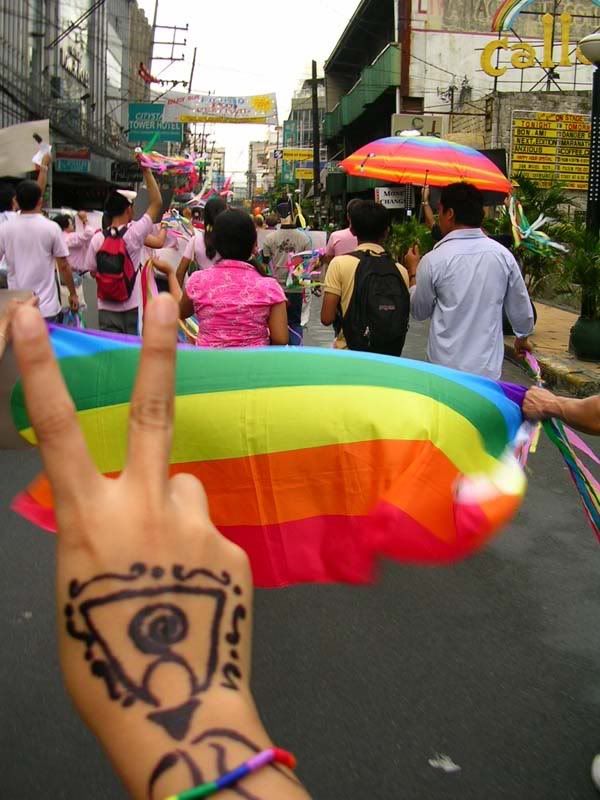 pero peace pa rin ang kinahinatnan. fun kami, hindi violent.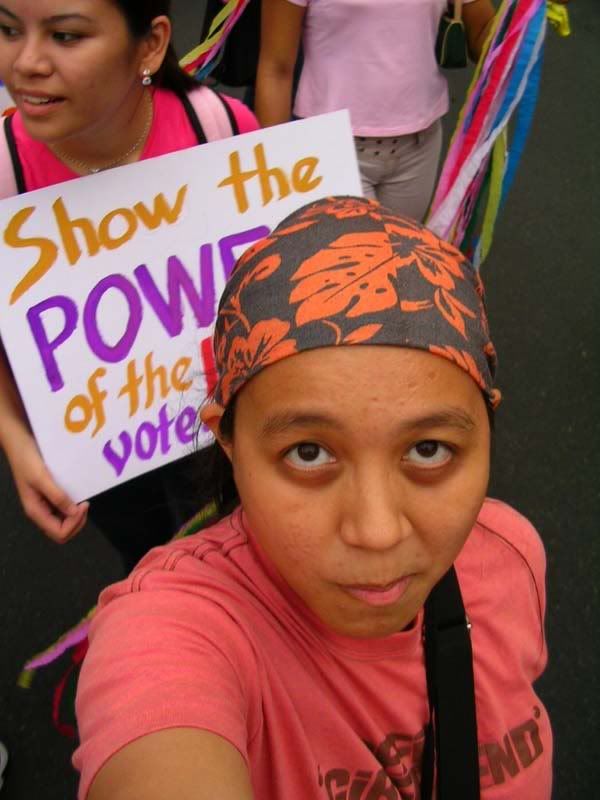 ang lagay e di ako sasali sa photo op!
it's a GO for PRIDE! nakaratin ding roxas blvd sa wakas!
grabe nah sa photo chuvaness itich! more next time.