as you can see, i haven't been awake for no more than 12 hours and here i am back again here in blogosphere. the nocturnal creature attack last night (or this early morning) made my senses reeling for some unknown reason, so i decided to junk the things i have on my plate today and just...play it by ear. literally.
so part of that is tuning in to tv and lo and behold,
ALFIE
was just coming on in hbo. good timing. i've wanted to see this film for the longest time if only for the preparation of absinthe hehe (and such a laborious task, i believe) as tipped by mimi before. but more importantly, i got hooked by its premise of this dapper lad, a bachelor and a man about town (can you hear
englishman in new york
in your subliminal soundtrack?). not another hetero
brian kinney
, i thought. so i wanted to see how they will treat this modern adaptation of the '70s film which is an adaptation of a play.
it was good. got lots of gems in here. and by gem i mean words to live by and thoughts to ponder on. sapok ang sentiment niya about christmas (same way i feel) and i like the way the story was set up. but somehow, it waned again in the end when it felt like he was grappling for somebody to be with him. rather pathetic in a way but i wish the character didn't turn out that way. pero medyo na-redeem pa rin in the end kasi na-realize niya na that's who he is and well, dapat wala masyado regrets. but this comes off as too weak a resolution pa rin for me.
i'm comparing it to the season finale (and show finale) of
QUEER AS FOLK
when our favorite hero of all time, brian kinney, remained who he is to the core even though he let people in sometimes, and rarely (only a privileged few, i think). stronger and resolution doon ng character niya na he will keep on loving this young man justin even though hindi sila marriage material at ayaw niyang i-hinder ang future ni justin as an artist...pero kahit ganun, he still remains handsome and fuckable and will go around fucking the guys he wants to fuck and all that. basta something like that.
i've been mulling to write about this coupling thing a few weeks na but i haven't had the proper motivation to do so. and this afternoon, the film alfie did it. so here i am.
kasi this gets me thinking again how the pressure to have someone is so ingrained in our society that it seeps through our beings even if we don't want it to. and of course, the primary culprit that perpetrates this kind of emotional symbiosis is none other than the media. maraming nuances how pero the bottomline is, it's just everywhere. the love songs on the radio, the fucking movies, literature, even in institutions like schools where they teach you family values (and subconsiously you form a desire to have a family in the future) and the church where they push your buttons once in a while to have that desire enacted out, but in a "holy" way.
i remember being in a writer's pool before where we were developing a new soap opera for tv. i told them that we should focus on something else besides the usual love story arc. why can't we create something different, more adventurous where the love story isn't the main focus (as it has been forever). the associate producer told me that that is what sells kasi, so dapat andun yun. and she continued to say na bottonline daw naman e everybody wants to fall in love so we give that to them daw.
so see how the creation of content perpetrates these things about our person? nobody really wants to challenge that status quo.
lots of systems push our buttons that way to have a wife, husband, girlfriend, boyfriend, life partner. something steady. kaya nga ang tawag nila noon doon ay "going steady." why can't a person just
flow?
why does s/he have to "stop and settle down?" it baffles this mind.
even with the advent of technology, the pressure to couple is still there and very much alive. but what if you don't want to commit? then that's where life begins to suck anew.
some might say that i am just bitter and i haven't found the right person yet for me to grow old with or whatever. but that's just my point.
what if some people don't want to have someone?
what if it's just great na to have a happy life doing the things she or he wants to do? but people put more premium on couples kasi than single people. a filmmaker friend is investigating this phenomenon nga in a documentary about single women and i'm very interested to know the outcome of her project. it's a curious thing.
there's really a big difference with being alone and being lonely. but it doesn't mean that being alone
is
being lonely. gets? but people still think that way, which is rather sad. why do they have to have just one standard for happiness? if chocolate ice cream works for some people, vanilla works for someone else. people like different flavors. does this mean we only have to choose one (or to patronize one brand)?
if you wanna live a fun life and romp around naman, people will look down on you as a "playa." e kung hindi naman? tama rin yung sabi ni alfie about that. it depends on the location kung gusto mong maging ganun. kaya nga i wanna relocate sometimes eh hehe. so hard to just get laid in this city/country just like that, if you're a lesbian (if you're a
picky
lesbian at that pero kung hindi naman, well, puwede na rito). kaya i like this quip from a friend of mine who spent time in the US and came back here to work (which we are asking -- why!!!). she feels the same way about being here and getting laid here. sabi nga niya, kaya she likes so-called "sluts" kasi with them, they know what they want and they know what they want from you, kaya malinaw ang usapan. social contract easily negotiable, kumbaga. mahirap yun dito sa 'pinas. tayo pang may kasaysayan ng pagkukunwari. madalas kasi mapagkunwari tayo e. oo kasama rin ako doon, pinoy ako e. our history fucked us all up and confused our subconscious even more. we are a sad lot. and we use media to cover that up.
sabi nga ni corky sa
BOUND
"that's what i hate with sleeping with women -- it's the fucking mind reading" or something to that effect. daming madam auring kasi dito eh. yeah. true.
i guess it's being human. we always want more than what we have initially. we ask for more. we expect for more. we wait for more. we badger others for more. sabi nga ni OLIVER "please sir, i want some...more..." ganyan kasi tayo e. what if hanggang dito na lamang po at maraming salamat ang nais ng isang nilalang? huhusgahan ka ng katakut-takot. bakit kelangang ganun?
well, depende na rin naman yan sa mga tao. i've seen friends who alter their lives for the sake of this thing called luv. there are those who uproot themselves and choose to live their lives where their loves are. para silang yung kanta ng gladys knight and the pips na
midnight train to georgia
:
"i'd rather live in his world/ than live without him in mine..."
romantic to some, crap to others. of course they'll say "but love is sacrifice." i've also seen people junk a brilliant future ahead of them to tail their loves somewhere where their own future is uncertain. again, sacrifice. i have friends who junk their livelihood for the sake of love ek (i, too, was once like that in my early years of dabbling with this thing, and i regret it very much now -- well, you live, you learn).
if love is grand and all that, bakit kailangang may sacrifice at may malungkot na mangyari somewhere somehow?
but still, i'm happy for my friends who have been in relationships for 5, 8 10 years and more. that's really great. i just wish that they wouldn't use their lens to view others. we have different systems, people. that we do. i guess that's all i'm saying.
what if i just want to live in my world and it doesn't matter if someone is with me or not? puwede ba yun? someone once told me na kasi ang mode ko daw sa lovelife ay wait lang ako and then take lang yung person na darating and then make do with that until it blows over. perhaps in a way, i am complacent that way. pero hindi naman lagi. kung ganun lang ako, e di dapat lahat ng gustong pumatol sa akin e pinatulan ko rin. course not. yuckers yung iba no so namimili naman ako kahit papaano.
pero there's another person din who told me that i keep on picking the wmen who are not really available (in one way or another, literally and figuratively speaking). now that is a revelation to me. hmmm. made me think a lot. ako ba available nang tunay? siyempre there are things you want to keep to yourself and you want to have your own space and all that.
insights like these from friends make me think a lot. hm.
well, i dunno i'f i'm still making sense here. and that's just after 2 cups of coffee. hm. what more kung mojito yan?
but in a bit of non-drunken stupor last night, i vandalized my own home. the thing it,
it's just so white
kasi eh. e i hate white.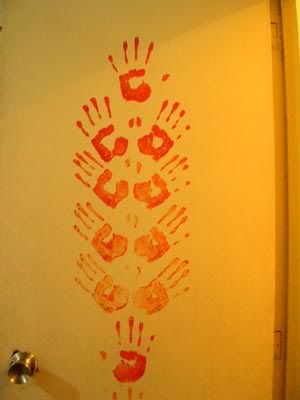 orange palm tree. da door.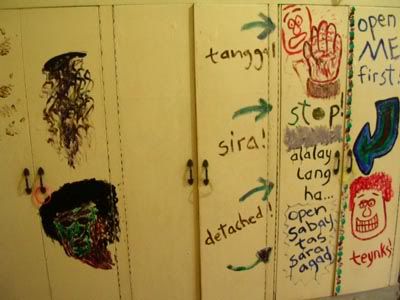 warnings!
this series is called the "PRIDE MARCH"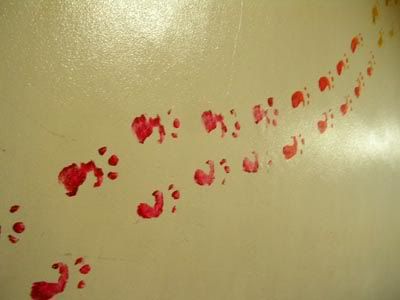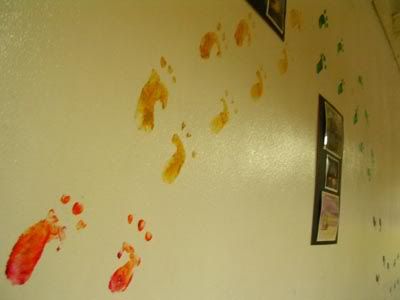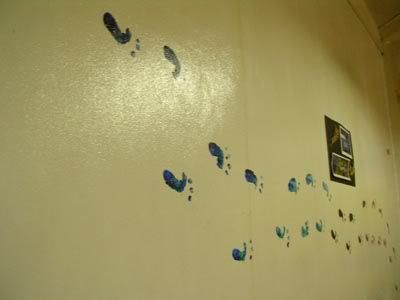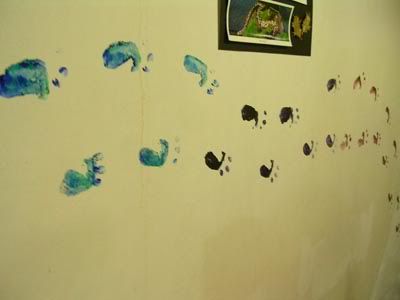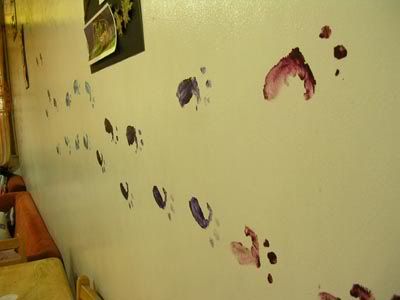 when art calls me this way, wala akong magawa hehe.
don't worry cuz, acrylic peels off easily. as in. hehe :P
and to finish this thing off, hehehe kakaiba to.

hehe. i wrote a fragment (beginning) of a story once entitled "the strawberry vulva" in the late '90s but sadly, it got wiped out of my hard drive when my first computer crashed.

so yeah, apt yan. hehe. methinks.