stupidest news of the day:
Reacting to petitions for habeas corpus filed by the families of the missing activists, Lieutenant General Romeo Tolentino said reports that Army troop are behind the alleged abductions may be a "creation" to cover up the fact that the activists went underground.

baket? kasi...
Bagong Alyansang Makabayan (Bayan) secretary general Renato Reyes Jr. blasted Tolentino's statement as a "lame excuse." "There were witnesses who saw the forcible abduction of the UP students. How can he [Tolentino] claim that they went underground with the NPA?" Reyes said in a text message.

di ba? read more inanity
here
.
kakaiba talagaaaaaaah ang.... hay... kawawa naman ang mga batang peyups na yan. read more here.
in other "haha-only-in-da-philippines" news...
THE blue-ribbon committee of the Quezon City Council has recommended the temporary closure of the Philippine School of Business Administration (PSBA) on Aurora Boulevard to give way to a new investigation into the alleged excavations undertaken in search of the fabled Yamashita treasure on the school grounds.

di ko alam kung matatawa ako o matatae... tawa na lang since wala ako sa bahay para jumebs.
ibang klase. read more
here.
*

anyway, in happy concon news, just got to watch
TRABAHO
last night directed by our very own papa ned trespeces, my film barkada. produced by his longtime partner in crime onnah with help from fellow conconistas like yam, jke and xe. saya naman to reconnect with these peeps again at the showing. na-miss ko ito ng husto a. grabe sobra.
nakakatawa pala yung film. nabasa ko kasi yung orig material nito na stage play na na-stage din ng peta before. it's nice material actually, and so apt for an indie prod flick. way to go, dirtykitchen prod!
kung may low profile great guitarist friend kami diyan sa paligid, siguro si ned ay isang low profile great writer friend naman. tahimik lang pero dami na ring na-achieve. nung nasa naranghita halfway house pa kami ng ilang fellow conconistas (like cres and hech) during the late '90s , madalas dumalaw yang silang dalawa doon for parties and other things. rakets din. naaalala ko when i acted (yes, acted, can you believe it) for him during one of his AVPs yata for PGH or something like that. haha nakakatawang alalahanin mga panahong iyon. we've really come a long way, conconistas. ibang klase.
nostalgic ang lola nyo this friday afternoon.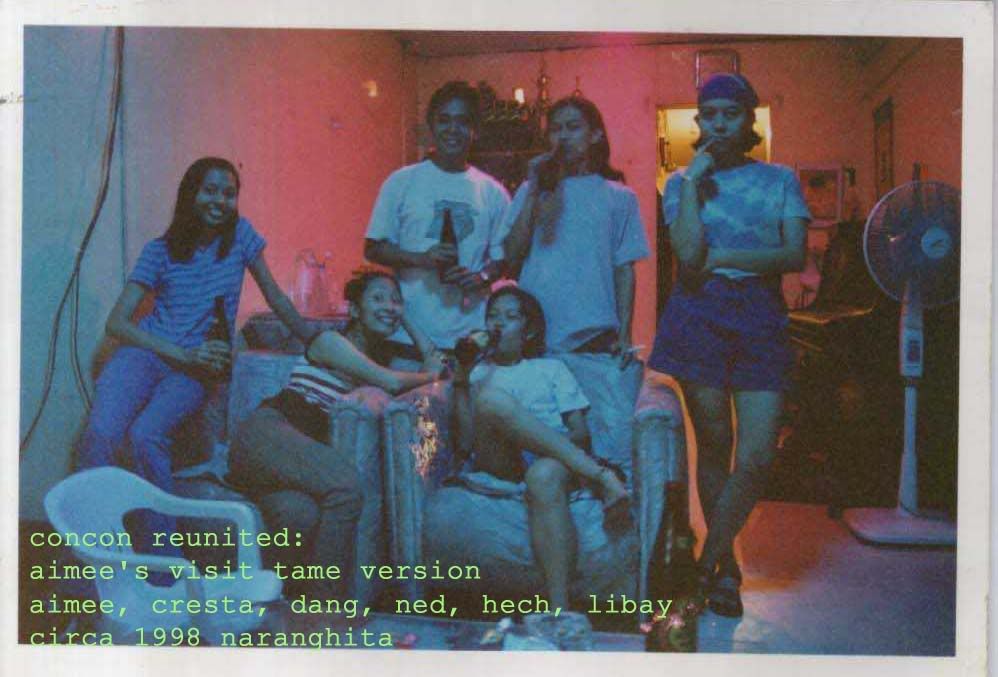 this was then...REALITY BITES mode ever
our new yorker conconista, aimee, came back for a visit dati. so syempre concon party sa haws. she works as a pencil pusher daw there hehe, a mighty far persona from her metallica-head days hehe. there's sitting cres who's still the head chenelyn sa LOVELY DAY and dang who's lost somewhere heading the writing pools of abscbn teleseryes or something. standing are fafa ned (how we call him hehe mukha siyang fafa kasi), hech and moi noong payat pa ako at may k pang mag-shorts.
still way back when...
most of us were virgins hehe but full of filmwisdom ching! hehe
college days, when we were shooting our final productions for directing class in baolor, kina k. there's hech who's still wallowing in gma7 heheh, li-an who just swam-dove away from abscbn (and kudos mare hehe, see you soon), k our host who's still shining in abscbn news, vito who's now retired as a roadrunner (award-winning!) film editor, emman who's about to have his first feature SARUNGBANGGI in theaters soon, me who's back rejuvenating and hibernating (parang dragon back in the lair sleeping mode growing another tail hehe) in UP film, and olga who's earning megabucks somewhere in an ortigas callcenter (mare, di pa namin nasisilayan ang toddler mo!).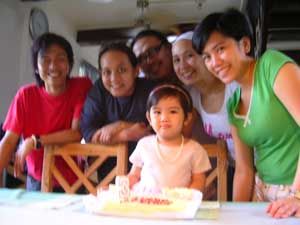 this is now...kari turns 3!
our inaanak kari, k's (in green) firstborn, during her birthday in bacolor. there's fellow godfairies (hehe) hech, me and emman, with cres whose car windshield was literally
blown away!
sa north expressway! grabe sa experience yun ati.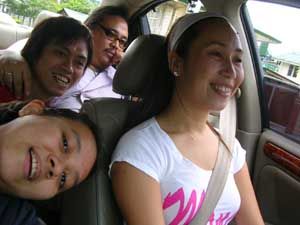 look ma, no windshield sa likod!
and what's a concon gathering without creative photo documentation?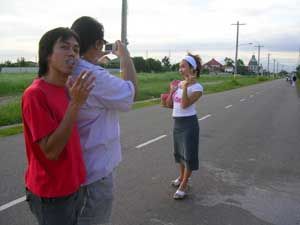 haaay. miss you guys.