swak na naman ang stars:
You tend toward mental inflation today. No matter what you hear, you transform it into something bigger. If someone tries too hard to change your mind, you might just let them know what you think. Your temper could flare, but it could also turn out beneficial for you once others know exactly where you stand.

di ba? and this was for yesterday, friday. so so apt.
pero eto ba totooh? para ngayon naman ito.
Your feet are being held to the fire, but you are already plotting your escape. Your antenna is extended and you are scanning the dial for some action. Sure, this might be a total distraction from what you should be doing, but you Bulls just want to have some fun now. It's okay to play today; your work will still be there when you return.

di yata ako makapaniwala. sabagay, if you call blogging play...
*

hay haggard is right. mental chorva? marami nun this weekend. two-week special ang anniversary show ng
LOVELY DAY
kaya we're all haggard to the bone. as in.
oh, lest i forget, watch niyo naman.
it's every SATURDAY 10AM GMA7. watch watch watch lovely day.
share ko pix:
"ate, artista ka ba?"
si cres, our exec prod (EP), at awla pang tulog yang lagay na yan ha. siya may pakana ng lahat ng ito hehe.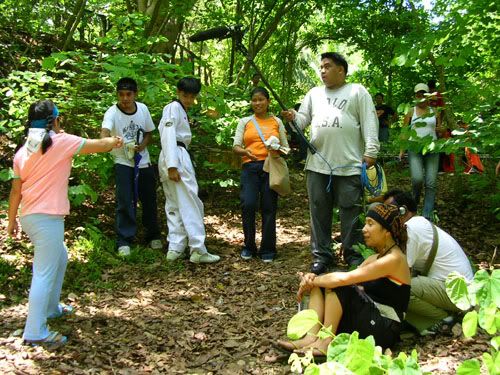 unit cres
pinaghatian naming idirek ang anniv episode na ito, kundi pinaglalamayan niyo na ko ngayon. madugo siya kasi walang segments! the show kasi is a mixed genre of docu and fiction, fiction yung dinidirek ko (spiels, which ties the whole story together and is like 60percent of the show) then one segment producer is in charge of putting their own segments together (3 segments each show) which they put in the story. man, imagine carrying the whole load! and with such an ambitious concept! script written by hech.
hm.. me, cres, hech. conconistas show pala ini! hehe. mga dating magkakabahay sa naranghita halfwayhouse for film majors. ah, those were the days.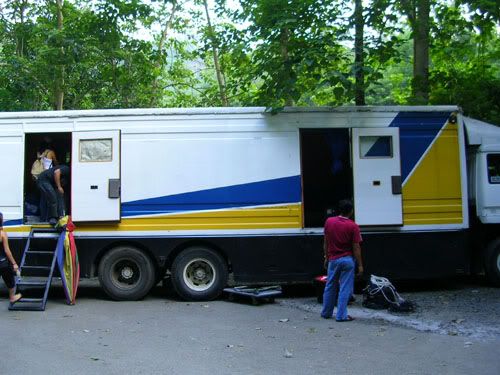 trailer
a mobile home trailer na parang home away from home, literal. for the hosts and guests. and us. but i didn't go in during the shoot dahil mabibiyak ang ulo ko sa palit ng lamig ng aircon nito at init sa labas. suicide ang tawag don.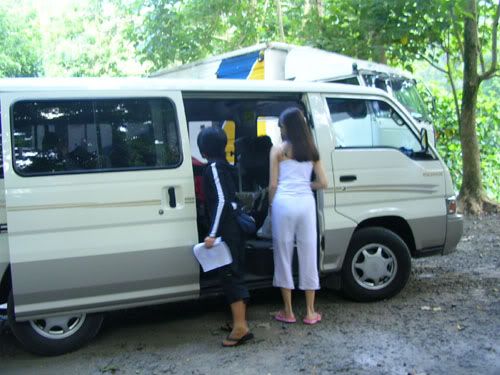 normal van
si shao, our segment prod who also writes the spiels scripts, is my asst dir for this gig.
iniwan kami ng ng van na ito, for some apparent reason na di ko na inaalam pa (let the prods take care of this). kaya i ended up riding that gma elf truck that carries the dolly equipment, nyeta, kasama si cres and some of our guys in the crew. sakit sa likod tangina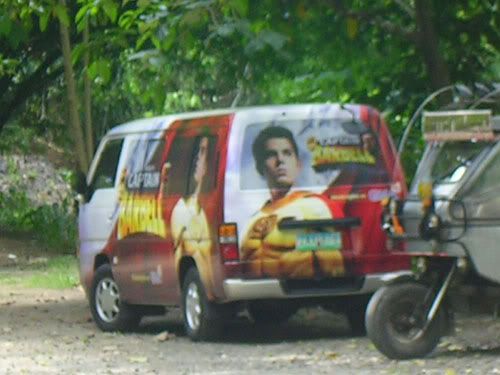 abnormal van
the other service van. i hate riding these ones na may balot ng isang primetime show. it attracts unnecessary attention plus i can't see a darn thing from the inside dahil natakpan ang windows.

redhead monster
this is so eerie cool. may malalaking insekto na dumapo sa mga ilaw. no, not gamu-gamo, pero talagang ang lalaki! half your thumb size. i tried to photograph it but this is what appeared. kakaiba!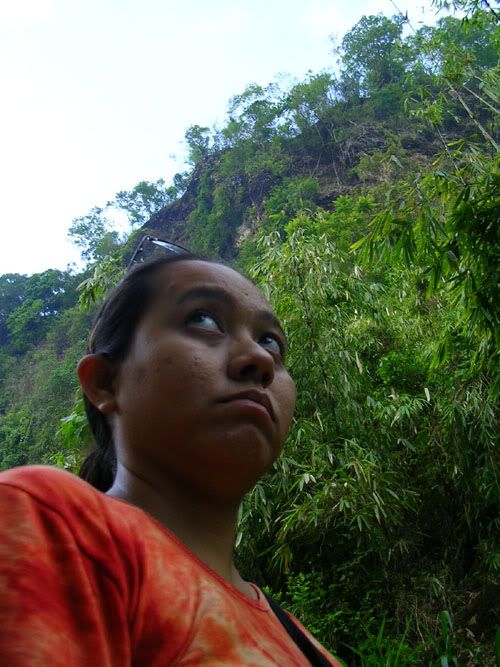 channeling the directing mantra...
which is this song by elton john "don't let the sun...go down on me..." dahil ang show ay dapat daylight hours lang shoot dahil daytime show siya. (oo, may ganun pala, now ko lang din nalaman)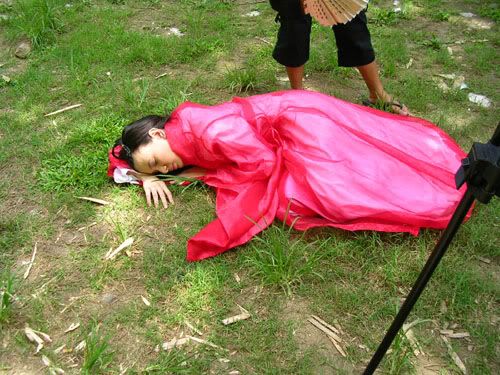 o mamamiya mamamiya...
pauline, the 12 year old newbie who looks like she's already 19. anak ng friend ni cres na taga-marketing dept. puro newbies and non-celebs ang kinukuha usualy for this show (kasi walang budget for star guestings hehe).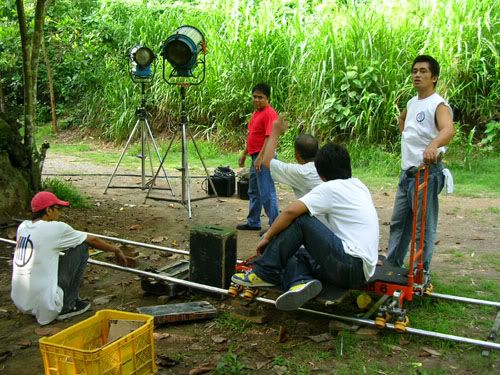 light my
fire
take
kuya lawrence in red, super in-demand lighting guy sa gma. galing kasi, bait at parang kuya kapag nag-a-advice ng lighting approaches.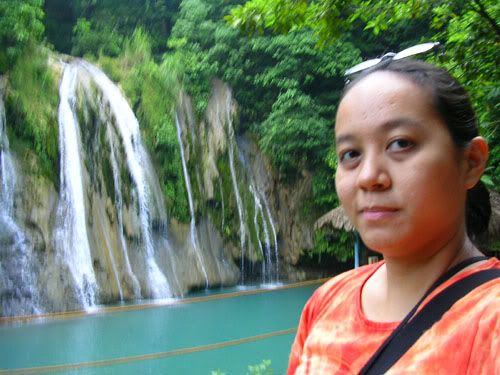 tung sa tanay hehe
ngayon lang ako nakaating sa daranak falls. ayos naman, although not breathtaking, lam mo yun? i wonder why... siguro kasi medyo komersyal na ang kapaligiran, unlike when you have to kinda hike a bit and end at some relatively unknown falls structure somewhere in a non-commerical area, like that one i visited eons ago in laguna and the one my tung friends and i visited within samal island in davao. that was swell.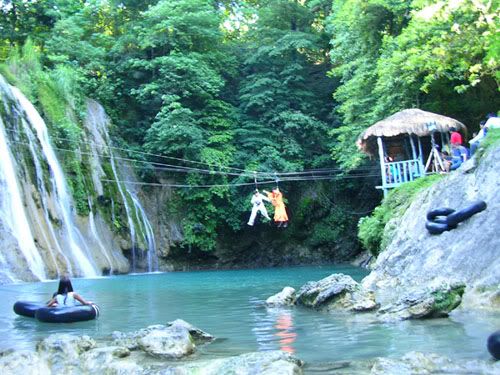 hello jet li ikaw ba yan?
i'm glad i didn't have to shoot these action sequences. i'm not a fight enthusiast so the magic-magic special effects part will do. yea, kasi when i was in film school, i wanted to work at
ILM
to specialize in special effects (esp lighting). e ayun...
PANOORIN NIYO NA LANG SA SABADO ANG KAKALABASAN NG EPISODE NA ITO.
sa ngayon, ie-edit ko muna... ciao!