current chi-cha: nada. just had late dinner.
current beverage: still thinking of what the bartender in me will concoct in a while... stay tuned!
ay yehey kumabit din yung band sa taas! kala ko hindi success eh. kasi i visited
merman's blog
and saw this at ginaya ko hehe. thanks merman. you write beautifully. thanks for reading my chenelyns rin. sorry to hear about your latest chuva.
*

mukhang tama na naman ang stars sa akin.
Discussing your feelings is quite important now, but it is especially critical for you to use the right words to express yourself. Remember, you don't have to go overboard to share your emotions. Life's not just about handling the basics of practical living. It's what's inside your heart that counts.

The Moon is in discerning Virgo today, which can keep our minds quite focused. As Mercury, the planet of information, moves into meticulous Cancer at 7:21 am EDT, we are very careful about what we say. In general we are more sensitive and quiet now, for Mercury relates to our thinking process and how we communicate our ideas. Over the next couple of months our thoughts may mellow as we reflect on how best to protect and nurture our home and family.

heh. life's not just about the basics of practical living daw baga. naalala ko tuloy yung napanood ko accidentally kanina when i tuned in sa etc 2nd ave channel. this white guy was lamenting about his financial state yata kasi yung mga anak nya problematic, and they go to private school pa daw chenelyn. tapos yung isang white woman kino-console siya sabi niya something to the tune of "what's important is you love your kids and you're together and you have to stand up to them" chenes. sagot ng 'kano "easier said than done."
haha natawa lang ako doon. kasi naman, kung livelihood at finances mo talaga ang apektado, ripple effect yan na apektado din lahat sa buhay mo. yun yung di nagets nung ale (the show, by the way pala, was this show about switching lives, switching spouses or something? basta.) nothing can really thrive much if you don't have money, especially if you live in the city and you live without your parents or older relatives who support you financially. mahirap talaga yun.
well, yun din siguro masasabi ko sa stars ko. easier said than done, dude. what's inside my heart ba? siyempre yung worry na what if i suddenly don't like my job anymore and i quit na lang? patay na lahat - rent, bills, food. diba? hay labo... minsan talaga dapat ibalik sa barter trade system ang economics natin. bat kasi inimbento pa yang pera na yan. goods, trade, services, puwede ipagpalit sa practical things. like
i can french kiss you for one whole minute if you buy me a steak meal at mario's
. o kaya
i can give you a handjob if you give me a ride and take me to my makati office
. hehe bat ang lalaswa yata ng naiisip kong barter?
ikaw, what talent would you barter for what basic need? points to ponder...
heniwey, looks like the rainy season is already here. grabe lang ang panandaliang pagkulog at pagkidlat kagabi tangina yumayanig ang bahay! parang ang baba, kala ko tatamaan na yung bubong ko o poste nearby ng kidlat. nyemas yun o.
i dig this rain thing now. especially after the sweltering heat chuva we just had the past 2 summer months, tangina i'd rather be wet than dry. and that also goes for my sex life.
hahaha ang bastos ko talaga. ano bang nakain koh?
anyway, speaking of food, may mga chenelyns lang akong nakikita sa kapaligiran na matagal ko nang di nakikita sa aking buhay. kumbaga, the food of my youth (yeah, think late '70s pare). talagang youth! like if you've been to gateway lately, nagbukas na yung pinakahihintay kong dairy queen stall doon. ilang taon na rin akong di nakapag-blizzard ha. pero ang food of my youth doon ay yung orange julius. remember their orange slush drinks? saraaaaaap. tapos yung hotdog sandwich nila! my cousin last night said ang naaalala niya ay yung delicious hamburger daw. yummy. have to try that out soon.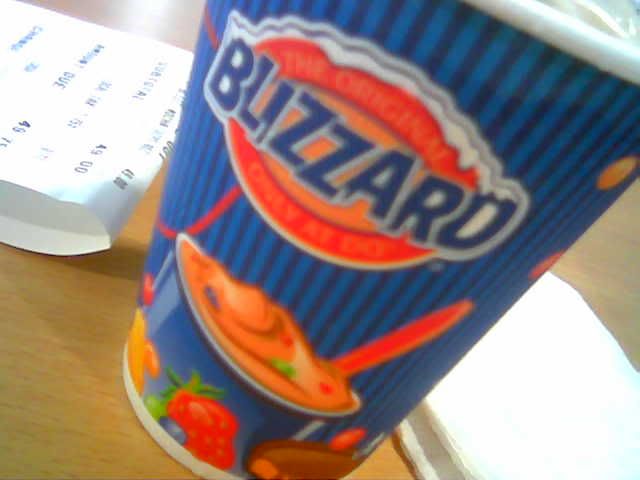 yum shempre unahin muna to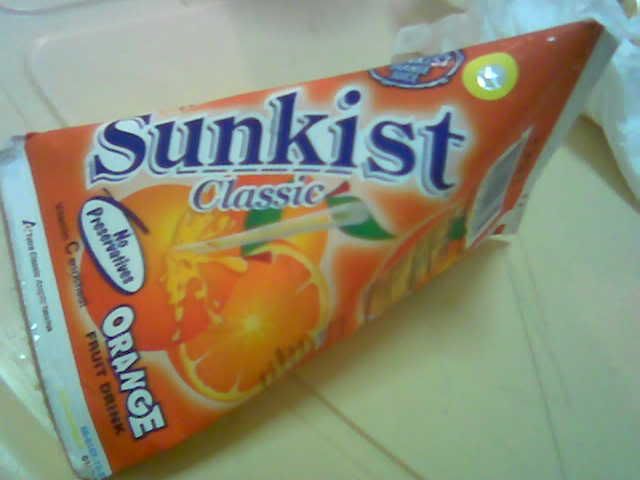 oreynsh!
pero ito din yung isa pang blast from the past. i remember having this as my baon way back when i was in kinder and prep, man. sunkist orange pero hindi ganito ang hitsura. talagang super-3D na triangle ang dating, equal on all sides chenes and all that geometry stuff. mas malaki ng di hamak dito saka isang tone lang yung orange.
*

just getting my writing groove back on here. tagal ko ring naiwanan ang pagsusulat kasi. pero at least naman malaki ang nagawa ko doon sa nirerebisa kong nobela nung nasa baguio ako. i'm glad i decided to stay for a few more days to do that.
was there kasi to facilitate a scriptwriting and directing workshop kasi. deped and ncca has this summer thing pala na they teach public school teachers how to teach the arts. so ako, kasali sa media arts peeps. syempre raket ito ng mga UP faculty hehe kaya i was among colleagues and friends there. and then some people may common friends pa kami.
oks naman ang exprience. but i just wished that some -- if not most -- of the faculty and the people running the show were not too judgmental on the mindsets of the high school teachers. i mean, for gosh sakes, they teach high school kids! that's arduous enough as it is. and of course the lack of resources sa regions. and then of course it's public school. they should have been more openminded about these things. yung lang yung ayoko whenever there's a daily meeting. they just laugh their hearts out about the others' shortcomings. it's not even funny, so dont laugh, not even a sympathy laugh. some of these folks can be so cruel.
hay. ganyan ba talaga? naturingang peyups, mayabang na. o kaya dahil kolehiyo ang tinuturuan namin, lamang na kami? man. they should try dealing with children on a regular basis kaya. baka mag-iba ihip ng hangin (sa ulo).
disappointing yun. but other than that, i'm proud of what the people i taught learned. astig ang media arts! hehe. and i had fun. saka bakit nga ganun, kami sa media arts, hindi ganun ka-judgmental? iba rin siguro kasi ang disiplinang ito. makakahalubilo mo kasi ang iba't ibang tao kaya para ka ring nag-minor sa psychology kapag nagtrabaho ka sa media, film o tv man.
share ko na lang mga pix:
huling nag-present ang media arts division. siyempre in the tradition of the madugong arts, ito ang huling natapos sa final requirements. there was a final presentation at the last day para makita ng mga utaw kung anu-ano ang natutunan nila. presenteyshun baga.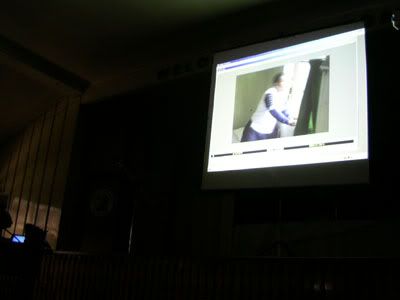 isnak
one of the better-made fiction works (well, dalawa lang naman sila, plus one docu). i'm glad the teachers stuck to what i taught them about how to find concepts for filming.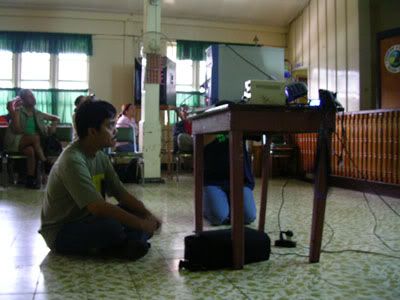 si dadi
and in the tradition of beating the presentation mula sa mainit-init pang editing, nagluko ang isang computer kaya minarapat ni sir nonoy dadivas (nagturo ng editing and sound) na bitbitin ang cpu at ikabit sa lcd. walang computer speakers! maabilidad ang inyong lingkod kaya i pulled out the earphones from my ever-present mp3 player and hooked it up. voila! insteand audiovisual success hehe.
products of the visual arts division: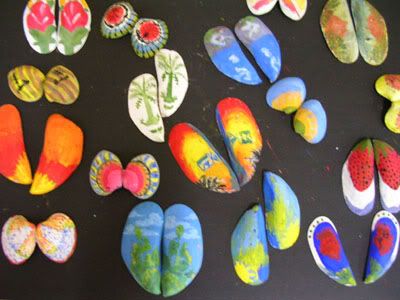 tahong art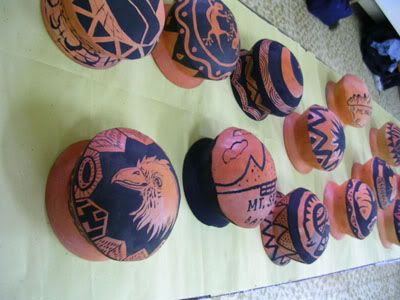 palayok art
shadowplay. bet!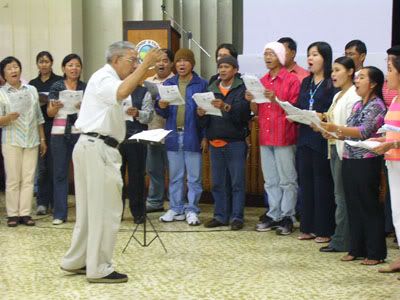 prof emeritus?
sir ramon something something, sorry forgot his name, from the UP college of music. sabi ni eloi (ang head nanay ng media arts) kandidato daw si sir sa nakaraang national artist awards sa music, hindi nga lang nanalo.
hm, even national artists and national artist candidates have verrrrrry
artistic
attitudes. read between da lines na lang. :P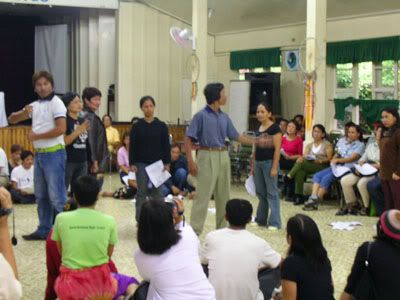 teatro
feel nila ang antonio luna piece ni rene villanueva. longish nga lang.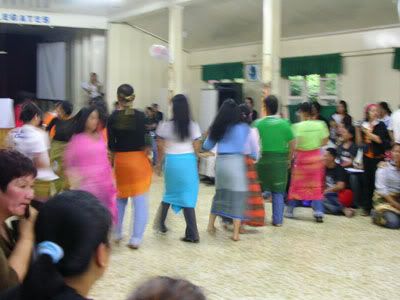 sayaw
er, kulang sila sa paraktis, pero okay ang effort. roommate ko yung instructor nila pero nilayasan ko later kasi di ako makatulog sa teacher's camp. ay, as teacher's camp nga pala ito ginanap. well, at least most of it. we also had sessions at baguio national high school.
and on the first day, i had to buy these: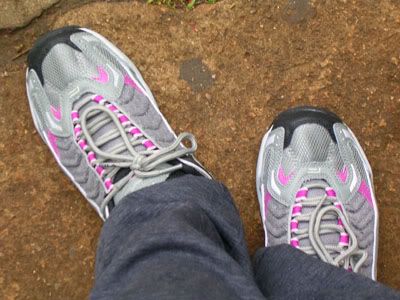 50% off at sm!
dahil sa araw-araw na ginawa ng diyos doon ay tinatahak namin pabalik-balik ang kainan hall na ganito kalayo sa tinitirhan namin: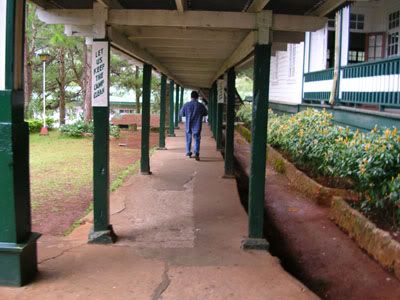 to your left is the mess hall. this long stretch leads out. sa dulo, kaliwa ka.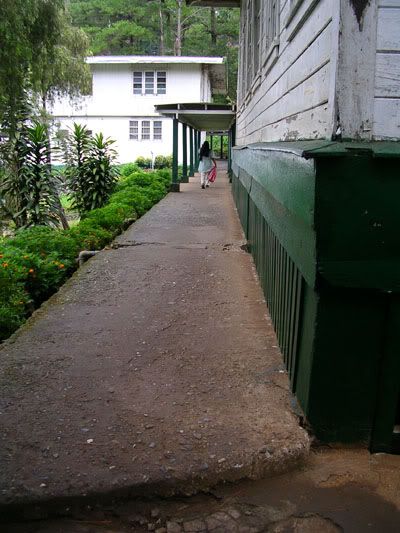 eto tatambad sa yo.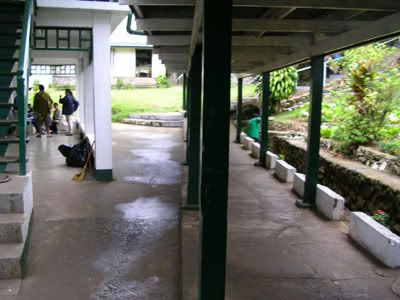 another hallway ek passing the staff house na okupado ng deped. aba at least sila halfway lakad lang kesa samen!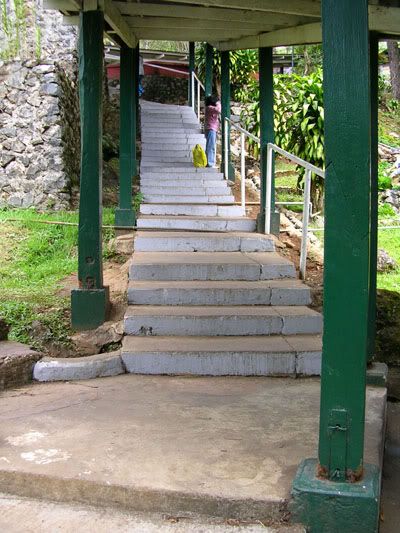 then you have to go up these stairs...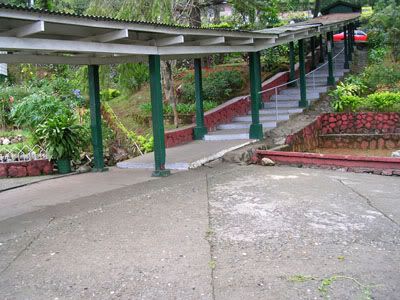 to reach this plateau thing. kung di pa lawit dila mo by then, prepare!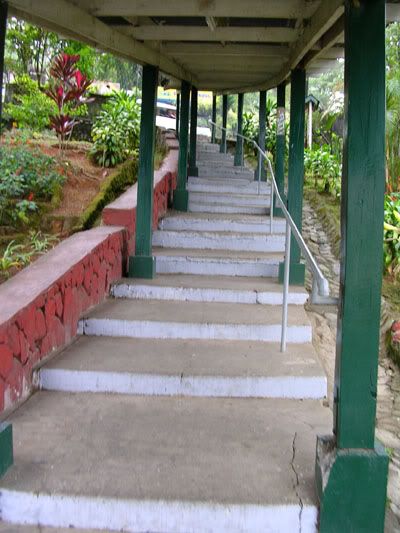 dahil eto na yung pinakamadugong stair palakad pataas palabas sa sidewal sa actual kalye. and remember how inclinces in baguio seem to be harder to scale? haaaaaay....
so sidewalk na. but wait! isang sidewalk lang yan. doble niyang ang tatahakin para marating ang aming tinutuluyang...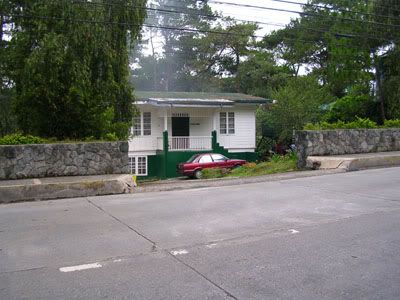 guest house six. yes, six. dadaanan mo ang four and five.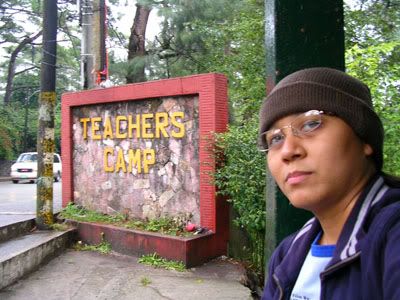 potah. teacher's camp ka dyan. this should be renamed teacher's hike! isipin mo every breakfast, lunch and dinner, ganyan ang lakad. hay mahabagin. at least for four straight days, my calves and cardio system got a much-needed workout and my saddlebags kinda disappeared while my bum and tummy got a tad smaller. ayuz.
but now, back to sitting mode na naman ang lola. kaya megawepaks na naman tayo hay nakuh...