are women really doomed not to have it all?
was having this conversation with a friend weeks ago about how women seem to really have a hard time balancing their professional life and personal life. we have always shirked upon this idea, even lambasting the men whenever they act so prissyfufuek when they reach home and have wifey wait hand and foot sa kanya. but when we
actually felt it
, man, we didn't know what to say and how to react. dumbfounded. if a woman gets busy with her career, the home life suffers a bit. if she focuses on the home life, the career gets sidetracked a bit naman. haysus...
and we're not talking about heterosexual couplings here ha. i'm talking about woman-woman relations. paano pag sobrang busy ang dalawang working woman, paano na ang home nila? forever take out food/eat out na lang instead of "luto with lab" sessions. hay i miss that. kaya it's best to settle with morning brewed coffee sessions na lang for now. bummer.
pero bakit nga kaya ganun? kelangan bang torn lagi pag may career at lovelife? observing my past life and my friends' lives, i can see na one woman tends to be the homebody chorva while the other is really the working late type. o kaya sasabit ang isa sa work lakad ng isa madalas, for support system na rin at saka...bantay? hehe not quite. bodyguard. togetherness thang lang. super bet yun, lalu na kapag pareho kayong nagtatrabaho sa isang raket or something. pero paano kapag hindi puwedeng isama ang isa sa work lakad? nasaan na ang quality time, especially kung ang trabaho ay hindi dinidiktahan ng oras at fixed sked? pano magkakatugma ang oras ng dalawang nilalang?
hay hirap. ladies, what can you say? parinig naman! wala lang, muni-muni mode lang ito. feel free to share. [baka dibdibin niyo na naman at kamustahin ako chorva. i'm fine ha.]
*

speaking of sharing, nagpapasalamat ako at mataas ang share ng
LOVELY DAY
last saturday. a good two whole points and some fraction higher than the competitor. in this ratings game, even a fraction of a share will do, and it counts a lot talaga. i'm glad.
yea i'm glad because i directed the episode's spiels, meaning all the non-segment parts (which is like almost 2/3 yata or maybe a little over half of the show) ay ako ang nag-direk. iyan ang bago kong raket ngayon, thanks to my college film barkadas who run the show na napagod na at kelangan ipasa ang renda sa iba.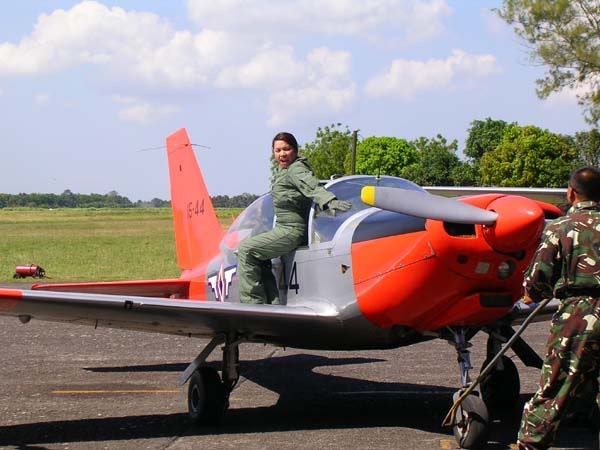 the indefatigable host love añover. indefatigable is truly a understatement especially after you see her ride that aerobatics plane man. tangina think roller coaster ride 50x malala! yan ang pinagdaanan niya sa ep na to hehe...tapang ng lola! eto, mayabang pa siya kasi umpisa pa lang hehehe.

spiels director. so basically director na rin ng show. kasi sa segments, segment producers ang kumakana. tapos tinatahi na lang namin ng spiels.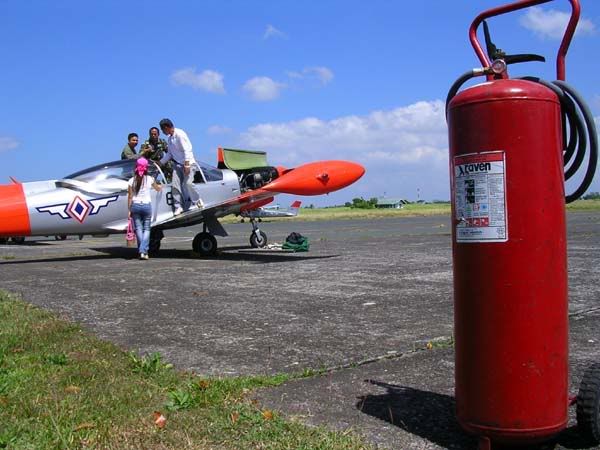 our EP cres inspecting da plane, and da pilots hehe
for this first ep of mine, we went to the air force flying school in lipa, batangas. my exec prod cres' idea. naintriga sa sumisirkong eroplano sa ere. cute naman yung idea. the spiels writer let the plane anthropomorphize kaya siya na rin ang isang karakter. cres' brother the graphics fx genius did a good job of animating the cute orange plane.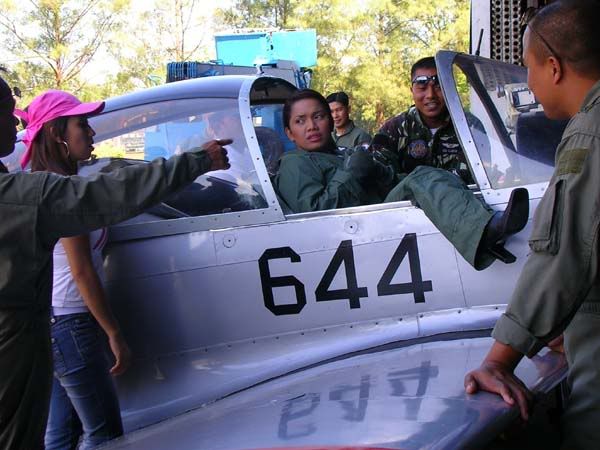 cres in pink cap and love in heeled shoes, ever (b4 d flyt)
sayang i missed the skydiving shoot after that. i so want to try that out pa naman hehe. syempre kapag nakapag-bungee jump ka na, ano na ang kasunod na thrill, devah? sayang kasi. may paper deadlines kasi that week kaya my other friend who pinch-hits as director din, took over muna. kaya yung ep this sat, hindi ako ang nagdirek. yung susunod na lang. sa la union 'ata kami shoot. surfing. yata.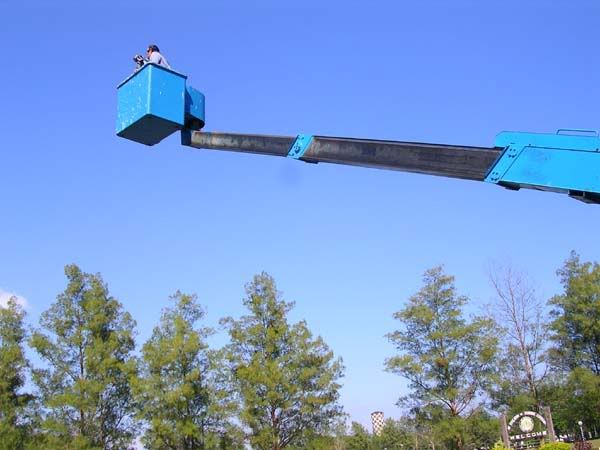 we needed closer shots of the aerobatics plane so i asked for a crane chorva from the military dudes. they call this "man-lift." e panu pag babae? di na ko kasya kaya yung 2nd unit cam na lang pinasakay ko. turns out this dude has fear of heights pala hehehe. wawa.

don't worry if you haven't heard of the show. as my friends told me, hindi tayo ang target market ng show na ito. gumigising ba tayo ng 10am kapag sabado para manood ng tv? hinde. kaya keri lang. pero it won't hurt if you can watch. or at least turn on the tv when it's on. it helps with the ratings :)
*