hey everyone, please help me naman o.
as i
posted previously
, the music videos that i made already began airing on the two top cable music channels of the philippines, MYX (owned by abscbn) and MTV (pilipinas).
however, since the artist featured in the videos, pinikpikan, is a group not signed with a major multinational record label, we're having a hard time competing with those vids whose artists are signed. thus, we need your help.
do vote naman for the videos to be aired, kahit several times. here's how:
FOR MTV
please go to their
most wanted
website, sign your details and request the following:
video title: Sarung Banggi
artist: Pinikpikan
("sarung banggi", also spelled as "sarong banggi" , means "one night", a very old folk, composed by Potenciano Gregorio in 1910 in Albay, southern Luzon . we reinterpreted it Pinikpikan groove style. you will love it once you hear it)
and a separate request for
video title: Butanding
artist: Pinikpikan
(the video "butanding" is about the preservation of the endangered "Butanding" or whaleshark, found in some parts of the Philippines, especially bountiful in Donsol, Sorsogon--the whaleshark capital of the world)
the quotes in parentheses are from carol's email blast of the same message. :)
FOR MYX
this is a text/sms vote. please type MYX VOTE BUTANDING and/or MYX VOTE SARUNGBANGGI and send them to 2366. it works for both globe/touch and smart/addict subscribers. it's just P2.50 per text. cheap no?
*

alam mo, sa ganitong rat race of showbiz, napapailing na lang ako minsan e. kasi sukang-suka na ko sa mga music videos na pinapalabas ng ilang local artists, tulad nung sa parokya ni edgar. nung ininterbyu sila, sabi nila tungkol dun sa pinoy big brother spoof video nila, "wala, humingi lang kami ng pera sa __ (their record company, forgot the name), tapos winaldas namin, tapos yung natira, pinanggawa namin ng video."
if they can only imagine that we did the two music videos of pinikpikan almost for free (as in, nobody got paid, dude). tapos yung iba, ganyan lang, may pinagkukuhanang baul ng pera, tapos walang katuturan ang ilalabas na video. siguro ten years ago, this would have been cute. e pucha pare, tumanda na tayo't lahat, ganyan pa rin ang pinaggagagawa nila (funny notes, yung si darius, kaklase ko sa sts dati tapos kaming magkakabarkada ang kinontrata ng tito ni buwi para gawan ng tribute video yung lolo niyang namatay dati, ismol werld). and to think that this group ain't the best in their batch na lumabas sa peyups bands noong circa 1994-5. well.
at least dati medyo oks pa ang fairtime ("fair" airtime). the first music video that i did in 1997, yung "rainbow in my cloud" sung by anna fegi na theme song ng ANAK NG BULKAN film namin sa premiere productions dati ay nailabas naman sa local channels saka alam ko na-ere rin ito sa mtv asia (asia pa noon, at di pa siya talaga cable, dahil kelangan mo ng special antenna to pick it up dahil parang nire-redirect lang nila yung signal from hong kong, yung ganung klase). ngayon, grabe, okay din na may outlets pero parang nagiging radyo na ito. sa radyo nga, institutionalized na ang payola e. i'm wondering kung tv is the same now...may nag-tip kasi saming isang artist na parang ganun na rin daw e. pero at least siya nag-enjoy ng good airtime ang video niya (kahit tila ang laki ng lihis sa kanyang original sound...).
that was 1997? geez. mukhang every 8 years na lang yata ako gagawa ng vid... it breaks my heart to feel these things kasi after collaborating with such great people to produce a fairly great work din, tapos hindi nabibigyan ng chance ng husto. kailangan ko na talagang maging media mogul so i can have my own media conglomerate to give airtime to all marginalized artists not given a chance by the mainstream. when i grow up, i want to be rupert murdoch...
*

gusto ko lang ibilang ito bilang experyensya ng isang tumandang nag-mature na ang taste. para din kasing yung pagdalaw ko sa UP fair kanina. tangina wala nang kuwenta. mga sampu sampera na lang ang mga banda. ni walang specialization na. dati, per genre pa yan each night, like reggae/alternative night, pop night, etc. ngayon, labulabo. si magalona ayan bumalik na, kahilera sina hannah sa session road, tas yung ingay ng chicosci sasabay, tas yung reformatted (read: barbiefied na si aia) imago (tanginang mga kanta nya ngayon
i-sa da-la-wa tat-lo
ngek! asan na yung
angas
ng first album niyo, nung may byulin pa ni michelle pritchard ba yun?). anobato? tas yung mga booths, may katuturan at
variety
. at malas na lang ngayon dahil di na uso yung legendary SIDEWALK SLAMMER sessions (you slam down your throat several shots of different hard drinks, sunudsunod! matira matibay na nakatayo!) saka mga beer bongs (watch MTV spring break eks or any american teen flick, you'll see what i'm talking about). bawal na kasi alcohol sa peyups. tangina kelan pa naging ateneo ang unibersidad ko???? may nakasilip bang heswita??????? geez. mga food booths na lang yata ang okay e. saka mga sports, mga walang kamatayang wall climbing at rifle shooting. dati, may nagta-tattoo talaga ng totoo, hindi lang henna. ngayon, puro henna na lang.
haaaaay. don't mind me. i'm just trying to recall past glory, kasi mukhang nasa past na talaga ang mga magagandang bagay. marami pa rin naman akong naa-appreciate sa mga bago, pero kasi nag-iba na talaga ang mundo. now i know how my parents feel when they reminisce about the old days ek. methinks i like the UP of yore. at least the fair. hay...
in the meantime...
just dreaming of what i want more...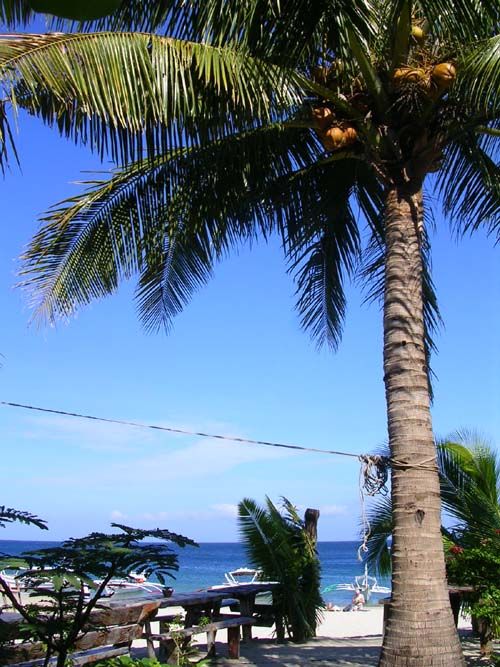 tropicana
i want more of the fresh breeze of unpolluted air (minus the salt content, but we'll let it pass because it's scenic here) as it ruffles the leaves of real nontransplanted trees...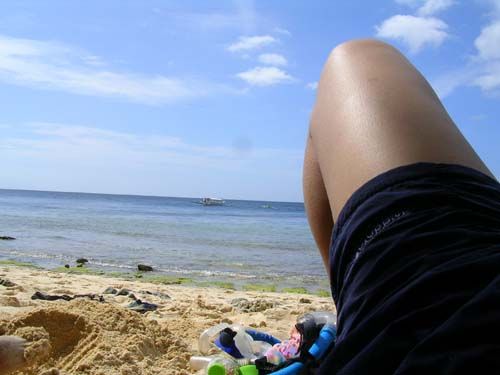 more fun under the sun
i want more sun on my bun... nah on my legs lang, para naman mawala ang puti. oo taliwas ako sa karamihan, kasi gusto kong umitim samantalang sila gusto pumuti...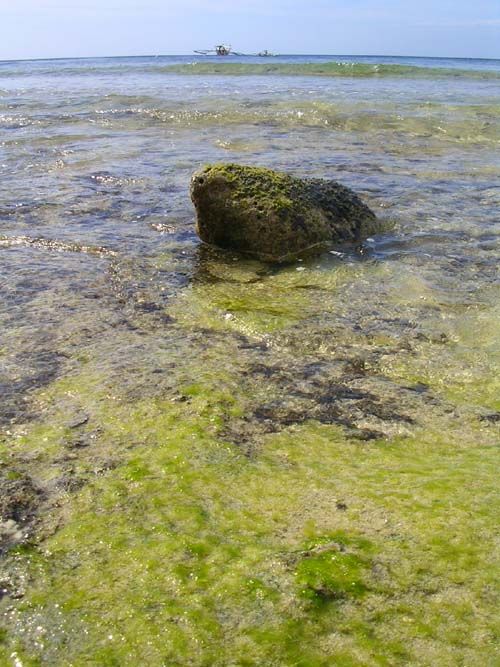 corralled
i want to see more of god's strange-looking creations when she dabbles with science stuff and produces things that you should just admire even if you don't comprehend them much...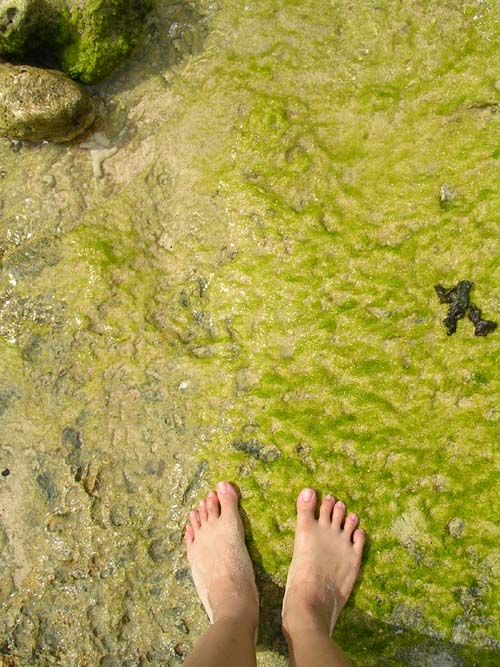 si petrang paa
and i want to feel more of god's strange creations on my skin, under my skin, with my skin, etc... and document them for life. like this. :P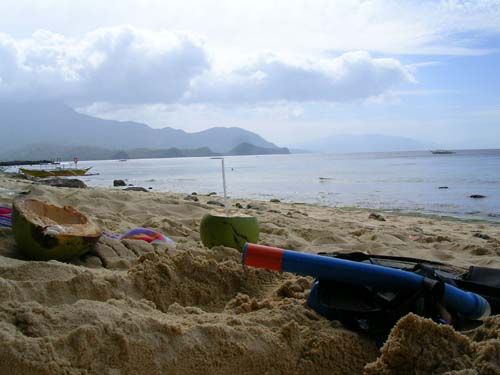 buko in the sky with sandparticles
i want to look at different cloud formations while lying on sand with matter that used to be with those clouds... and buko. :)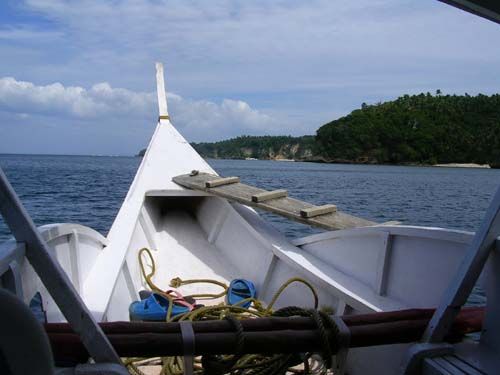 fore! mast? basta bangka.
i think i can actually have a hilera of these kinds of photos, yung dulo ng rented motor boat na asakyan ko na sa aking lyf. i have similar shots taken in samal island and bais...saka meron pa e, nalimutan ko lang... di pa kasi digital mga yun.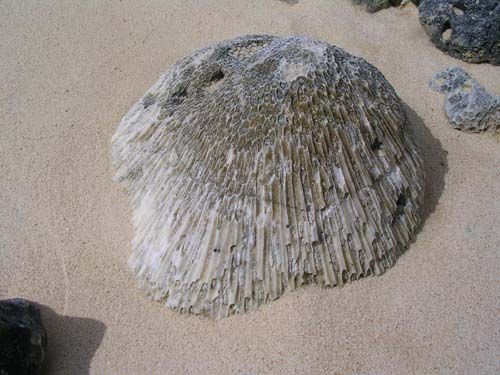 god's strange creature no. 439
"captain, captain, we have arrived at tattoine, and the skywalker hut is within our radar."
sagot ni captain : "mhwreeeeaaauuuuuuuhhhhrrrr."
si chewbacca pala. na-promote na sha sa millenium falcon now that hans became material for bas-relief wall decoration somewhere in the galaxy hehe.
weh. i'm a STAR WARS generation kiddo now teaching the LOTR/HARRY POTTER generation. ain't life grand? hehe.