man, not another (somewhat) weirdly-strapped woman in a tight black outfit! :) but this one, excited ako. :)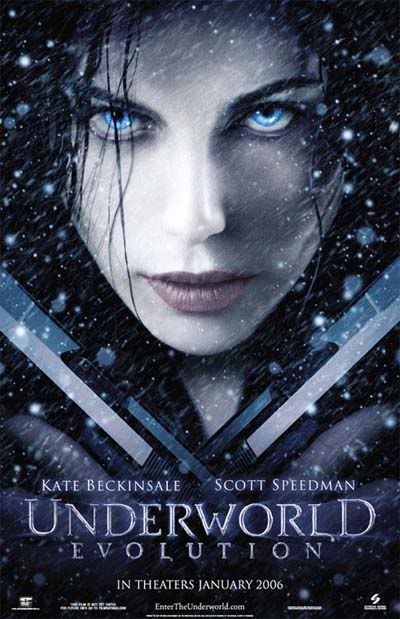 saw the first one years ago and it was interesting. medyo hindi ko alam ang storyline when i bought the dvd pero nagandahan ako kasi i like good/creative vampire storylines, lalo na pag babae ang bida. first time ko atang makanood ng isang kick-ass vampire woman bida.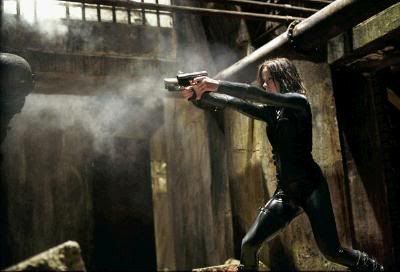 yan ang tunay na queen of the damned! hehe. you go, girl! love the contact lenses btw.
and yet another one!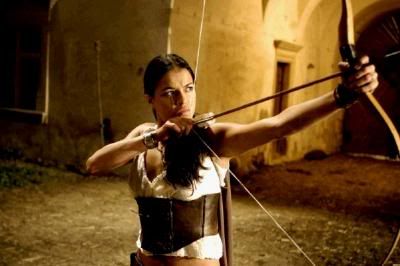 er, okay, no gunslings here. swordslings (?) or bowslings (?, nag-iimbento lang ako) puwede na rin. basta may woman in tight dark leathery outfit with gothic-looking weapons, keri na rin. hehe kaya lang hindi talaga siya ang bida. sayang. latinas rule pa naman. :P but michelle rodriguez looks better in the
official site
. the intensity of that stare, man! i swear! did you see her in
GIRLFIGHT
? knockout stare.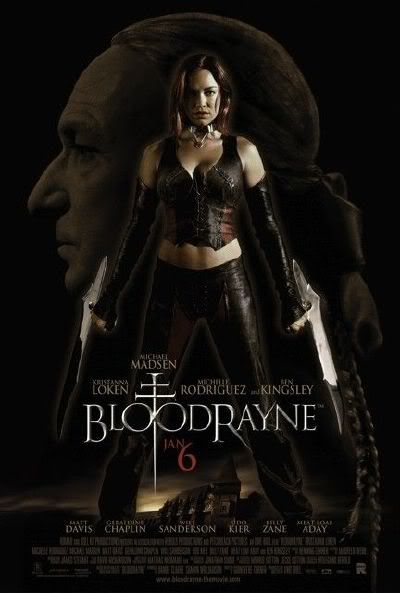 i actually wanted to play this game dati pa pero feeling ko, di kaya ng computer ko. saka na lang.
i dunno. i really like vampire eklats. at least good ones ha. unlike that freaking tarantino film years ago. vampires kasi are cool creatures -- they're sexy/erotic, dangerous/deadly, and so homoerotic! hehe. naghanap na naman ng kakampi...
ewan, basta. kung may iba dyan feeling nila sirena sila, ako siguro feeling ko vampire ako hehe. chos. look at the hours i keep! saka parang kewl maging immortal. tatambay lang ako forever sa library of alexandria chenelyn at magbabasa ng libro. at manonood ng pelikula. minsan gagawa rin hehe. and will finally learn how to play the violin. tsk. hindi kasi kasya ang isang century sa lahat ng gusto kong gawin eh.
oh, will also try to scare the shit out of our politicians, the real bloodsuckers. dami na namang rate inflation putangna. ipagbili kaya nila yang mga luxury cars nila para mabayaran ang mga punyetang utang ng utilities? bad trip.
sige na nga sleep na.
but do check out mmfe2005 reviews ko
here
.
and man oh man, how i wish i were the one who wrote
this EXODUS review
! hilarious grabeh!
it's just funny to note where the filmmakers got the name "King Bagulbul" the villain of that film (horribly played by JayR -- oh sorry, was he acting in that film? i thought he was merely doing action shots for rap album pictorials hehe). bagulbul is a slang term used by PNP Academy cadets/students to refer to complaining in secret. my friend carol bello, having taught there before, used the term as the title of a song she performs with her other band sheelahnagig. nakakailang performances na rin naman sila with that song. unless dwight gaston the writer heard it in PNPA, i'm thinking he or someone who works with him picked it up from these sheelahnagig performances.things that make you go hmmmm...
well, ganyan talaga ang showbiz.
sya, gudnayt.