CURRENT BEVERAGE: not cold water
CURRENT CHI-CHA: kiatkiats
WHO I'D LIKE TO HUG TODAY: the master/s who let me peek at the zen of things
WHO I'D LIKE TO KILL TODAY: black entities of mine
i can't believe how my blog horribly needs an editor hehe. dami palang grammatical lapses and typo errors. well, i assume virginia woolf experienced the same thing when writing stream of consciousness-ly. the thing is, do i owe it to myself as a writer/editor to have my writings appear crisp and clean baga? do i owe it to my readers whom i know could be nanggigigil na to correct errors pero sige basa lang sila ng basa? (oo alam ko may prends akong ganyan hehe)
and the final is me. :P i owe it to my creativity to just let it flow uncensored. i don't really care if i have a few lapses. after all, this is a blog and i am not submitting this for anyone's approval but my own. so there. :) palag ka?
as my horoscope read pa:
If you're not feeling fulfilled by what you're receiving from another person, this is the right time to talk about it. You can balance negativity, though, by going out of your way to mention what you do like about the relationship. It is risky to push things further now, but this might be a necessary step if you want to grow.

The Moon entered magnetic Scorpio last night and reflects our need to passionately merge with the object of our attractions, yet our intentions are not transparent. Often we live our lives right out in the open where everyone can see exactly what's going on. But now, we delve beneath the surface of appearances and touch what lurks within hidden realms. What we find isn't necessarily pleasant, but our awareness can transform darkness into light or fear into love.

huwaw. agree or disagree? spin a win na, pare. tru.
fear into love. i heard the word love spoken like siguro 15 times or more tonight. and it was in a very interesting context. and it's also strangely satisfying and utterly amazing how such a small iota of contentedness in love can urge you to hold silence long enough for you to be as still as a stone.
something like that.
i think i know now why i'm coming back to art. or why my expression of late is through visual arts.
overcoming repression. big time. kaya bumabawi yata. well, about time it did, i think. sabi nga nung kanta,
to everything (turn turn turn) there is a season (turn turn turn) and a time to (for?) every purpose under heaven.
but for now, i can only doodle.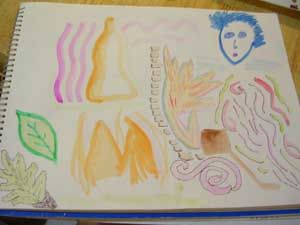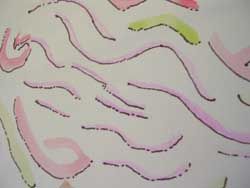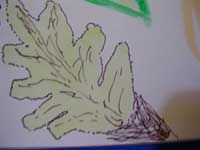 or find an unusual "canvas" and just let it flow, in a manner of speaking...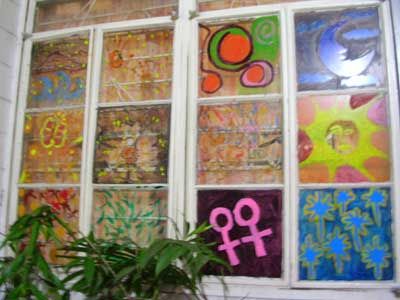 devah? :)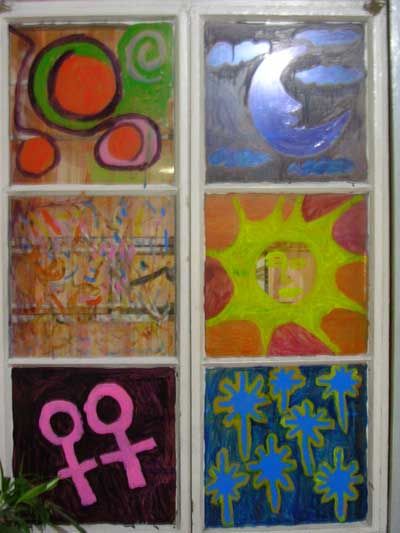 it's such a happy thing to rediscover watercolor and to discover acrylic, n'est-ce pas? :)
well, hindi pa actually tapos yan. unang birit pa lang yan. display ko ulit pag kerima polotan tuvera na syang tunay.
for now, stare at the pictures of the upfi party na muna. tutal on the subject of visual arts pa rin naman tayo.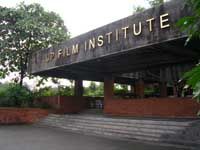 facade
a long long time ago in a galaxy far far away, there once was a movie house called UP Film Center which later merged with the UP College of Mass Comm's Film and Audiovisual Department to become the UP Film Institute.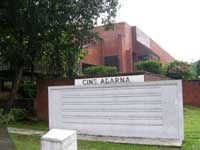 post no bill
and the UPFC became cine adarna. much to the chagrin of some cinema festival directorout there in manila teeheehee. intrigah!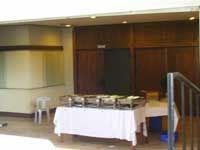 bupey
ayan ang kainan. doesn't look much but the food was great!!! especially the tsiken. yumyum. teka, kelan nga ba to? xmas lunch kasi eh, dec15 if i'm not mistaken.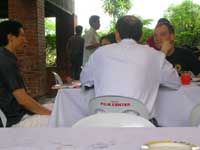 the afams
mga foreigner teachers. well, dalawa lang. tilman on the right is our german faculty member and shin dong kim from korea on the left (finally) is our visiting prof, exchange for the elusive joel david. elusive kasi mula pa noong undergrad ako, exchange prof na siya of some university or other. ngayong faculty na ko, hala, ala pa rin. sabi nga ng mga thai, same same.
sabi ni dr. kim when ms boots handed everyone token giveaways, it's the first time in 20 year daw that somebody gave him a xmas present. nobody asked why is that so. i don't know why. wala lang... nagbi-beer na yata kami when that happened kasi.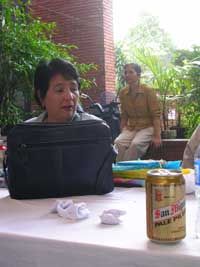 yours or mine?
ms. gigi alfonso, our woman of the world, chats away while my beer can is in the foreground and the indefatigable ate fortune takes a rest at the background.
blech pale pilsen. walang choice eh, what the hey. tinukso naman ako ni roland when i drank cali. nagkukunwari daw akoh! e sabi ko, feel ko mag-"ladies drink" eh, bat ba? hehe. sana lite na lang, puwede pa. sana pala nagbitbit ako ng red wine.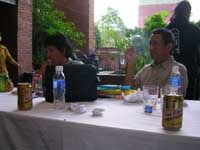 smoke belcher blues
and you shouldn't wonder why 90 percent of our meetings take place outside airconditioned no-smoking room venues. this is why. that's ms gigi and dean nicanor tiongson puffing away. shucks, sa totoo lang, nate-tempt akong mag-yosing muli tuwing nagmi-miting kami... :(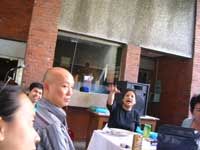 coords
that's anne de guzman our upfi director waving at me. and beside me is faculty coordinator for theater services ed lejano. beside him is film theories lecturer patrick campos. cool bunch of pipol.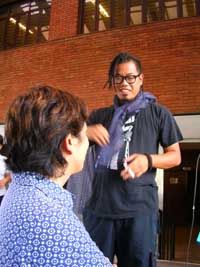 sacris-tanned
the courageously and creatively bejeweled lecturer lyle sacris discussing with our ex-upfi acting director roland tolentino, back momentarily from his own stint at some singaporean university chuvaloo.
i kinda harassed lyle to take on a film prod 1 course this sem pero sayang at di swak sa sked nya hehe. and why do i have that harassment power? kasi they promoted me as the faculty coordinator for academic programs and research last october, that's why. kaya i really need all the zen i can muster to survive this sem hehe. like what we used to say back in my undergrad days, microcosm ng local showbiz ang cmc at ang film dept. so apt pa rin to this very day.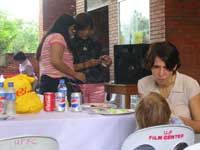 da women
the indefatigable lalli lacaba tinkeringwith her cellphone again, menthinks, while daughter egay looks on.
in the fg, tilman's wife feeds their daughter. she teaches german yata sa CAL. slight nagulat siya when i talked to their kid in german. onti lang naman, nothing to blow her away. isang simpleng
"was ist das?"
lang naman tinanong ko when the kid was like making basbas to everything she sees using her baby cologne. and the wifey exclaimed na hey, i spoke german! and then i wondered, hmm, is that kinda hard to believe? o di lang siya sanay makarinig ng non-CAL person speak in german? hmm, je ne sais pas. maybe i should have told her that i can understand a bit of four major EU languages. baka lalong masindak. chos.
hmmmm, mag-minor kaya ako ng EL? napaisip bigla eh...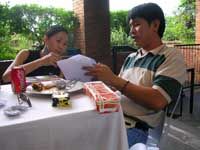 jamonadoremifasolaisa
our upfi workshop chuva person laisa negotiating with prof roehl jamon. he looks better without his glasses, methinks. pero nakakakita pa kaya siya?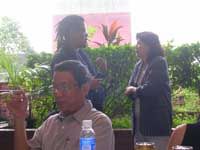 chikaness
lecturer ms boots anson roa (or ms BAR as we termed her in premiere productions before) chika-ing with lyle. yosi ever pa rin si dean.
it's always nice to see ms BAR on board, especially during harassed monday mornings. it reminds me of the good ol' days in premiere when we used to come to work very early to beat the 9am bundy clock and have coffee and croissants first at the nearby au bon pain (di pa uso starbucks noong mid-90s e, pero masarap naman itong au bon). those were fun times.
nga pala, sabi ni ms bar, nood tayo ng BLUE MOON. blue moon nga ba? yung mmff film na kasama siya. sige pag lumabas.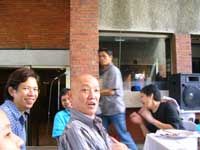 sige, tawa
as anne was calling me up there, i was trying to take a picture of them with me while holding my cam. aba, ang sabi nila, i have my own paparazzi daw. shempre dapat kasama ko sa piktyur no! but no, di nasilayan buong fez ko. pero aliw sila sa move hehe. oh, that's our tech guy kuya rick passing by.
to the folks who have given tokens and gifts, thanks very much. they kinda made the holeydaze feel a little less holey (but i'm still figuring out how to use that ikea item from roland. hm. leave it to gay guys talaga to give fashionable house items).
and before i sign off, food for thought muna from the stop the new round coalition. talagang food for thought, dahil maaapektuhan ang pagkain natin sa mga kinakalabasan ng mga nego nego na itich. hay buhay... gudlak sa atin.
STOP THE NEW ROUND! COALITION-PHILIPPINES PRESS STATEMENT ON THE OUTCOME OF THE 6TH MINISTERIAL MEETING OF THE WTO IN HONG KONG
21 December 2005
'Interim Deal' in Hong Kong a Betrayal of Philippine Interest!
The 'interim' trade deal that is being hailed by the United States and Europe as the outcome of a successful Ministerial Meeting of the World Trade Organization betrays Philippine interest and that of other developing countries.
In exchange for what is being purported as a major concession by the European Union to eliminate exports subsidies by 2013, developing countries have signed on to a disastrous Ministerial text that paves the way for the conclusion by 2006 of an anti-development trade agreements under the Doha Round.
In all the critical areas of negotiations—agriculture, non-agricultural market access, services, and the issue of development, the text locks-in very critical and highly contentious areas like ambitious tariff reduction formula in NAMA and the plurilateral approach in services while glossing over the divergent views that have already been expressed by countries in the course of the negotiations and specially in the last few days of the Ministerial in Hong Kong.
The 'deal' is reminiscent of the flawed and undemocratic 'July Framework' that was the basis of the negotiations. The text remains conveniently vague in most of the contentious areas, allowing little space for negotiations while very clear in certain areas. The objective is to project success in Hong Kong and prevent a monumental collapse of the Doha Negotiations.
Four years ago, the Doha Round negotiations was launched with the promise of development. The outcome of the Hong Kong Ministerial meeting effectively kills that promise of development. We have been proven correct that the Doha Round 's promise of development is nothing more than an empty promise. Judged against the Doha Round's avowed development objectives, then Hong Kong is indeed a failure.
The 'interim' deal is a betrayal of the Philippine government's own position to preserve policy space in the interest of defending the national interest. The concessions that were made in NAMA and services surely constitute an erosion of policy space and are inimical to national interest.
The government vowed to put the issue of flexibilities ahead of the formula in the NAMA negotiations. Secretary Peter Favila himself said that the position of the Philippines is "No movement in the forumula (no discussion in the coefficients) unless we secure the paragraph 8 flexibilities." The Philippines was one of 11 countries that expressed the strong demand to put 'development' and flexibilities at the center of the NAMA negotiations. The text effectively ignores the clamor of developing countries including the Philippines for these flexibilities. What we got isntead in NAMA is an ambitious formula to cut tariffs on industrial and other non-agricultural products like fisheries.
The government vowed to preserve the flexibilities again on services, vowing to oppose the highly flawed and disastrous Annex C, which would force us to offer services sectors beyond what we have already agreed to do so. The Philippine government was again part of the small group of countries that have expressed the view that Annex C should not be part of the Ministerial text because there was no consensus on it. What we got was Annex C with its plurilateral approach and qualitative targets that would force liberalization of services sectors throughout the developing world.
Ultimately, the Philippine government must be held accountable for its failure to defend our national interest in the negotiations.#
For questions or to set up interviews with Stop The New Round! Leaders please get in touch with Joseph Purugganan of the SNR Secretariat at 433-1676 or 09173874531 or email at josephp@focusweb.org