CURRENT BEVERAGE: one and a half inch punch cocktail [vodka, orange juice, orange soda, lemon lime soda on the rocks] and wallop-ian booze [tequila, orange soda, lemon lime soda on the rocks]
CURRENT CHI-CHA: still eyeing that can of pringles cheezum
WHO I'D LIKE TO HUG TODAY: moist for being born
WHO I'D LIKE TO KILL TODAY: people who exploit the holidays to extort money
if it fits more than a hundred songs, huway nat...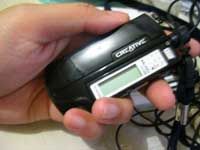 as opposed to having an over 6k ipod shuffle 512mb, this creative muvo does the same job. at may lcd screen pa na wala ang shuffle. at sabi kasi ng pinsan ko, nawawala daw pala ang songs sa shuffle once maubos ang charge (at walang baterya kasi you charge via the dock ek). luz. saka mukhang oral b traveling toothbrush kasi yung shuffle kaya di ko magustuhan eh. baka mapagkamalan ko pang sepilyo at maitapon ko, lagot.
so far, my muvo carries the whole alanis mtv unplugged album, the doors' the doors album, billy holliday gitanes jazz, janis joplin's greatest hits, a dozen songs from my 2004 wuda (walang uupo dance album) collection, and 60 other random songs. o, ilan na yon! dami na diba? more than a hundred na nga! fwedi naaaaa! hehe. i am so happy. xmas gift ko sa sarili ko kanina. :) yung creative zen series sana kaya lang mabigat sa 8k niya at 1gig siya. i don't really need that many songs nga, i discovered. and to have this muvo at less than 5k pa! (well, okay, one peso less than 5k, since 4999 siya) fweding fwedi na talaga! astig pa yung shiny black color. not to mention meron din nga pala itong voice recorder at fm radio. at syempre, puwede pa ring documents storage since usb flash drive din ang drama niya. plays both mp3 and wma. wav ang voice recordings.
wihiiiiiii! hapiii!
that was such a discovery earlier. i went back to sm north's cyberzone ba yun to have that defective nokia data cable replaced but they weren't able to fix the prob so refund na lang. at doon ko nakita yung muvo. kewl! it really pulled me out of this rut i have been in since i woke up. no, no more horrific jose mari chan xmas songs but i just didn't feel like moving, you know what i mean? there are days like that, when i just feel like not moving, not rising from the bed, not doing anything but sleep, sleep and sleep some more. today was one of those days. ewan kung bakit. basta. antok na antok at pagod na pagod lang ako kanina.
but i still managed to get up and go to my relatives at project 4. my lolo from canada is here and we spent some time together. he was endearing naman until he kidded me about getting married. siyempre di ko na pinatulan, lolo literal na eh. pero bumatsi nga ko ng maaga kasi nga have to rush to sm before the store closes. 2-day return engagement eklat lang kasi ang warranty, and i spend the whole night last night fixing the darn thing, to no avail. well, no regrets. at least i got something more satisfying out of that trip today. ayuz.
swak ata sha sa aking horoscope for the day:
You may not want to perform your social or familial roles today, but consider the impact you'll have on others before you back out of your obligations. There may be hidden issues at stake, some of which you haven't thought about. Do whatever you must to overcome your negative feelings. You'll do better once you get into the flow of the holiday spirit.

swak, dontcha think?
*

still on the subject of the holeydaze, naiinis lang ako sa mga nagka-carolling ngayon kasi di nila sineseryoso ang pagkanta. parang rinaraket na lang. obvious naman e. di tulad noong bata ako at kami ang nangangaroling. whatever happened to that more humane approach? yung talagang mangangaroling ka because it was fun and you wanted to sing christmas songs. at ngayon, nginangarag pa nila yung gate! oh well...
pero kung ganito nga naman ang mamamasko sa bahay mo, bibigyan mo naman talaga eh..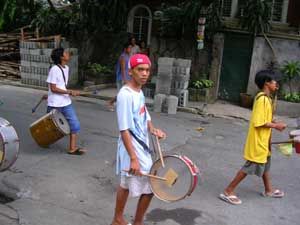 tambol-lina?
isang araw last last week, narinig namin itong tropang tambol with some gay guys in darna-esque drag dancing on the streets. para ngang nangangaroling pero iba style. di lang namin mawari kung paano. last week, i discovered how.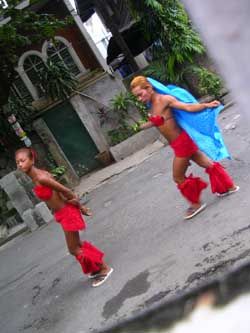 angel liksi as darnita
tumapat sa bahay ang tropa. rampa ang mga sisterette! may-i-dance ng konti ang drama nila, chika chika ganun. at...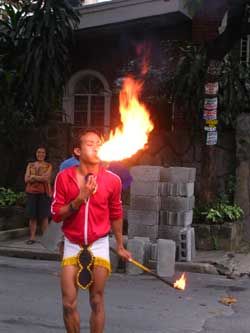 blow me!
kumakain ng apoy! or bumubuga pala. sabay abot ng envelope at nego ng pamasko. well, i don't mind giving. mga sisterette e, syempre. saka kamangha-mangha ang gimik nila. now that's being creative! hindi yung tatapatan ka sa kanto habang naghihintay ng taksi sabay kakantahan sa walang kalatoy-latoy na tono ng
"sa may bahay, ang aming bati..."
sa isang bad mood morning ko, nabulyawan ko tuloy ng
"mukha ba kong bahay!"
ayun. scrooge ikaw ba yan?
hay ghost of xmas past ini.
speaking of past, naalala niyo pa ba yung december xmas mannequin shows noon sa COD department store sa cubao? lumaki akong nanonood nun e. and lo and behold, pag-uwi ko isang araw habang naglalakad along jimenez st, may tumambad sa aking pananaw...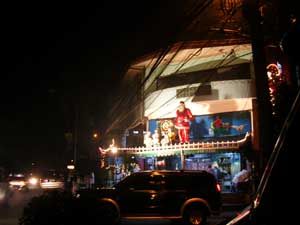 look! up in the...
may big big santa with some elvish eks sa tabi niya, gumagalaw sila, to and fro lang naman na movement, obviously hinihila ng some sorta mechanism sa likod nila. and to announce this display, blaring xmas songs can be heard like all over.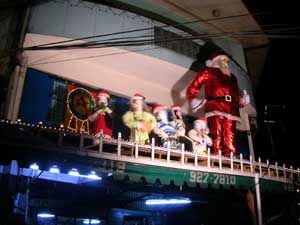 yes, gumagalaw sila!
huway nat. jerky movements nga lang, pero what's scary is...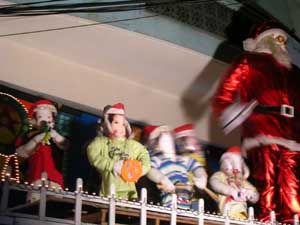 holey faces, buttman!
mga blown up photos of children -- i assume the relatives of the ones who made this -- na maskara style ang nakalagay sa faces ng elvish displays. you know, it looks really eerie in person, believe me. but that might be just me. ewan.
but i have to admit, it's creative.
that's one thing i like about xmas here in the country. people tend to get really creative one way or another.
well, more pix later.