CURRENT BEVERAGE: three-inch punch cocktail [tequila, vodka, pomelo lambanog with orange juice and orange soda on the rocks]
CURRENT CHI-CHA: tuna sashimi
WHO I'D LIKE TO HUG TODAY: all ye who have been sending endless sms christmas wishes
WHO I'D LIKE TO KILL TODAY: the store that sold me the non-working nokia data cable
nananatiling wish list of the year...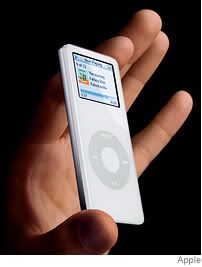 nano-nano...
wala pang enuf budget ang lola nyo kaya nananatiling wish itich. yung blue mini sana pero phase out na pala iyon and replaced by the nano. a black one would be kewl. intayin natin sa enero, hane?
iniisip ko sanang kunin na yung orig e, with more than 1k songs. yung cheapest nano kasi can hold up to 500 songs lang. nauuntian ako until a friend of mine said "e aanhin mo naman ganun karaming kanta? hindi ka naman naka-earphones ng 14 hours straight ano." honga naman. so okay, go tayo with the 13k mowdel. pag nagkapera.
*

found this on my mail today. matagal na pero now ko lang nabasa. namimili na kasi ako ng babasahin emails eh. i thank gmail for a very organized mailbox.
wut'z in a wurd? para sa mga utaw na luz dyan sa pag-intindi, na-quote ito sa isang newspaper column na na-cite sa plaridel egroup ni pete lacaba [note: hindi akin ang mga depinisyon ha pero pareho kami ng sources]:
1. 10,000-sobrang tagal, sobrang bagal (too slow)
2. anda/andalucia/anju/Anjo Yllaña- pera, datung (money/cash)
3. anik-ano (what, which)
4. balaj-balahura (shameless), dautero, bakla (gay)
5. Bitter Ocampo-malungkot (bitter, sad)
6. borlog-tulog (asleep)
7. carry, keri, cash & carry-sige (OK, alright)
8. Cathy Santillan/Kate Gomez/Cathy Mora-"makati" (frisky)
9. chaka (from Chaka Khan)-pangit (ugly), kasi parang concert nya rito
10.char/charot/charing/charbroiled- kabaligtaran ng keri (opposite of "keri")
11.chova/chovaline kyle-chika lang (small talk)
12.Cookie Chua/Cookie Monster- magluto (cook, in the imperative form)
13.clasmarurut/klasmarurut-classmate
14.cornball/cornstarch-korni (tasteless)
15.Crayola Khomeni-iyak (cry)
16.Cynthia-hindi kilalang babae, pwede ring lalaki, as in "sino sha? (who is she/he?)
17.Dakota Harrison/Dakila-malaki (big in size, maybe from the visayan language "dako")
18.daot-isang metapisikal na insekto, insulto (insult)
19.dugyot-yagit, madumi (dirty)
20.eksena/eksenadora-mahilig pumapel, mahilig sumabat (someone who always likes to figure in a scene)
21.emote-mag-inarte pa rin (one who is over-acting)
22.entourage-pasok (enter) 23.epal-pumapel kahit hindi welcome (one who forces herself/himself into the company of other people)
24.fatale-sobra, to the max (excessive)
25.feel/fillet o' fish-type, gusto, natipuhan (to like something)
26.feelingero, feelingera-mahilig magmaganda (one who is always sympathetic)
27.fly-alis (go away)
28.forever-palagi, matagal, mabagal (always, slow)
29.freestyle-slow makagets (slow in understanding something)
30.ganitriz/ganitrik-ganito (this way)
31.girlash-babe
32.hums-hundred
33.imbey/im-imbyerna, irita, inis, banas, asar (irritation)
34.itriz/itrik-ito (this)
35.jologs/dyologs-basura (trash), iskwaking, iskwakwa (squatter)
36.jowa/jowabelles/jowabella- kare-lasyon, boyprend o gerlpren (partner, boyfriend, girlfriend)
37.jubis, juba-taba (fat)
38.jutay-maliit (small, from the Visayan, "dyutay")
39.kangkang-niig, talik (sex)
40.kape/capuccino/Coffeemate- magi-sing ka sa katotohanan, excuse me (wake up to the truth, please)
41.karir/career-lumandi, kumiri (coquettish)
42.kiao-thousand
43.lafung/lafang/lafesh/lafs/lafez- kain, lamon (eat, devour)
44.lapel-masyadong malakas ang boses, parang naka-lapel mic (someone with a loud voice, as if one was wearing a lapel microphone)
45.Liberty/Statue of Liberty/Liberty Condensada-libre (free)
46.Luz Valdez/Lucila Lalu/Luz Clarita-talo (loser)
47.Moody Diaz (RIP)-moody
48.nenok-nakawin (steal)
49.okray-paninirang puri (criticize, mud-sling)
50.pantot/pantotero-mahilig umeksena
bakit walang winona? as in, "winona ako dahil dami pumik-ap sa kin kagabi."
hmm, i better lay off the three-inch punch or else borglogs byuti ko ever ditich now. lapit na kong ma-wafung.
*

hay, pasko na. i'm glad i'm not as bah humbugy as before now. of course it counts a lot that i greet a special someone a happy birthday on this day. but it's also part of my reworking my system, upgrading to a personal zen, to rework that depeche mode song of years ago. and literally zen nga. i'm gonna try out this group that does it. it looks pretty promising so far. i hope it can help my mind and soul do that general housecleaning that it's been aching to do for ages.
we'll see.
"it is time to fulfill your destiny, kal-el."
tru. ako ba yan? hehe.
obviously, nanonood na naman ako ng SMALLVILLE. holiday fare na eh.
*

heniwey, the year can be summed up in pictures and words. my words i've been spewing here since god knows when. so i'll just share with you some pix pa.
here's the womyn's night sa 70s bistro last october. di ko pa yata napo-post eh.
brain child
the night was carol bello of
pinikpikan's
brainchild. having been in the women's movement for so long, she has organized similar events but gathering all-women multi-artists were, i think, a first for her. good job! about time more of these were put out there.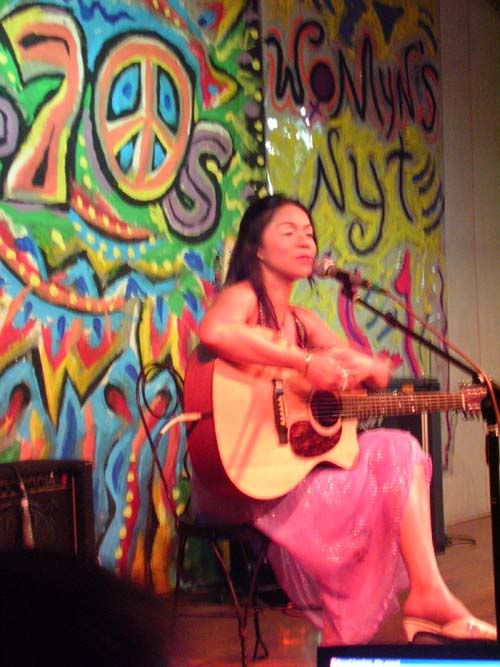 magiliw na bayang
bayang barrios doing it acoustically for us. ganda. hit siya.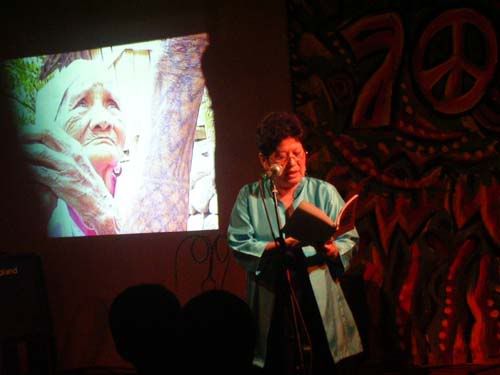 aida's words of wisdom
'tis really great to hear a great poet say her words herself. buti na lang nagpaunlak pa rin si tita aids kahit medyo may sipon na siya ng konti.
usaping puki ni angeli
ccp's tanghalang pilipino's angeli bayani did her own hilarious rendition of a combination of the VAGINA MONOLOGUES pieces translation in filipino. if i'm not mistaken, i think one was about the woman's monologue of discovering how her vagina looks like (and truly admiring it), and definitely the other one was an excerpt from my favorite piece, the C.U.N.T. monologue (of which i can never forget a great rendition by monique wilson) spoken in filipino. she was just so darn funny!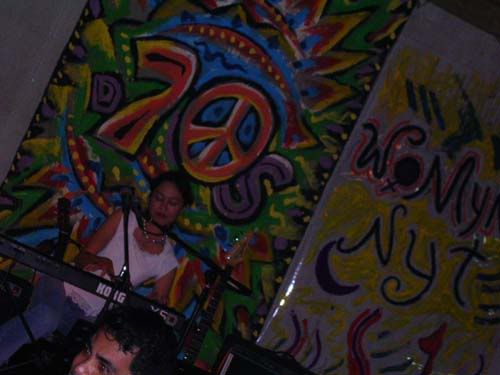 peachy performance
man, i wish i had better pictures of peach, or isha to the local jazz world.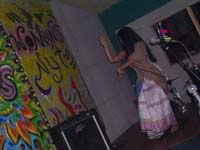 pangalay
nerissa guevara doing her thing. sige.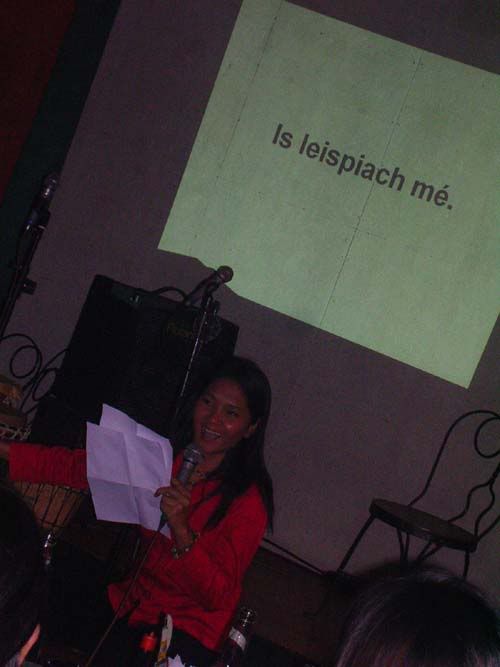 tunggril in tongues
rhona montebon of womyn supporting womyn center doing a monologue nga ba of how to say "lesbian" in several languages.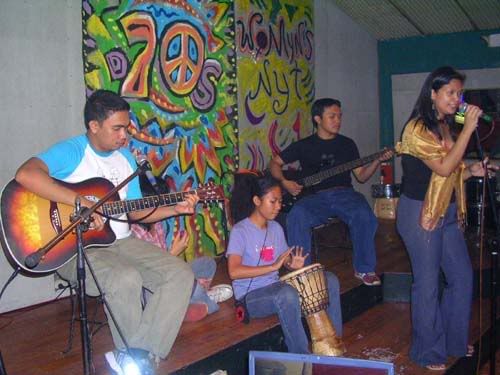 jasmine with winono
jasmine icasiano being backed up by most of winono royder band ni omeng (naggigitara sa harap).
maria[a]nas' trench
mari and her poetry and eye image
winono ito
the full winono band (fronted by the now famous sarah "co-author ng taray reply to patricia evangelista's column" raymundo) ng fellow writer friend na si omeng (ang makatang rommel rodriguez), na nakilala ko sa UP writers workshop years before i met his sis carol in isis. ayoko pang maniwalang magkapatid sila noon. i can't see the resemblance. stupid question ko pa: "ha? kapatid mo yun? ba't magkaiba kayo ng apelyido?" duh! nagpakasal kasi si omeng. charot!
bellybelladona
free movement dancer dona tumacder and future spanish hubby. magaling mag-bellydancing ang lola! my eye is forever in contact with her bellybutton. i'm studying her moves! dumi isip niyo ha. :P
bellygurrls!
...na siyempre pinag-demo niya ang ilang gurls. at syempre ivinolunteer ako ng lintik na magaganda kong kaibigan hane. pero ayos lang dahil isang taon mahigit din akong nag-bellydancing kaya may k ang lola niyon tumambad sa entablado at gumiling hehe. sabi nga ni dona sa aking hip shimmy "yeah! that's it!" gurl, this bum is made for shaking! :) shucks i miss bellydancing sooo much!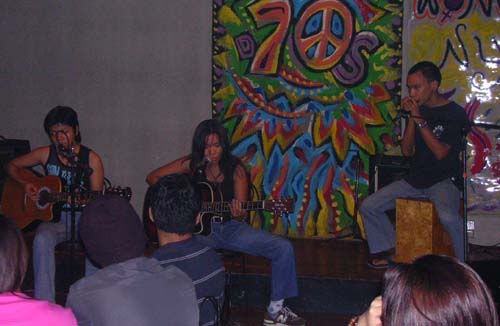 babes and preynds
folk rocker (ako lang nag-imbento ng genre for her) and fellow akdang_bayan applicant babes alejo does her thang with friends. oks din kasama tong si babes. koboy hehe.
carol and sheelahnagig
carol's all-female percussion-intensive group. magagaling ang mga batang ito. lakas ng potential. si connie, friend nila, nakikisayaw sa likod.
your truly with pix n poetry
habang naka-powerpoint sa likod ang mga litratong kinunan ko, binabasa ko ang tula ko sa harap. isa lang, pero mahaba. everybody liked it. i was soooo flattered when tita aida said it was great. ****super-blush****
that was a great night. everybody thought so. to quote peach "mamu, sa uulitin! saya!"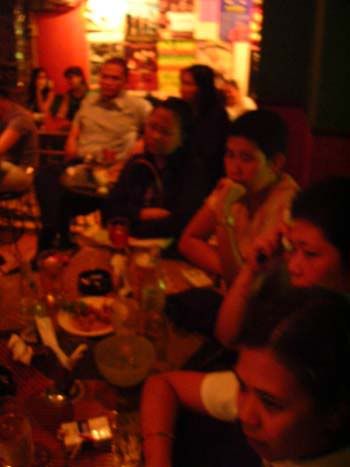 manginginom
manonood
nasayahan naman ang mga taong nanood. at salamat sa mga kaibigang dumaan at hinintay talaga akong magbasa. you know who you are... christy, burn, emma and the rest heheh.
more pix soon.
*

obviously, ayaw magpatulog nitong mga kapitbahay ko at anlakas pa rin ng blare ng tugtugan. yes, the same neighbor that freaking woke me up at 9freakingAM with the todo-decibel sound of jose mari chan singing christmas songs punyeta. i literally jerked out of bed! i hate that!
so i guess i'm going to be "lulled" to sleep by this song by the black eyed peas...
my hump my hump my hump my lovely lady hump...
nyetah.
*
What does your handwriting say about YOU?
The results of your analysis say:
You plan ahead, and are interested in beauty, design, outward appearance, and symmetry.
You are a person who thinks before acting, intelligent and thorough.
You are diplomatic, objective, and live in the present. You are not very reserved, impatient, self-confident and fond of action.
You enjoy life in your own way and do not depend on the opinions of others.
truli? i'm not sure about the symmetry part. but most of the thingamajigs are correct. :)
hahaha this one i love!
Your Fortune Is
An optimist is a girl who regards a bulge as a curve.