sorry but i just had to react to something. share na rin ng anecdote.
just read kasi this pr from mag:net katips which i regularly receive. feel ko yatang mag-chill out listening to live music this week so i'm checking out who's playing where when i chanced upon this nga.
Jazz Trio H30 featured at Mag:net Café

H30 is composed of drummer Mikah Azurin, upright bassist Dave Harder and guitarist Aya Yuson.

The trio has played a number of gigs, the most prestigious of which was a slot at Fete de la Musique 2003.

Relative newcomer Mikah Azurin is perhaps the only drummer of his generation talented, driven and insane enough to venture into the existential no-man's-land that is straightahead jazz music. He's got a good head on his shoulders, a good heart in his chest and musical skills to match.

Bassist Dave Harder is a young veteran of the Manila music scene. After cutting his musical teeth on various pop showbands over the years, he has now chosen to focus on the very demanding upright bass. Dave is of a dying breed, that of the devoted jazz musician. His inveterate musicality is now making him a force to reckon with.

Guitarist Aya Yuson can be very funny when the mood is right. His prematurely receding hairline frames a face some women may find strangely attractive. Often mistaken as stand-offish, he's actually painfully shy.

He's been called the best guitarist of his generation and perhaps beyond. He was a member of the acclaimed, award-winning jazz group, Wdouji. He's now a member of the JazzPhil Ensemble, where he plies his high-flying trade. He tries to make his guitar sound like a piano.

His first CD album — "Aya Yuson: SOLO" — has just been released, and is available in Mag:net branches.

-- 30--

can i just say a big big big guwaaaaaaaaaaaaaaark?
sorry evil ako pero sometimes -- nay, most times, i react to people who are greatly talented sana pero when they display their arrogance or, er, stupidity or something, tangna no amount of talent can save them na in the end kung nuknukan ng yabang ---- at sexist.
take the case of some guitarist out there. pinanood namin itong jazzphil ensemble with a few of my girl friends sa kublai katips weeks ago. my friend's friend invited us and since we love jazz, we went. lapit lang naman e.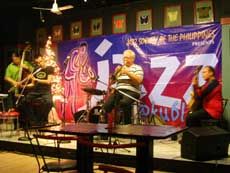 that's deo arellano on the flute thang, tito ni mishka adams at kafatid ni agnes arellano. magaling siyang kumanta ng a la bossanova-ish pala.
masaya naman, enjoy yung grupo. girls' night out ang dating. kahit ikatlong lamesa lang kaming occupied sa whole place. we even thought it was a waste kasi magaling yung band. and how kublai changed over the years ha. for the better.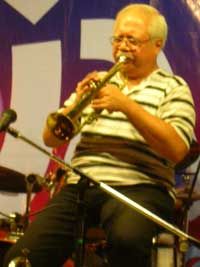 we especially loved manong torotot. sorry didn't get his name. :P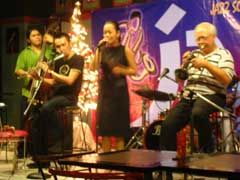 and it was equally kewl when skarlet, aka myra ruaro stepped up and jammed with the group. sumasabay pala ang lola sa grupo minsan. ang ganda. oks siyang mag-jazz.
after the gig, this guitarist na ka-chika ng friend of my friend kanina pa, lumapit ulit sa teybol namin. syempre kami na lang natira dun ano. yung other 2 occupied tables wala nang tao. sabi ng guitarist "whoo. hirap talagang mag-jazz. pawis ako."
er, tingin lang kami sa likod. thought balloon: sino bang ini-impress-an nito? as if we care.
tapos eto ang fatale. tinanong niya kami "na-culture shock ba kayo?"
sabi namin, "huh? what do you mean?"
and he made that cardinal mistake of boxing women in.
he said, "kasi in my experience, chicks don't dig jazz."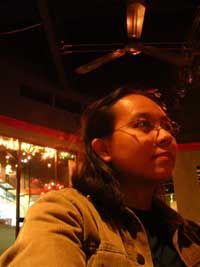 thought balloon: CHICKS???? CHICKS????
don't dig jazz
???
ah ponyetah, wag mo kong hihiritan ng ganyan at kakagaling ko lang sa pagtuturo ng non-discriminatory gender fair language sa scriptwriting class koh!!!!
i took a deep breath before answering him, at the same time waving a finger. which finger, well, i regret to say it wasn't the middle. "that's a very wrong assumption. a lot of women like jazz. hey, i mean, i know
chet baker
and all those guys. i love
billie holliday
and all those girls."
at sinekondan ako ng mga kasama ko. kuyug time ito!!! well in the end, ang ending, hindi niya kami nabentahan lahat ng cd niyang recorded songs without copyright paalam whatsoever. bow. at hindi na kami nagpaalam sa kanya. nuknukan!
maganda na sana yung gabi eh. nasira lang ng hirit ng isang clueless idiot. well. pero ang topper pala niyan, a few weeks later, we met up again with my friend's friend and she told us na HINDI KILALA NI CHICKS-DON'T-DIG-JAZZ SI JANIS JOPLIN!!!!!!!!!!!!! hahahahahahahaha. there is a god. naturingang jazz artist siya, di niya kilala si janis jokla! jusme. gudlak sa yo.