ay panalo lang kaya itong bagong formatting tools ng blog ko. just testing it. kewl.
ay may opening sa vibal publishing house for an editorial assistant in values education and christian living. mag-apply kaya ako? para matutunan ng mga hunghang ang simple valid formula na
if: "love your neighbor as you love yourself"
and: your neighbor is homosexual
then: homosexual neighbor = yourself
thus: "love your homosexual neighbor"
devah? feel free to replace 'homosexual" with any other marginalized group (muslim, women, persons living with HIV/AIDS, etc) and dang, we're gonna be one helluva happy world, d'you reckon?
*

'ay tanga' quote of the day. pero actually luma na pero now ko lang nabasa:
"That's our challenge to filmmakers: Produce quality R-18 movies that will do well at the box office."
the context of which will be more enlightening if you read this:
"As for the mall's policy on R-18 movies--two Cinemanila entries ("Ilusyon" and "Matthew, Mark, Luke & John") were thus classified--Camaligan stressed that SM was flexible. He explained: "As of now, R-18 films are not giving us [sufficient] revenue. If things turn around, as businessmen, we will adapt. That's our challenge to filmmakers: Produce quality R-18 movies that will do well at the box office."

paano mo nga malalaman kung kikita ang pelikulang r18 kung hindi mo naman papayagang ipalabas sa sinehan mo?
TANGA.
*

i so love the new formatting tools hehe. it's da bam! :P
*

huwaw.
All-Around Smart

You are all-around smart. Essentially, that means that you are a good combination of your own knowledge and experience, along with having learned through instruction - and you are equally as good with theoretical things as you are with real-world, applied things. You have a well-rounded brain.

0% applied intelligence
30% natural intelligence


Take this quiz at QuizGalaxy.com
yey. just figured out how to post these things with the new format.
i actually remember an episode from my high school life when our italian-bred pinoy school principal harped one day about how one of us had like the highest IQ and how the buffoons in our batch should emulate that high IQ person and how it would be so great for the school if everyone just behaved like that high IQ person blah blah blah and i was beginning to get iffy about the whole sermon that i started to get irritated kung sino ba kasi yung punyetang high IQ person na yun siguro yung running valedictorian namin or some grade-conscious snitchy sumbungera shmuck and how bwiset na yung whole pagsasabon thing because laging nasasabon ang rowdy batch namin dati only to find out from our guidance counselor days later that i was that high IQ person pala. a big NGYAH!
ang cinematic talaga ng buhay ko, hane? hehe. i swear, a full-length film based on my high school life will outrun lav's longest film to date. dare? :p
*

tutulog na ba ko? i'm still burping out my dinner and that ain't a good sign. second wind na ini, i know. i'm still trying to tame this tikbalang called uboubo. kaya ayun... blogosphere ever. fuck i should go back to working out. at least boxing again. lumelembot na upper body ko. that ain't gewd.
*

i don't get how inept people get away with smart things. er, something like that. basta, related to what relinqwish said
about the english language
, i don't just get how people who has an über-poor command of the english language can actually get away with conducting language-based workshops or how writers with über-serious pinoy-language syntax problems can get their horribly-plotted tagalog romance novels published on a regular basis.
seriously. como??? comment??? come??? wie??? (if i can write 'how' in thai, i will! nyeta)
*

yihaaa eat me. andale andale! :P
You Are Mexican Food
Spicy yet dependable.
You pull punches, but people still love you.
Your Birthdate: April 24
You understand people well and are a natural born therapist.
A peacemaker, people always seem to get along when you are around.
You tend to be a father or mother figure to friends, even to those older than you.
You enjoy your role, and you find that you are close to many people.

Your strength: Your devotion

Your weakness: Reliance on others for happiness

Your power color: Lilac

Your power symbol: Heart

Your power month: June
ARREST Gloria Condemns U.S. Marines' Rape of Filipina in Subic

We in the Artists for the Removal of Gloria (ARREST Gloria) condemn in the 
strongest possible terms the recent gang-rape of a 22-year-old Filipina 
by six US Marine servicemen in Subic, Zambales. The perpetrators of this 
unthinkably bestial act – Keith Silkwood, Daniel Smith, Albert Lara, Dominic 
Duplantis, Corey Barris and Chad Carpenter – have been stationed in Subic for the 
past few months as participants in the joint US-RP military exercises in the 
former American naval base. 

Based on initial findings from Subic police, the victim was visiting a 
karaoke bar Nov. 1 when she met the six American servicemen, who pretended to 
befriend her and invited her to go with them in a rented van. A few hours later,
witnesses said, the young woman was seen being dumped unconscious from 
a van on the road. 

We likewise condemn President Gloria Macapagal-Arroyo for her deafening 
silence on this atrocity against the dignity of a Filipina.

Foreign Affairs Secretary Alberto Romulo has been reported as having 
expressed "concern" about the "claims" related to this crime, and said he would 
support all efforts at investigating, prosecuting, and trying the case. Justice
Secretary Raul Gonzalez has gone public urging the US Embassy, which 
now has custody of the six US Marine servicemen, to present them once a case is 
filed against them in court. 

While whether the two Cabinet secretaries will live up to their 
seemingly bold statements still remains to be seen and there is definitely a lot 
more that they could have said, it is disgusting that two underlings have beaten
President Arroyo to the draw in issuing statements on this crime by 
foreigners against one of our own. President Arroyo, who calls herself Ina ng 
Bayan every chance she gets, carries the biggest responsibility in this issue – 
having aggressively promoted the Balikatan military exercises which brought 
the six rapists to this country in the first place. 

In late 2001 President Arroyo – who had been installed into power just 
months before through a popular uprising – was all over the papers and 
television practically pointing the dirty finger at all anti-Balikatan groups and
personalities, calling them "un-Filipino." They included staunch nationalists
Wigberto Tañada, Roland Simbulan, and Amado Gat. Inciong. 

She fabricated the belief that with not a little help from the US  troops, our
soldiers will be able to wipe out terrorists. More than three years 
after the Balikatan military exercises commenced, the Armed Forces of the 
Philippines (AFP) is all over the papers and television pushing for an 
Anti-Terrorism Bill that would supposedly help in their pursuit of the various 
groups it has chosen to label as "terrorist." We wonder what happened to all 
the help that US troops have supposedly been providing the Philippine military 
under the Balikatan. 

President Arroyo pushed for the Mutual Logistics Support Agreement (MLSA),
which grants US troops the "right" to bring military equipment into the 
country from any entry point. The MLSA serves as a companion treaty to the 
Visiting Forces Agreement (VFA), which grants extraterritorial and extrajudicial
"rights" to visiting US servicemen. In 1998 and 1999, then Vice President
Arroyo joined then President Joseph Estrada in pushing for the VFA, even doing
a duet with him in calling its opponents the worst names. 

All these, she repeatedly said, are needed to wipe out the "terrorist" 
threat. 

In arguing thus, she ignores the fact that our supposed military allies 
from the US have a record of abandoning us in our most trying moments. In 
World War II, Gen. Douglas MacArthur led in the evacuation of the bulk of 
American forces from the Philippines – returning with his troops only when 
the war was practically over as our various guerrilla units had captured all 
top officials of the Japanese Imperial Army. The US similarly refused to commit 
military aid to us in the 1990s, when our claim on the Kalayaan Reef of the 
Spratlys was under threat from China – despite the continued existence of the 
Mutual Defense Treaty. 

She likewise ignores the fact that in the years when the Philippines hosted US
military bases, American servicemen would every so often prey on hapless
Filipinas and use the influence of their government to escape Philippine
justice – all while choosing to abandon the Philippines in its most trying
moments, even as they were here supposedly for RP-US mutual defense. 

This is the kind of President we now have in Malacañang – a President who
chooses to uphold a farcical RP-US military alliance at the expense of the
dignity of a fellow Filipina – all while maintaining a presidency reacquired 
in the last election by fraudulent means and driving the people into 
deeper and deeper penury by the day. The country has no need for this kind of 
President. 

Artists for the Removal of Gloria (ARREST Gloria) 
November 4, 2005

Southern Tagalog Exposure
KASIBULAN Women Visual Artists' Collective
KUMASA (Kulturang Ugnayan ng Manggagawa at Uring Anakpawis sa Timog Katagalugan)
ARTIST, Inc. (Arts Research and Training Institute in Southern Tagalog) 
Kilometer 64 Poetry Group
Tambisan sa Sining
APLAYA (Artistang Pangkultura ng Mamamalakaya sa Timog Katagalugan) 
UPLB Umalohokan

Paolo Martinez
Andrea Muñoz
Gian Paolo Mayuga
Jeffrey Ferrer
Onin Tagaro
Bobby Balingit
Winnie Balingit 
Lourd de Veyra
Dong Abay
Ninj Abay
Con Cabrera
Roselle Pineda


gives new meaning to the term fucker, no? fuckers talaga. sila kaya ang ituwad, tanggalan ng bvd briefs at saksakan ng matigas na matulis na bagay sa ASSHOLES nila ten times the size of their biggest finger without the aid of any lubrication and let them feel the friction over and over until their insides bled.
then they'll know how a rape victim feels like.
and now they have the gall to character-assassinate the poor survivor. just let them feel what it's like to be raped and they'll see how they deserve not to be called HUMANS. the fuckers. it's really a crime against humanity. rape takes away a person's humanity. someone who rapes someone doesn't have an iota of humanity.
it was heart-wrenching to witness a reading of a case decision years ago which freed an idiot from being convicted of raping a nine year old girl and being slapped with a copout acts of lasciviousness "sentence." like i said, where is the humanity in this????? that made me decide not to entertain the thought of studying law and being a lawyer anymore. parang i wanted to be someone like
la femme nikita
na lang (shoot now, flush conscience beforehand. no remorse.) or aeon flux.
which reminds me. our favorite south african is portraying her. :) can't wait!
but i doubt that she looks pointy enuf to be aeon. wat u think? malaman si lola charlize eh. devah.
shucks. what's with me and women with
weirdly-strapped
gunslings? teeheehee.
and tight black outfits?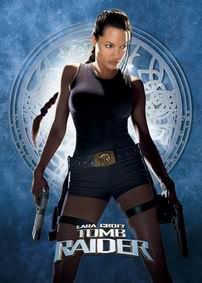 er, i want to be them? hehehehe.
okay anjan na ang araw. tulog na nga ko. isa na lang:
You have a lot going for you, but most people will
only remember you for one thing, and a lot of
them will try to copy it. They'll all suck at
it, though. Besides, you've got better stuff.
What band from the 80s are you?
brought to you by
Quizilla
shucks sino tong mga to? anyone?