CURRENT BEVERAGE: not cold water
CURRENT CHI-CHA: chocolate spread pinapapak ko
WHO I'D LIKE TO KILL TODAY: allergens
WHO I'D LIKE TO HUG TODAY: the person who invented anti-histamines
some shmuck just subscribed one of my emails to the freaking nora aunor international egroup! what the fuck!?!
then a week before that, somebody was inviting me to be a member of the vilma egroup naman. ano ba ito??? magugunaw na ba ang mundo at naghahanap na ng egroup members ang fans club na ini???
kaloka.
*

hay, in other news, i'm quite high today from my young adult lit (or YAL) novel report. i chose OCW by carla pacis. it's a good read. full of issues, compact, ganda, engaging.
sabi ni ms heidi, it looked like i was in my element during the report, whatever that means. i guess it means i was totally into the report. saksakan ko ba naman ng sandamakmak na info about child abuse and streetchildren situationers chuva thanks to my NGO training, abah, winner nga ang lola nyo. gerry lb was there nag-sit-in and he said i didn't leave no room for comments or questions kasi i covered everything. nyehehe. ansayasaya.
hm, i think i wanna stick to writing more these coming weeks. napapagod ang soul ko kasi sa production work eh. i just realized how equipment and technology have been stressing me out lately. i have no idea why. i don't think i'm turning into a technophobe -- di ba nga, gadget dyke ini -- but i dunno, i guess i just feel tired lately.
anyway, there are things that i realized lately na naman. alam nyo naman lola nyo, mahilig tumungaga sa kawalan at mag-muni-muni, especially when things get so toxic crazy.
here are some of them:
1. mas gusto ko pa ring maging sipunin kesa ubuhin. down with asthma!
2. huwag maglakad sa peyups lalu na't kauulan lang. baka mabagsakan ng higad at ng kung ano pang makakapagpakati sa balat.
3. i still don't have patience to tolerate the presence of noisy people. teach me how to be zen about this please anyone. ayudame por favor.
4. i miss the taste of my indonesian clove cigarettes and the miniscule temporary comfort that smoking brings to me.
5. WTO ministerial na sa disyembre. may magpakamatay na naman kayang farmer in protest? paano magkakasya ang sandamakmak na anti-globalization activists sa tiny hong kong? gudlak sa inyo. sarap sanang pumunta at magpiktyur.
6. nami-miss kong matulog ng 10 hours straight.
7. i still think watching PINOY BIG BROTHER is such a waste of time.
8. i love teaching pala.
9. it's official: my stage fright is gone. i love talking in front of crowds now. performance level pa!
10. ano kaya'ng gagawin ko sa mga gamit ko 'pag namatay ako? ang dami ko palang gamit.
11. parang gusto kong magpa-HIV test. wala lang.
12. i really wanna kill my neighbor's pesky cat who has been terrorizing my cats here in own garage! air gun o tirador?
13. i miss the old concon camaraderie. super.
14. i wish i had more time to just chill out and chat with my friends over coffee or alcohol.
15. KAILANGAN KO NANG MAGSAYAW! when's the next exclusive party? dance na dance na ako.
16. i enjoy being alone again. i don't feel lonely anymore. yehei.
17. gusto kong kumain ng crispy pata. kaya lang bad eh. ('sus, parang di ako nag-new york strip steak kagabi ha!)
18. i wanna swim at the beach na.
19. i miss traveling soooo much. i pity the poor souls who cannot stand to be in another land and absorb the new things nature presents them.
20. i miss 90s music. down with all these cueshe crap and whatnots. i hate fm radio now.
21. hindi pa rin ako nanonood ng harry potter. si carla nakaka-apat na nood na sa calgary haha. maybe sa linggo.
22. i want to seek refuge from this air polluted city i live in. how i wish i have a bucolic envi-friendly/preserved province i can call a sanctuary. i envy those people who have that, truly. all i have is my house and locking myself in, pathetic.
23. i just realized that i was already drawing and inventing emoticons even before they were termed as such. di ba nga may tshirt akong ginawa nung college sa fine arts (when i discovered textile paint) na puro emoticons (circa 1991)? many people wanted to buy that off my back. no way man.
24. i'm beginning to get scared of having a lifetime partner. i don't know why. the concept freaks me out lately. it must be because i don't really get to be with the one i truly love for a long time, so this might be my subconscious training me now. it's okay.
25. ang kyut kyut ng batang ito: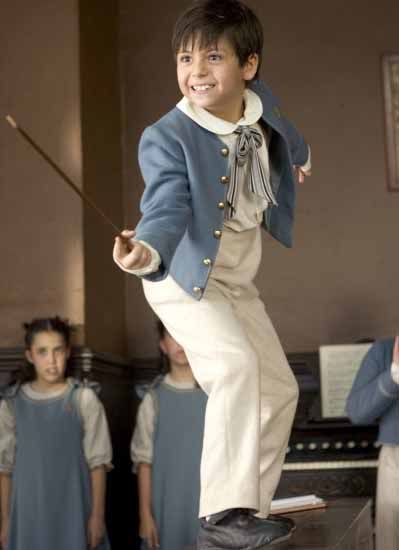 expect a ZORRO JUNIOR film in the near future. paging alfonso cuaron. this kid could be the next gael.
26. wala bang ikot/toki dyip na iikot lang ever sa academic oval? like a shuttle or something, parang sa ccp complex. sana they think of that soon.
27. ang sarap mag-aral sa UP. pero dapat magbabad ka muna sa labas ng akademya bago ka kumuha ng higher learning para hindi makurta ang utak mo. kaya pagtapos ng MA, di muna ko agad magpi-PhD.
28. shet so many books, so little time to read them. i still lobby for a 30-hour day!
29. ayoko na yatang ambisyunin na yayaman pa ako. hahayaan ko na lang na maging pangarap iyon ng ibang tao (tutal, sandamakmak na pilipino na naman ang nangangarap nun kaya siguro di pa umaabot sa akin ang grasya kasi ang daming nauna).
30. gusto kong mag-focus na lang sa pagsusulat.
31. gusto ko ulit bumalik at makipagtrabaho sa mga kawomenan. pero yung grassroots na this time. ayoko na ng career feministas na nagdudunung-dunungan lang. down with pseudo-advocacy.
32. what's so fucking x-rated about this poster?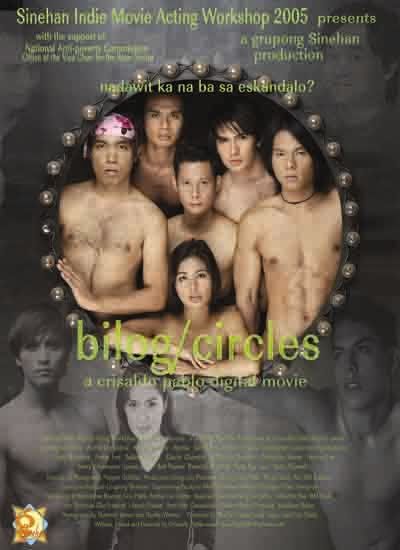 nood kayo, next week, robinson's galleria at ermita lang. congrats cris!
33. no matter what i do, talo pa rin ako sa aking insomnia. truly a card-carrying nocturnal creature ini.
34. i am alarmed at the rate my eyes are getting labo na. man.
yun na muna.