just a little before i turn in.
it's my papa's birthday today.
happy birthday!!!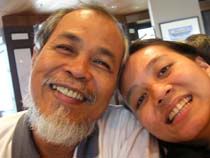 me n my pa
we look alike, don't we? yeah, we do, a bit. it's cool. it's inevitable. :P i learned a lot from this guy, whether i like it or not. it's cool.
spent the night with the folks. just a simple thing: went to the grocery, a sort of family ritual we used to do. yeah, we used to scour shopping marts and groceries talaga, from here to subic/clark since noong uso pa ang uniwide sales mart or something. i dunno. our family has always done that. we like checking out the goods e. maybe that's why i love going to the grocercy and the market, wet man o dry, lalo na flea. i guess that's our family thing. aside from eating out and trying out restaurants around the metro. that's another family thing. i got that, too, until now. kaya kahit ako mag-isa, i try out new restos, cafes and eateries. it's a cantor peculiarity, i guess. kaya tamang-tama dati na resto reviewer ako for magazines. that was a fun job.
after that, we just had dinner at chowking near hitop aurora ave. it's cool. nothig fancy needed, really, but me mum will prepare her steak and veggies recipe later for them. yum. wish i could be there. my mum is the greatest cook ever. she prepares the best steak talaga. yum.
man i'm hungry tuloy.