alas, i knew thee not so well...
photothoughts...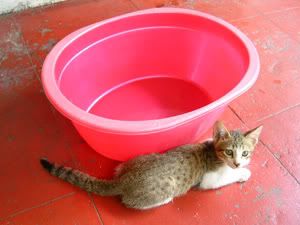 batya mo logan
logan was his name. i buried him a couple of hours ago. found him dead near the gate when i arrived. he was about to die last night. c said perhaps he ate something and it was killing him slowly. and it did. :( it made me cry a bit. what a sad hour...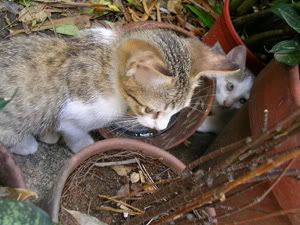 playing "run away and hide from this crazy photographer" with his bro
he was the first cat i ever named, and the first cat i treated as mine. when he was born, he was the first one i noticed because during that time, he looked a bit like
wolverine
. but who wants a kitten named wolverine? so i named him after that x-men's human name. appropriate, for it also started with the first letter of my name. and i liked that trivia so much. so there he was. logan. he outgrew the wolverine-ness look but it's okay. he was cute and a bit makulit but he lets you hug and pet him for a while, and then he jumps away. he likes scaling up the screen door and screen window. patay ang bahay! pero di pa naman nabubutas so keri lang.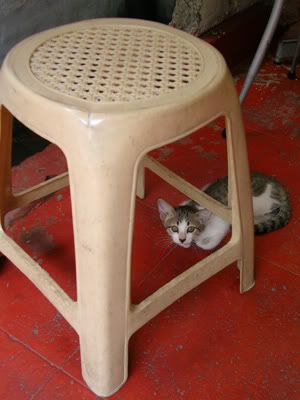 thought balloon: high chair!
i guess i have been converted. i like kittens now. really. before, i used to think what uppity snobs they are, especially full-grown breed cats. pero mabait din naman pala. i like their independence and the way they make lambing later (lalo na 'pag gutom noh). saka amazing how they seem to be instantly toilet-trained! talino. iba rin 'pag na-witness mo yung pagkapanganak nila hanggang bumuka ang mata at magkamalay-pusa. i also admire yung kahit gaano kataas ang bagsak, they still land on their feet with grace and steadiness. ninja trained!
hay. i will miss you, logan. truli.