mierda the nawasa drillers are back at nasa tapat ng haybols ang drilling!!!!!!!!!!! nyetaaaaaaaaaaaaaaah. kala ko ba tapos na to last sat!!!!!!!!!!! kainis!!! napurnada nga ang balak kong magtrabaho peacefully sa harap ng kompyuter nung sabado tutal di na ko tumuloy dun sa seminar on docu filmmaking by isabel kenny and anvil kasi nga nagka-sinusitis ako nung umaga (what else?). hay nakuh. kung kelan naman ako naka-sked to work here... aaaaaaaarrrrrrrrrrrrrrggggggggggghhhhhhhhh!
the tv has been on since this morning, monitoring news eklat. walang pasok ang metro manila today yehei! kaya andito sa haus arrest ang byuti ko. inayos ko na finally yung corridor/hallyway kalats ko at na-unearth ko na rin ang mga hinahanap ko sa life. tama si earnest, may maiiwan ka pa talagang kahong di nabubuksan ever tuwing lilipat ka. pagbaba ko sa basement, ayun, true enough, meron pa pala dun. hay...
*

it's the SONA today. kakatapos lang. babaguhin daw ang form of government to federalist. kala ko ba parliamentary? may namigay ng peach and calamansi plants sa congress. hindi halos nag-tagalog si gloria sa state of the nation address niya so malamang hindi gaano na-gets ng some of the 70+percent ng people living below the poverty line sa 'pinas ang shpluk nya. sa mga pulis na naka-tokang bantayan ang sandamakmak na anti-gloria rallyists sa congressional road as we speak, ang ibig sabihin pala sa kanila ng "anti-riot" ay offensive attack!!!! (afraid!) maikli ang shpluk at naka-filipiniana pati mga reporters. a congressman filed a bill to make the calamansi juice our national juice daw. what the hell kind of government do i have????????
hay, i have long ceased to fathom its existence...
photothoughts...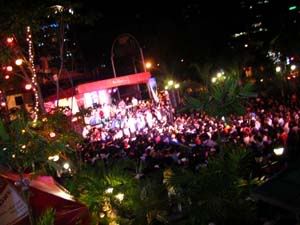 fete fatale
a great location from the second floor of sidebar café. kinda too late coming there kasi they closed the venue early. had to rely on "musician connections" to get in. sayang kasi this set was the one i wanted to listen to, yung blues line-up. i've always liked the blues. fusion with r&b or soul or just plain old school. sayang.
this year's fete was a disaster in terms of crowd control. bakit walang crowd traffic? grabeh. afraid dun sa mga punk kids in black. jologs to the max. well, the one in el pueblo, at least. may mini-fete dun sa greenbelt din, yun keri dun. sosi. pero pangit daw sound system.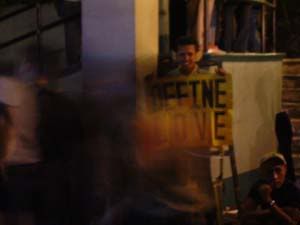 si define love
spotted this guy wearing pointy ears and carrying a sign that said "define love." when
pinikpikan
played the closing gig at the main stage that night, he started
interpretative dancing
in front of the stage! kaya binato siya ng mineral water bottles para bumaba hehe.
i really hope they choose a different venue next time, yung hindi dikit-dikit at yung papapasukin ka sa venue dahil gusto mo makinig ng certain type of music.
*

a friend talked about
being chased
. she posted questions that i will try to answer:
1. have you ever chased anybody for anything?
yes, when i was no more than 10 years old. i was living in my lola's house in proj. 4 and we had a guava tree sa harap sa labas. may isang malaking bunga siya na super laki than the usual (guapol 'ata). binabantayan ko siya at ina-admire from the inside when may biglang pumitas na passerby. labas ng gate ang lola nyo at hinabol ko. to no avail. mabilis sha tumakbo.
2. have you ever been chased by anybody?
i cannot remember.