magaling na ako.
dati na naman akong magaling ah. ano'ng pinagsasasabi mo?


dialogue with myself at a quarter before midnight.
wala lang...
oo magaling na ako. ayoko sanang pumasok kundangan lang kasi si ate vi e. yah, da star for all seasons (star OF all seasons? grammar police, help!) e na-award-an literal ng masscomm kanina. syempre kelangan umapir byuti namin dahil film dept/film institute kami eh. ayun. i'm not too keen to see her but i just wanted to check out the event and how it went down. so there. i've interviewed her na kasi before eh for PINOY TIMES at talagang dinayo pa namin siya sa city of lipa dati noh. sus. pero syempre ang pay-off nun, masarap na bulalo side trip hehe. but i digress. the interview was about her hubby running for senator. we were doing a double ek on shawie and ate vi with kiko pangilinan and ralph. my editors were more interested in the ta-artits syempre so since i was the entertainment editor, i had to do the interviews myself at sabit na lang ang mga sharonian at vilmanian editor sa opis. anyway, that was that. okay naman siya. gusto ko siya kausap, lively. si sharon, well, showbiz. what did you expect? si ate vi, medyo may humane aspect pa e. i guess that makes her feet still on the ground pa rin or something.
anyway, on to me again.
wala lang. umuulan kasi at nag-iisa ako sa bahay kaya napa-blog ako bigla. saka natutuwa ako dahil more than an hour na ko sa harap ng kompyuter at di pa sumasakit ulo ko. ibig sabihin wala na talaga akong sakit! yehei! balak ko sana magsulat-sulat noong may sakit ako (5 days ba naman akong nakakulong dito sa bahay noh kaloka) pero pagkatapos ng isang oras na email check, nyeta sakit na ulo ko. purnada. kaya nuod dvd na lang ako o tulog. pero oks na ko ngayon kaya eto na ulit, nilalasap ko na naman ang radiation ng kompyuter ko. na-miss ko e, bakit ba?
pero sa totoo lang, ayoko na ng feeling na may fever. never never never ever.
photothoughts...
konti lang for tonight.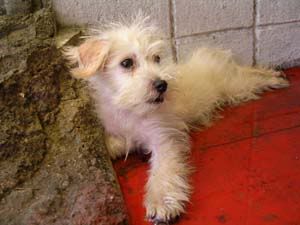 ewok
somebody wanted to see how my new pup looks like, so here he is. ewok. E was up on my alphabet pup list. my first dog was archie. second was books na namatay agad dahil sa impatso. next was the two brothers kino pravda and chaplin. and then there was drummer. i loved that dog. and now, ewok.
but i'm thinking of giving him to mom. mom obviously wants one. inaabangan nya ulit yung nanay nito na manganak e. so i'm thinking of giving him to her na lang kaya.
i dunno. he's cute and all kaya lang parang wala ako sa pag-aalaga ng tuta lately e. not in that mode. it's not that we haven't warmed up to each other. super warm na 'day. it's just that i feel i am in such a disorganized state of mind right now and i have to untangle my brain first before i face another being that needs attention. i mean, i think
I
need attention now, you know what i mean? lots of stuff lang going on, things to think about, all that jazz, all that crap, basta. yun na yun.
ewan. bahala na. defeats the purpose of having him, which is to keep me company and to guard me. eh, gaano ba makakapag-guard ang isang terrier? okay, afraid siyang kumahol, pero that's about it...
oh well. bahala na.
magkamukha pa naman kami...
sleepyyyy
oh hey nga pala na-dyaryo for real ang lola niyo.
the longer artik on being
out and proud
chu and a shorter thing about
art eklat
.
it's already july. belated happy pride to all!