obvious bang tumatakas ako sa mga serious brain work today? kasi naman, halos wala rin akong holiday na tinamo pala. been working. ni hindi ko nagampanan ang panonood ng first 5 episodes ng
THE L WORD
season 2 aarrrrgghh! will do that this week, promise. waaaaah. i miss these gurls na. wanna see na da latina, too, hehehe.
at least yung isa kong balak e ginawa ko. pinanood ko yung isang ellen degeneres stand-up act. hahaha kakatawa ang lola. kapag sumasadsad na pala ko sa kalungkutan eh si ellen lang ang solusyon. ayan, hapi na ulit ako. daig pa ang kumain ng tatlong gonuts donuts choco-filled donuts hehehe. uy, speaking of... di pala ko nakakain kanina. bought some yesterday when i went to the DIY hardware store in cubao. got me some light bulbs after manong the all-around electrician and repair guy nina ate mameng fixed the two defective sockets here. kaya oks na ulit. nagpalit-palit ako ng bumbilya at inayos ko na ang itsura. mom and pop passed by kasi kagabi to deliver an office desk and a side table drawer. alam mo naman haus namin sa marikina, repository ng old office furnitures, at lahat ng hindi gamitin doon na sa tingin nila ay puwede ko gamitin ay dinadala na nila rito. so ako naman, sige lang, accept lang ng accept. now i don't have to buy a computer table na. oks na ang set-up ko dito somehow. kinda like the old one actually.
nanood din pala ko ng tail ng isang CSI ep on cable after taking a bath. i also tried that movies dvd game ni drew, pang-party crowd nga siya. maganda siyang laruin ng concon hehe. speaking of, dumaan sina drew and rosa yesterday to pick up a couple of dvds they forgot to borrow the night before. i overcooked (portions, not the taste ha) some giniling and gulay dish thing kasi the other night, and tamang-tama nag-text sila na nagdo-dogsit pala sila sa haus ni maita nearby lang, so i asked them to come on over and eat dinner here. happy naman sila sa luto ko hehe. good to have catlovers as guests din pala, kasi aliw sila kay abi and vice versa. got tips from them too because abi's about to pop kitties na! ngyar! rosa wanted to have one pero ayaw ng nanay nya hehehe. oh, speaking of, that iranian lhasa dog thang nina mrs. tabanyong (?sp) na friend ni mommy e nanganak na pala yipeeeee so me have a doggie soon! yippie! i hope the kitties and the doggie would live harmoniously ever after... i'm excited! and just in time, too, when i am about to have more tambay time at home, yipeee! doggie!!!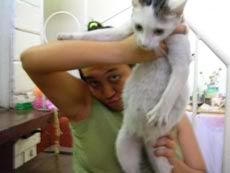 quote of the night before: "that is one pregnant cat!"
it's been so long since i last had a pup. si drummer pa iyon. more than 4 years ago na yata iyon, a. now, it's an E na. kasi i name my dogs in alphabetical order mula kay archie na babae hehehe nung high school ako. and then there's books who lived for only 3 days with me kasi nag-xmas party sa bahay at pinakain ng mga hudas na pamangkin tots ng foodies at naimpatso at na-ded wah. cute pa naman yun. tapos the 2 dogs we got from cousin bebe yata, sina chaplin (after charlie) and kino (kino pravda, or film truth in russian, what we call as 'documentary'). obvious bang film student na ko nung dumating sila sa life ko? and then post college, there's drummer na kasama ko sa naranghita concon halfway house dati, hanggang sa mabait transfer. died of a virus caught in the streets of proj. 4. so now, it's an E. was thinking of ergo dati pa, pero echo sounds nice, too. greek mythology-ish rin. or maybe eros? hm, sino pa ba ang e sa myth? erin? brokovich? chaks. was thinking of emo but that's so american hahaha like yeah (insert arreneow accent here). ewok? in honor of star wars? hmmm... esep esep.
okay, after an hour of digby's donuts game play (yehei na-unlock ko sya! hackers of da world i lab yu!), maybe i'll get back to work. maybe. convince me. motivate me. inspire me. hm... what would inspire me...?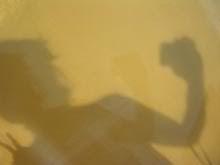 hmmm... does this remind you of something? *shuffle shuffle*
hmm, i dunno... can't get a clue...pace for the answer... *shuffle shuffle*
hehe. :P
esep esep.