was planning on having a productive (work-wise) night checking papers but decided against it. after arriving from sm shopping and doing some chores here, just felt too pooped to check papers so decided to watch the last disc of QUEER AS FOLK season 5.
and i just have to do a post-mortem of that here. it can't wait, darlings.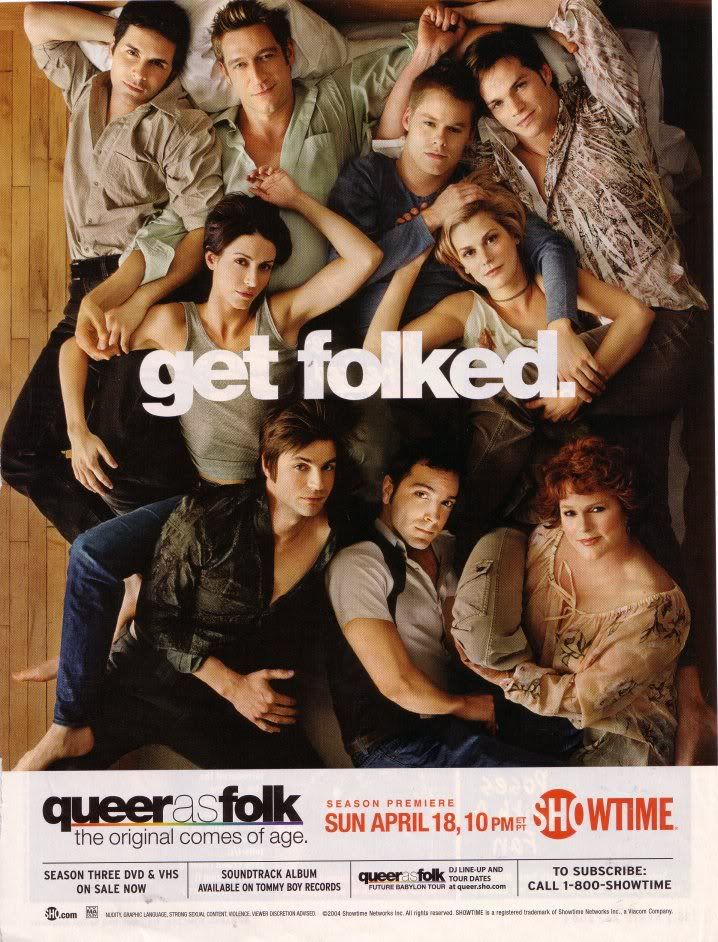 i'm feeling mighty nostalgic because it was like i felt an end of an era when i saw the last episode of the last season. yes, this means this is it, folks. no more queers next year -- at least the ones from pittsburgh that we've fallen in love with.
there were so many changes, so many events and so many character developments but it was still well-made, i should say. of course, they faltered a bit in some areas. i, for one, still am iffy about how they handled the lesbian couple, although i think they took a page out of THE L WORD book and wrote it in here somewhere when mel and linds had some torrid sex (finally! note to gay producers: lesbians also fuck! haller. ano akala nila, we just cuddle and dream of having babies?). well. sige na nga. i watch this show for the storylines, the advocacy and the gay guys anyway.
this last season was also well-written, good story arcs. the advocacy reminded me of season three. how apt and timely. as usual, dami patama sa government. they really reflect what's going on in the USA and it was great. really. saka hindi bitin yung ending. they ended with michael's vo saying that whatever comes, we will survive or something like that. and that's so true. kahit ano pang conservatism and fundamentalism ang maghari diyan, lalabas at lalabas ang mga queers ng mundo. so there.
ang di ko magets ay hitik ang bawa't ep ng mga nilalaman. bawa't character nila, may nangyayari
per ep
. hindi tulad nitong kakatapos ko lang na tlw2. di ko magets kung ano gusto gawin ng mga byaning na writer na ini pero hayyyy... they're beginning to lose me, man. chaks ng mga storylines! at ang tagal ng unraveling ng characters while yung iba, pilit ang unraveling. hay. but that's another story. back to the gay guys.
gusto ko ang pagkakasulat ng show kasi buong buo ang mga karakter talaga. character-driven talaga. kaya ang ganda. wow. hay. may masasabi pa ba ako? spoilers kasi ito sa mga di pa nakapanood. pero thank goodness walang namatay, at
buhay pa si brian
, mari. :P muntik na kasi akong atakihin sa puso nang i-suggest niya na baka mamatay si brian. nyeta pag nangyari iyon ano. grabeh.
don't you just love brian kinney? i like his character. in fact, i want to be this character. i've been channeling him to train myself of the credo he lives by: maximum amount of pleasure, minimum amount of bullshit. i actually tried that last year but the thing is, hay honeys, i am still a freaking lesbian and drama comes with this territory, so unavoidable yun. although i think i have been able to channel a bit of him in me this year, so that's cool. especially in the work department, when i metaphorically implied to a superior to go fuck herself and when i fabulously acquired rapid, er, ascension in another and fabulously handled it well. fab. fab talaga.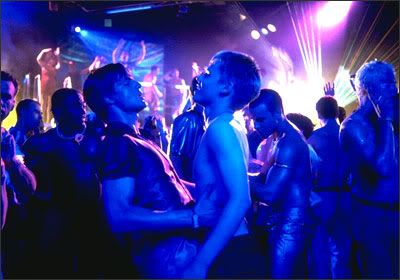 thumpa-thumpa!
technicals-wise, i love the innovations in the shots and presentation. ganda. may kanya-kanyang style ang directors nila at oks siya. who could ever forget the season ender shot of season 3?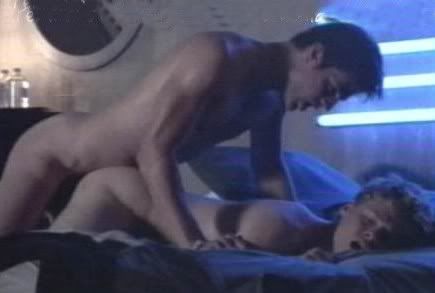 hot!
and of course, i love the way it was soooooo unapologetic when it showed sex. as in real people having sex. na alam mong nag-sex at nagse-sex talaga ang mga tao, kasi hindi sila naka-cover ng sheets pagkatapos or
during
, for heaven's sake. who makes love under the sheets???? saka yung maglalakad after sex na nakahubad at hindi magtatapis ng twalya o kumot. lam mo yun???? now this is accurate portrayal talaga of any sex scene out there, gay or straight! ang galing!
and to think this all started with a dorky version from the UK half a decade ago. muntik na kong bumili ng original dvd set ng uk pero buti na lang may nagpahiram muna sa akin dati. ang chaka chaka chaka ng treatment pero buti na lang at niremaster ng mga 'kano, so to speak. sabagay, dun naman magaling ang kano - sa pag-remake. but this time, the remake was waaay better than the original. the uk version was so heartless. equally daring but it had less heart. the US version had more heart - and groins and beefcakes and all the fabulous things we love.
jusme, tignan mo na lang yung version nila ng brian character, that dude on the right sa taas. i mean, haller, yan na ba ang pinakagwapo that manchester has to offer? ha? ha? please lang!
on a personal note, it was heart-wrenching to listen to most of the storylines of this last season because time and again, it hit close to home. super-close, especially when brian and justin were talking about getting together for good. brian said something like "you shouldn't change who you are or sacrifice what you want to do just because of love." man, how i could relate sooo much to that. i know how awfully hard it is for someone to sacrifice his (or her) art to be with someone lang ek. so damn hard. sometimes, you realize it too late, and the hurt gets so bad. but then, that's life. kaya it's such a grateful thing to find someone who truly understands who you are and what you do and supports you all throughout. and i am thankful for that now. saka isa pang line na sabi naman ni justin: "we don't need rings or vows to know we love each other. we already do" or something like that. again, kapow!
i've been rethinking that nga lately, e, my stand on gay marriage and my original stand on marriage per se as an institution (against). it's not really for everyone but to those who want it, i say give it to them, gay or straight. we all have the same human rights dapat kaya di dapat ito ipagkait. but as for me...hm. sometimes you find the perfect girl to marry but someone already beat you to it. parang yung kinanta ni lola alanis "it's meeting the man of your dreams and meeting his beautiful wife." isn't it ironic? more like tragic, man. more like tragic. so you just settle with what's available and make do with what you both have at the moment. if that is as good as it gets, then so be it. the important thing is, you're both happy and productive.
yeah, it's hard to decide which person you're going to spend the rest of your life with, especially in this set-up. the environ is volatile, very unpredictable. but still, life is a gamble. why waste time watching others play? get in the game. kaya game naman tayong lahat, dapat. pero dapat, kahit alam nating magiging talunan din tayo minsan, kelangan mag-effort din naman tayong manalo paminsan-minsan. patas lang.
dami kong natutunan sa show na ito. na-reinforce ang iba kong ideologies at nadebunk and ilang doubts while reaffirming things i strongly believe in (such as, lesbian and gay rights are human rights). and for that, i will forever be grateful.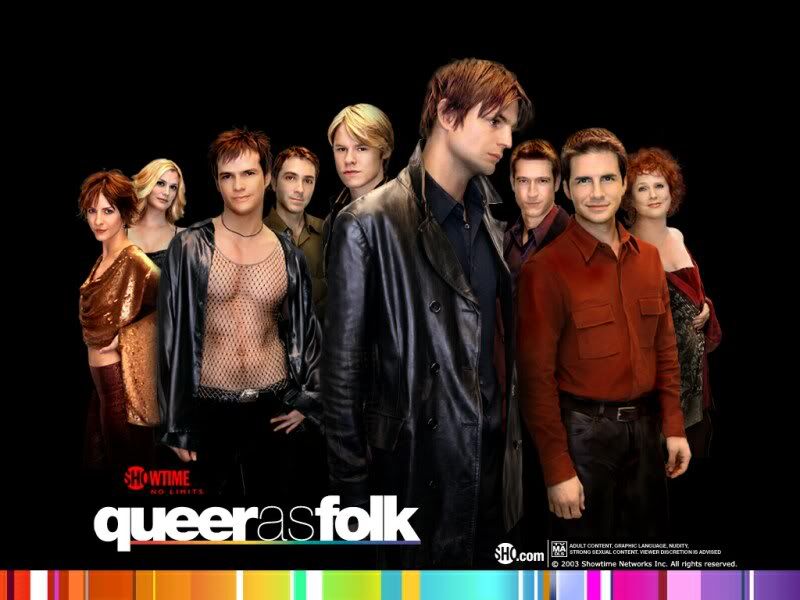 strange as people
a fabulous farewell, folks. i'll miss ya lots.