kainiz mode lang. syempre just came from watching the csi trio every sunday night (my addiction) and i'm quite glad walang miami. i so don't like the cast of that one, from the squeaky-voiced blonde to the sobra-namang-angst-pero pagwapo-pa-rin na tall dude to of course horatio's pa-philosophically-executed pregnant quasi-pauses na hindi. ah basta.
the brief angst has something to do with nooyawk, tho. ang chorva ko lang e, bakit nila pinatay ang karakter niya: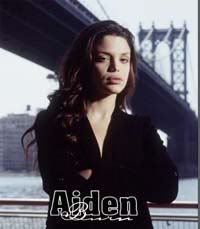 there's that spunky latina bronx groove vibe going on with this grrl, and i so like her story arc of being so determined to solve a series of rape cases. and then they kinda fire her. and now they kill her. asar. ni wala sa kalingkingan niya yung pumalit sa kanyang white girl! not sympathetic at all.
protesta!
ganda pa naman ng chemistry nila. blah! well, except for that police chuva sa kanan. i don't like him. i remember him from this short-lived hetero series called jack and jill ba yun? na siya yung guy named jill ata and the girl is jack, but they're hetero. well, they all are, anyway. blah.