rest muna ko no after that haggard errand running yesterday until night. tama nah! so chilll out muna akesh with my trusty new laptop and chilled in front of mtv with my morning rituals.
and there's nothing like music videos to get you thinking creatively-critically again lalo na't wala ng pasok today! hurray! as usual, mas masaya pa ko kese sa estudyante ko kapag walang pasok hehe. aba, kung ganito kaaraw ba lagi ang mga signal number two katulad ng pagkakulimlim ng signal number one kahapon, aba'y bring it on at mas gusto ko pang madaming ganyang kulimlim days... sarap lang tumambay sa bahay pag ganyan noh.
heniwey, gusto kong chorvahin ang mga music videos na nakita ko.
type ko yung "future" vid ng dicta license at urbandub. i caught the video making special and its concept is really nice and good. kaya lan ayoko lang yung paistar na epek na isa-isang ipo-pokus yung mga bandmembers as if they're all recognizable entities by their face values. tapos nakatayo lang sila doon at walang ginagawa kundi magpapogi, magpakyut o mag-emote as if they're deep thinkers. weh. ano yan, ONE campaign? dapat binigyan sila ng business hello. nakatayu lang dun. sus.
oh well. tapos may sumunod na THE SOUND OF MUSIC excerpt, at "lonely goatherd" pa ang sampling! i asked, sino'ng baliw ang gagamit ng lonely goatherd as sample? enter gwen stafani, na obyus na nagta-tumbling for attention sa video na to (forgot the title, basta look for the one where she's spoofing the sound of music, complete with the pagtatahi ng kurtina as von trapp kids playclothes scene!). syempre kelangan tumambling ng lola mo kasi napag-iiwanan na siya at eat da dust na lang siya ni fergie! ala e, mas may spunk si fergie e, minus her OA-pasexy chenelyn, pero forgivable ng konti ksi galing sya sa ganung background sa black eyed peas so puwedeng tiisin. ala eh, mas catchy ang "london bridge" kesa sa "hollaback grrl" chenes panu ba yan. dethrone ang drama hehe. e kung mag-duet kaya sila? mas patok pa. tapos hilahin din nila si nelly furtado at i-reform ang lolang nawala yata sa kakapasyal sa cosmetics department ng rustans at sa mega-mahal pero slight chaka fashion clothes stores sa rockwell in between james cooper parlor sessions.
lonely goatherd???? i swear... tataas kilay ng mga upfi faculty diyan na die-hard sound of music fans hehe. oo may fanclub sa faculty na ganyan hehe. hulaan niyo kung sino. never in a million years niyong mahuhulaan...
hmm, uso din yata ang "revive my own old song for new publicity chenes" mode. hulaan na lang kung sino to. praise da lord!
commercial: aarrgh sarap sanang pumunta sa opening ng photo exhibit ng friendship bukas, kundangan lang kasi e sa tagaytay! ati, wala na akong magic kahon to drive there! oh well. congrats na lang po kay visual artist IRMA LACORTE.
here's da pr:
Threesome in Tagaytay - an art exhibit of new works by irma lacorte, henry cainglet and lito mondejar at the magallanes square tagaytay beside figaro cafe. opens 5pm december 1.
commercial ulit: everyone's invited to the opening of the UPFI's annual CINE VERITAS HUMAN RIGHTS FILM FESTIVAL on december 5 at 7pm. the free gala screening of the malaysian-banned semi-musical docu THE LAST COMMUNIST will open the fest. come one, come all. taralets bagets! the fest will run until dec9, sat.
but wait!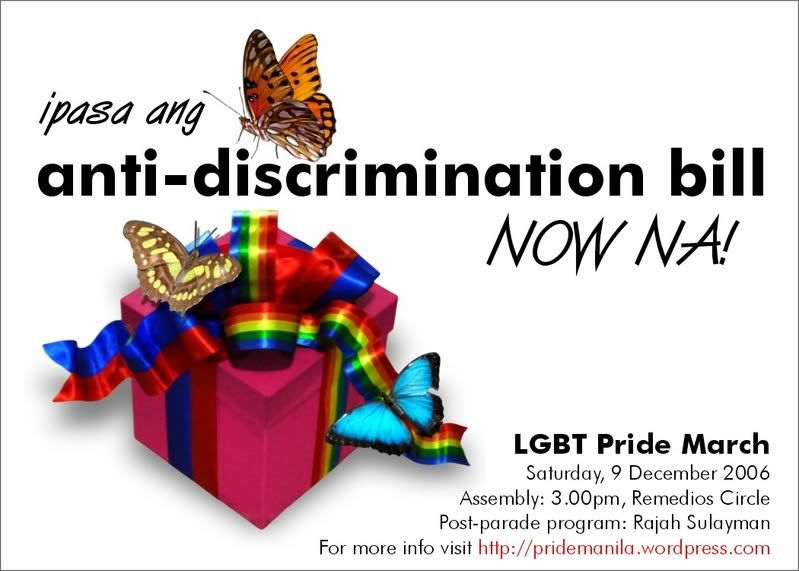 pasensiya na raya. di ko sure if i will be able to catch your orchestra-laden closing film. sayang. mas gusto ko atang rumampa hehe. once a year lang kasi to e. and this year is important, lalo na't may eleksyon next year. hm, san ba ko? be a drag king and go with the girlies sa lwordgroup or wear pink and go with angladlad? decisions, decisions...
o sha, naderail na rin naman ako ng commercials, dedma na sa videos. saka na lang ulit. vegetarian mode na naman akesh at lafang muna. hay, i miss meat... pero sabi nga ng isa kong friend, "you're a vegetarian now? Now you're a REAL lesbian!" :P hahaha honga noh. in the western context, that is.