will be there at around 7ish. i donated four photographs. let's see if someone buys them. sana naman, para kumita ang org. :)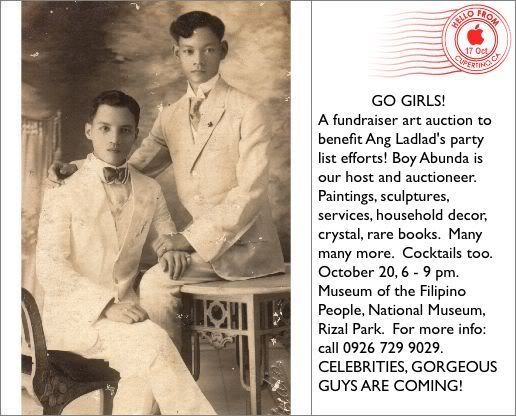 ei, gorgeous women are coming, too! i'll be there, devah? waheheheheheheheh.
saka after this, diretso naman sa erotica poety reading nina ralph sa rainbow project in malate, orosa corner nakpil, that legendary and sinful kanto hehe. magbasa daw ako sabi ni ralph. hmmm wala ko sa erotica mode eh pero tignan natin. i actually wanna see dominic james' photos on exhibit there.
tapos sa sabado pala, kung nsa updiliman ka, daan ka sa COMICS CONVENTION sa bahay ng alumni. may sinalihan akong komiks group, ang KOMIKERA at naglabas sila ng anthology specially for this event. may kontribusyon akong komiks na naaaaapakalesbyana lang ng laman kaya puta na at bumili ng kopya! yes ako ang gumawa ng kuwento at guhit. oct21 yah, whole day.
tapos nun, baguio naman tayo for this. suppor my friends chenelyn ang drama ko dito, sumabit lang ako actually hehehe. miss ko na kasi baguio e. the whole bandida gang's going so might as well join.
although last i heard, barbie bowed out(sp?) of this gig na, e di na na-revise ni teta ang flyer. di ata natapos o nakakumpleto ng works or something. o baka pinagbawalan ng cult este sect este hubby na mag-join hehe. wala i'm just being a beech. :P well, anupaman, excited akong makita ang artworks ng friends ko dito, specifically the photos and paintings of carol, beng, teta and cynthia. sila lang naman kasi friendships ko dito at di ko knows yung iba.
well, see you all!