i had a very tiring day but i don't think i want to dwell on that. it's just so weird because in all my years of working in film and video production, this was the most tiring day of shooting i have ever had. worse than when we had to hang out in cavite or somewhere out of manila to babysit some artista for premiere before. worse than when we had to stay up late all night or something to wait for the director to finish the shoot and all. worse than the most indiefilm set-up of shoot (i.e. one woman crew) i have ever had. super. but i don't think i wanna elaborate on that here, really. i just want to... hay, tune out.
tune out, and tune in to something different. so when times are rough, we always run to old reliables. take your pick: yosi, liquor, new episodes of THE L WORD and QUEER AS FOLK, talking with your mom about something irritating.
all of the above.
while shopping for production stuff yesterday in quiapo, of course it would be against my nature not to check out my suki dvd stalls. and guess what i found. yeah, TLW season 2 and QAF season 5. yehei! originally, i just went to buy SMALLVILLE season 4 but thank goodness for queerily sharp eyes, eh. sarap! :)
catching up with the TLW girls was like catching up with old friends you've missed a lot. but it also means flaschbacking to times when you were watching the first season and things in your life funnily reminded you of certain episodes. and it's still doing that now so after 2 eps, i just had to stop watching and switch to the gay guys. but then, that, too, made me flashback quite a few scenes kaya, hay... mamaya na lang ulit. after i've lubricated my brain with this writing activity. (but i still protest the lesbian couple treatment in qaf and the phenomenally bad writer storyline of freaking jenny. puwede ba. naiinsulto ako as a lesbian short story writer ha! but i'm just in ep2 so we'll see...)
so pictures na lang muna. here's the LGBT NYT SA CONSPIRACY photos or as we organizers lovingly termed it, "titi-puki-nyt" hehe (second runner up: bukas LULU-HOK ang mga tala courtesy of omeng). note that not all performers are lgbt-oriented or identified. some are lgbt-friendly lang baga. bahala na kayo maghula kung sino.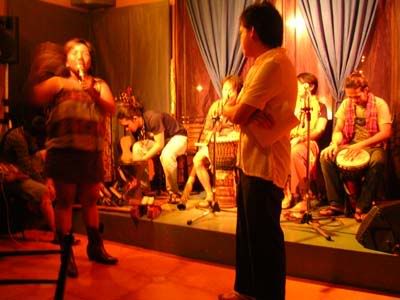 hostsss with the mostsss...
roselle and melfrench were the hosts for the evening. super low energy mag-host ang lola dahil sick siya daw. low energies pa yang lagay na yan ha. hehe. and of course, this wouldn't be conspiracy if there was no double triple bookings for the night. so there's this katribu band at the back (who sounded like they borrowed their equipment from pinikpikan, sabi ni mel hehe) na sabi nila binuk ni vim for back-up. eh????????? wotevah. at wala pa tayo sa orange and lemons set ha.
after us.
devah.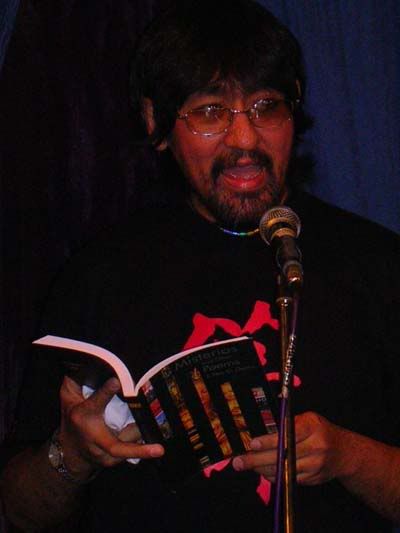 neil gay-man
what's an lgbt writers night without neil garcia? so there he was, punctuating his readings with "okay, that didn't happen" or "okay, that happened." haha he was cute. with the beard and all.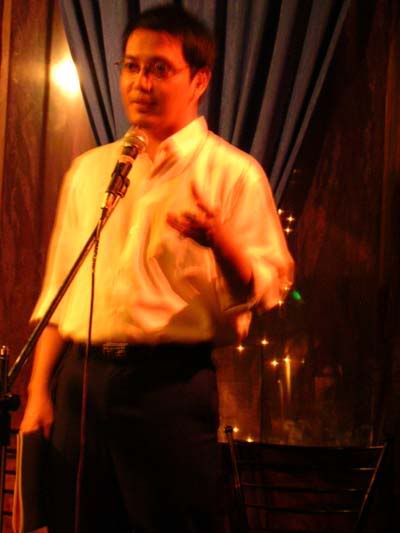 double the fun
cutie james doble quoted a FINDING FORRESTER quote saying people go to poetry readings to get laid. REALLY??????? in the philippines, i really doubt that. although i saw quite a few that night who seemed to be getting pretty lucky...hmm...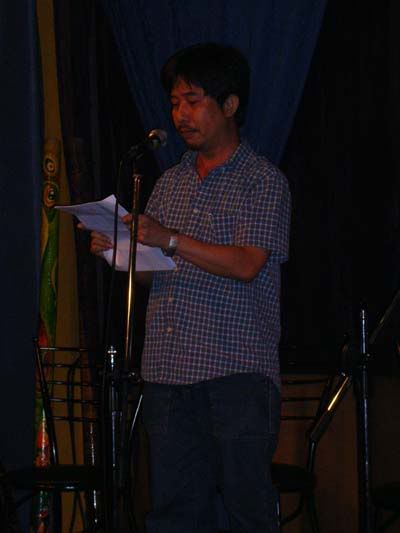 joey b of a_b
joey baquiran. galing niya mag-tagalog tula talaga.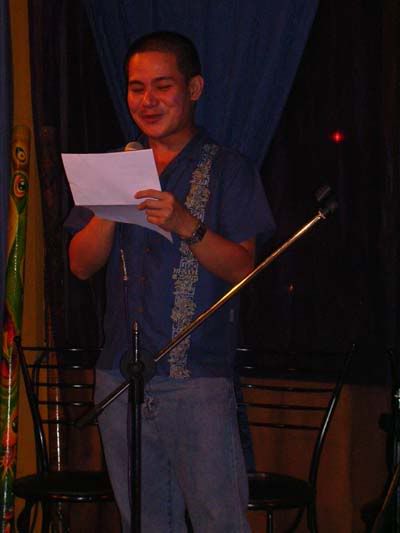 ralphie
good ol' ralph galan. whatever happened between the two of us as friends before, nakaka-miss siya as a friend. miss ko days namin just hanging out and cruising at malate. guess kung sino winona lagi. at sa mga afam. syempre hindi ako. hehe. (or,
hindi pa
teeheehee) ah, those were the days...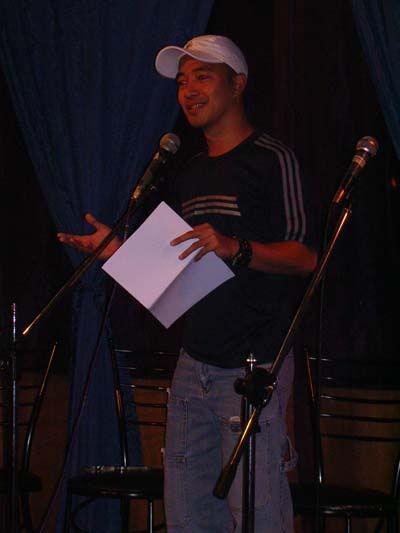 francis martinez
amboy ba siya? may accent eh. anyway, it's the guys who invited him naman e. i really don't know him.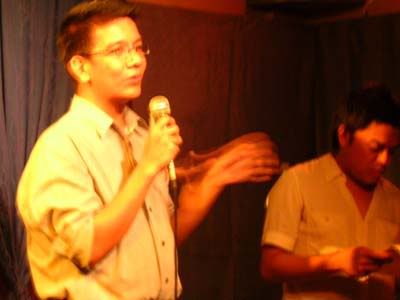 butch francisco. teeheehee.
that's guerrero for you or as we recall calling him way back in our '97 UP writers workshop in baguio,
barang
. bakit nga ba barang? hm. kaming tatlo nina omeng ang masipag umupo weekly over lunch at magplanu nitong gabing ito. paid off naman pretty swell, methinks.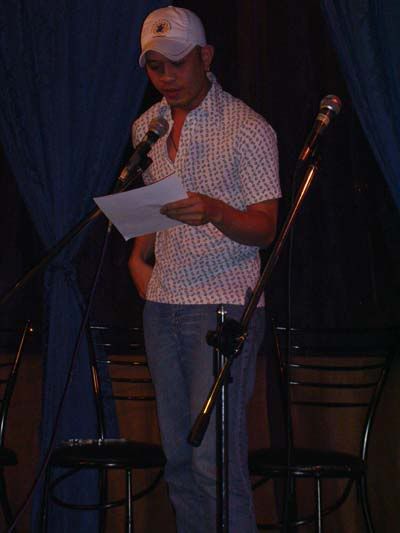 aries atienza
suki reader nina omeng and butch. he's nice.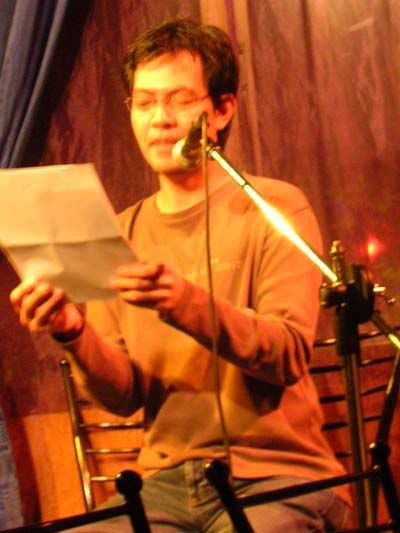 nori de dios
haba ng dagli ng lolo ha. kaya di tuloy ako nakabasa! hehe. nah, kasalanan yun ng orangefarts and lemonheads talaga.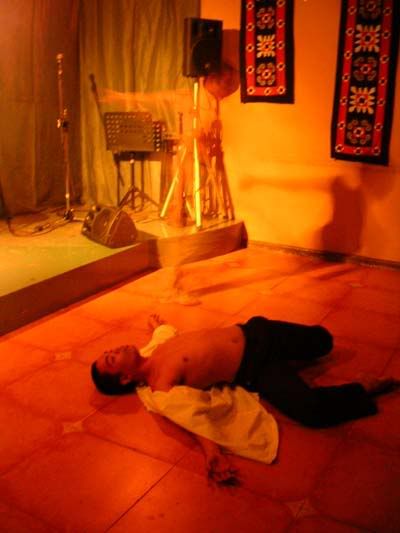 chameleon dance theater
i don't really understand why trained dance gay guys seem to have the same style... reminded me of this upbabaylan dude who used to dance a lot during pride marches. and jay cruz.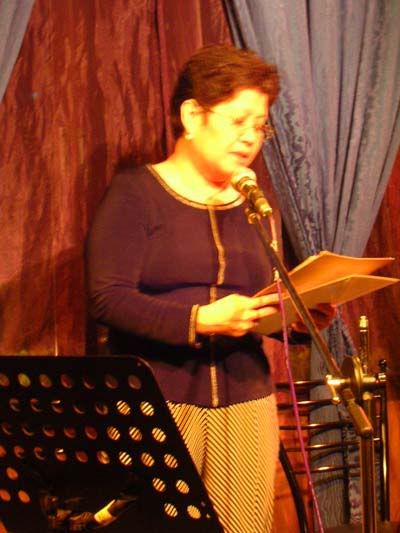 aida santos, extraordinaire
yep, the one and only. i'm glad she comes out and reads a lot these days. i like hearing her tell her own pieces.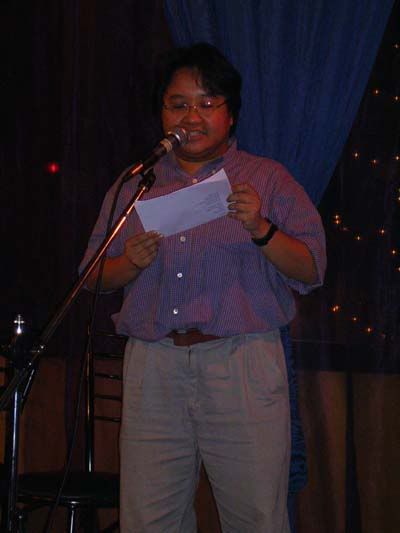 germaine leonin
reading someone else's work. i wonder when she'll read her own.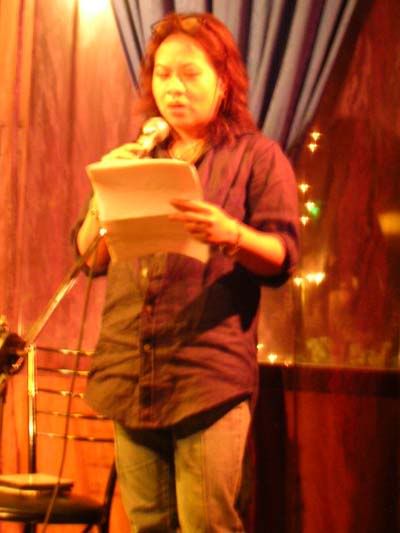 mari santiago
reading her own. at napa WHOOOAAH! ang mga coorganizers kong tibakish-nd when she titled her poem 'internationale" hehe. love in the time of rallies baga ang drama? teehee. hey mare, ring me up for any nomo ha.
onti ng L no. hay. lagi namang ganyan sa mga events. sabi nga ng ex-boss kong malaysian na si susanna, "they should rename these events man. it should be LGbt lah."
tru. lalo na pag white party weekend. pagkakamali naming lumibot kami dati sa malate ng white party weekend, i swear. and ending up in, of all places, bed!!!!! suz.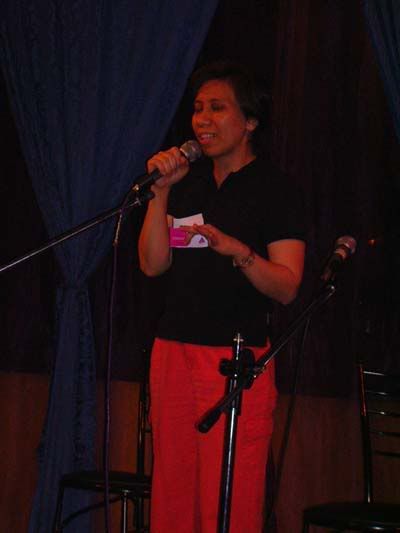 malu
lola malu marin didn't really read. i don't think she's a literary person. nag-plug lang ang lola ng upcoming pride march chuvaloo.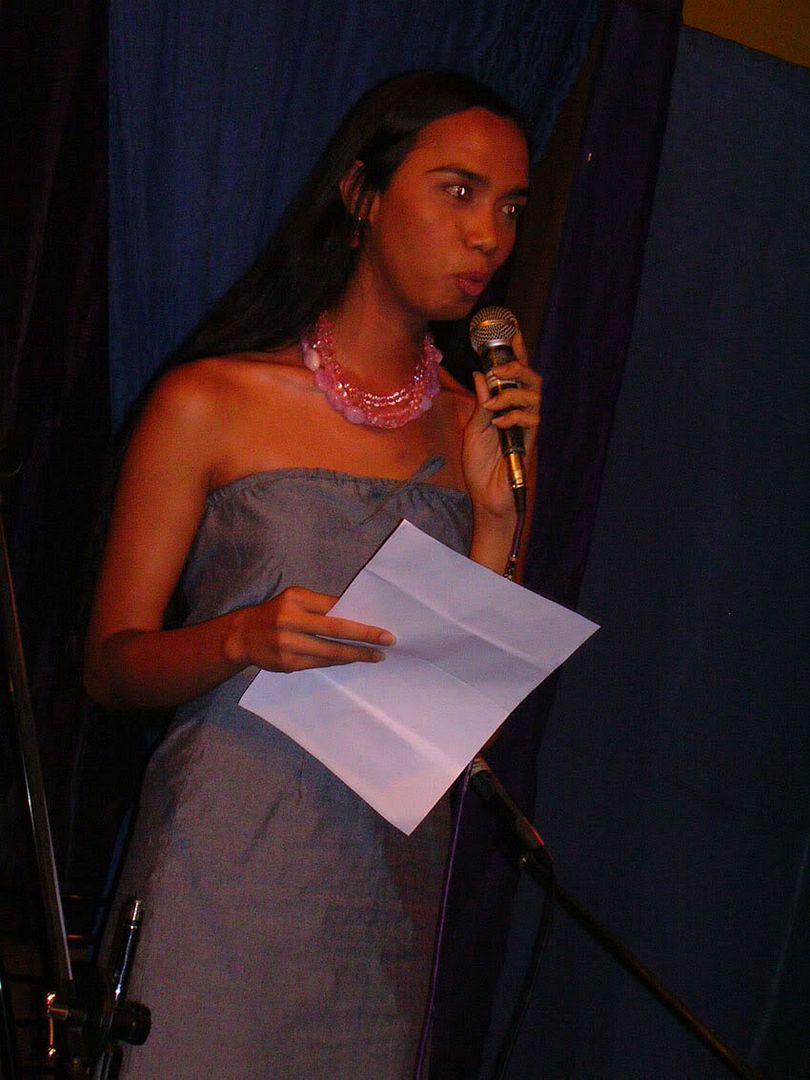 strap it on!
dee of the society of transsexual women of the phil read a "vagina-less monologue" hehe. ang cute.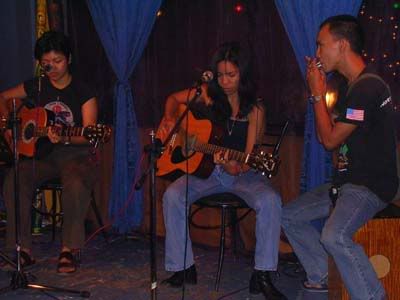 babes and mira and dude in square drum
sabi ni babes, sorry pero di pa raw siya nagta-transform sa other side hehe. is she sure???? hehe. ala lang. you know me, lagi naghahanap ng kakampi.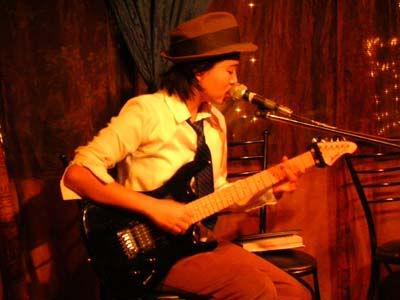 danicar mariano
she sang and read some octavio paz lines yata, if i remember it correctly.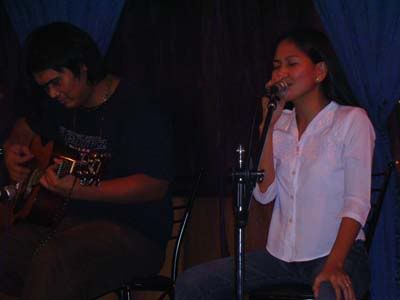 dodong and celeste
tuck and patti, kayo ba yan? char!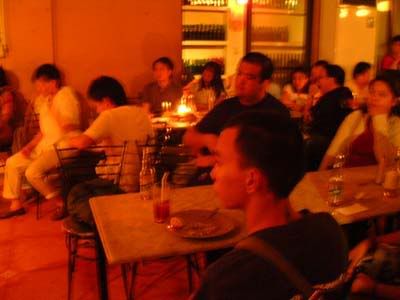 the owdyens
enjoy naman sila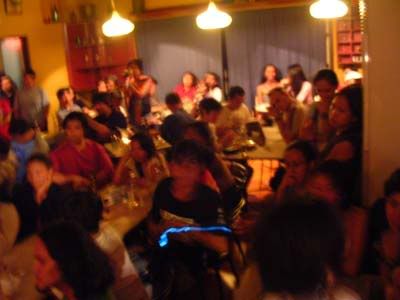 at ang dami nila hah! tiba tiba ang conspi.
it was a good night overall. i was happy even if i didn't get to read talaga. talaga. talaga! hehe bitter. wala lang, it was just touching to hear friends say na they stuck around because they wanted to hear me read. now that's friendship lah.