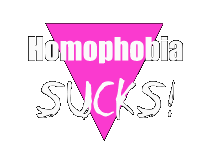 so much has been said and done ever since ex-supreme court justice isagani cruz (not to confuse him with the distinguished Filipino writer in English Isagani Cruz ha who teaches at De La Salle U) wrote his infamous column about the "encroachment of homosexuals in today's society" chenelyn.
my LAGABLAB network released an official statement which partly says:
Mr. Cruz should understand that human dignity has no sexual orientation or gender identity. Homosexuality is hardly a dilution of the male and female sexes, and femininity and womanhood, upon which equal scorn and prejudice have been heaped by Mr. Cruz, are not synonymous to weakness. The 'third sex' that he ridicules does not exist at all, since we are all equal in dignity and respect, as affirmed by our Constitution, our laws, and the international agreements on equality and human rights that the Philippines signed.

The Filipino LGBT community will continue to march – in sagalas and during the annual Pride parade – because we do not take bigotry sitting down. The likes of Mr. Cruz can't – and we will not let them – push the Filipino LGBT community back to invisibility.

bet. read the whole letter
here
.
and then another network of lgbt lawyers, Rainbow Rights, said this, in part:
Homosexuals have been around for so long, and like other marginalized groups, they have been subjected to persecution. On the issue at hand, it worries us that a legal luminary of his caliber would condone mauling of gays. Yes, gays are mauled. We certainly hope that the irresponsible statements of Justice Cruz, a person of credibility and unquestioned brilliance, would not be taken as a license for macho men to use violent means to keep homosexuals in check. We are everywhere, and for a long time, we have been quiet and invisible. However, staying closeted and afraid is no longer an option when our fear makes us vulnerable to violence, to extortion, and even the callousness of others.

Lastly, his statement correlating the virility of males and the grace of females to strength and weakness shows a misplaced regard for women especially at a time when women constitute probably the strongest workers here and abroad. Our country's faltering economy is sustained by the sweat and sacrifice of women as factory workers, informal workers, and Overseas Filipino Workers. At our time of dire need, while there is grace in being female, there is no weakness. And yes, there is strength without the virility of maleness.

email them at r_rightsproject@yahoo.com for the rest of their chenelyn.
and of course, political family heir manolo (that's manuel l. quezon da third) wrote this wonderful wonderful rebuttal in his own pdi column which partly states:
When he casts the law as an instrument for prosecution, persecution and discrimination, he must be fought. That he discredits polite behavior by portraying civilized discourse as a fancy disguise for his uncritical obedience and intolerant enforcement of uniformity; that he defames religion by turning it into an ideology of hate; that he makes a mockery of filial piety by insisting that tyrannical instincts should be cultivated among the elderly and enforced upon their direction—these should inspire not pity for his moral dementia; these must provoke anger. And condemnation.

winner! read more of manolo's brilliance
here
.
letters to the editor and the reader's advocate head poured in, just like the small quip i sent them. it turns out that ms. lorna kalaw-tirol, my ex-boss' wifey, is
the
reader's advocate. sabi nga ni former masscomm dean teodoro, ms. lorna is like the "press ombudsman" of the inquirer. yun pala ang job ng reader's advocate. ngayon ko lang nalaman. gulat kasi ako when i got a reply from her in my email. sabi niya (emphasis mine):
"Dear Libay, Thanks for your feedback. I have received a lot of e-mail from other angry readers, and you do have reason to be outraged. It is unfortunate that the column was published at all. The Inquirer cannot publish all the letters, but they will be forwarded to Isagani A. Cruz. "

yehei! buti naman. pero that doesn't mean na tapos na ang counting. you guys can still go ahead and email her what you think of this injustice cruz' column ha. patuloy pa rin yan.
then she emailed again to alert me of ms. cheche lazaro's Media in Focus show sa ANC channel na nag-guest daw siya, si manolo and si john silva, this gay writer whose 35-year partner jonathan best's ltte was so far the only one reprinted by pdi. i caught the replay and it was good. okay ang handling. sabi pa ni ms. lorna sa show, mas marami pa silang nakuhang feedback from this column than the garci brouhaha before. in fact, ito raw ang pinakamaraming feedback/letters na nakuha ng pdi sa history nila regarding one topic/column.
bet. ibig sabihin, marami nang tao -- homo or hetero -- ang ayaw yurakan ang pagkatao ng mga kapwa nilang tao na nagkataong bakla o tomboy o bisexual o whatever.
buti naman. it's time more people opened their minds. i'd like to thank my straight friends din who sided with us and fought with us in this episode of our lives.
hey, even the manila times sided with us! sabi nila sa isang recent editorial nila:
Mr. Cruz's idea of an acceptable social order is anathema to us. He calls it conservatism but it's really conformism of a rather odious sort.

The Manila Times has always stood up for gay rights and for the toleration of those who are different not only in their way of life but, more important, in their ways of thinking.

We think we're right.

yehei! we think that's so cool! bilis, bigyan sila ng traffic at basahin ang buong editorial now!
click here!
para masaya naman!
saka regarding ethical journalism, tama rin yung sinabi ni dean teodoro about this whole brouhaha thingie. to quote him:
What isn't a matter of opinion is that Mr. Cruz is in violation of the Journalists' Code of Ethics, to the observance of which the PDI Manual of Editorial Policies commits its columnists in Section VIII. This Section of the Manual declares that:

"Delicate topics,particularly those dealing with religion, race and minority groups, should be handled with great prudence and care. The columnists should always be aware of the dangers of bigotry. In no case should they criticize or ridicule another person on the basis of his or her religious beliefs, race, sexual preferences, etc."

This provision of the PDI Manual echoes Section VII of the Journalists' Code of Ethics, which states that journalists "shall not in any manner ridicule, cast aspersions on, or degrade any person by reason of sex, creed, religious belief, political conviction, [or] cultural or ethnic origin." In this case Mr. Cruz was ridiculing and casting aspersions on an entire group of persons-- a form of stereotyping which makes the offense even worse.

Journalists have the freedom to say what they please--but only to the extent allowed by the ethics and professional standards of journalism. They may not accuse persons of crimes unless they have been convicted, or claim that they have disgusting diseases, for example. There's a reason for this, and it's to protect vulnerable persons and groups from the kind of abuse Mr. Cruz let loose last Sunday.

tama! dapat ngang ilagay ang isyung ito sa context ng journalistic ethics. usapang ethics kasi ito e. dito rin papasok ang debate ng "hate speech is freedom of expression" tienes. but i think dean teodoro's citing of this certain provision hits it on the spot, and answers the debate.
but then, mr. injustice replies, once again, in his column. however, it is only manolo whom he cites. dedma sa ibang feedback baga! or, as a fellow lesbian advocate said, para daw di ma-boykot in general ang inquirer. may move na kasing ganun. kasi nga naman, parang dun sa plaridel egroup ni ka pete lacaba, parang manolo vs. isagani lang ang nangyayari. e ano result? buy ng buy ng pdi ang mga utaw. nga naman. hm...
again, 'wag na siyang bigyan ng traffic.
SEPARATE OPINION
Neither here nor there
By Isagani Cruz
Inquirer
Last updated 08:41am (Mla time) 08/20/2006
Published on page A10 of the August 20, 2006 issue of the Philippine Daily Inquirer

IF I had known that Manuel Quezon III was gay, I would have desisted from writing that column last week on homosexuals out of respect for a fellow columnist. But now that he has retorted angrily and called me a bigot among other names, I have no choice but to reply.

I started that column with the caution that it was not intended as an attack against homosexuals in general and did not include "those who have behaved in a reserved and discreet manner unlike the vulgar members of the gay community who have degraded and scandalized it. I offer abject apologies to those blameless people I may unintentionally include in my not inclusive criticisms. They have my admiration and respect."

As Mr. Quezon himself does not consider himself among the exceptions, he would be what we lawyers call a "proper party," or one who is directly injured. In fact, he appears to be severely wounded by my remarks and is hemorrhaging profusely. He, therefore, has a right to react to my "insults" in the waspish manner he saw fit.

He calls me a hate-monger for deriding the vulgar practices of his kind and says I have no right to say what is tasteless and intolerable. Who has—he? Justice Oliver Wendell Holmes said that freedom of speech includes not only the right to express the thought that agrees with us but also the thought that we abhor. Voltaire was grandiloquent: "I may not agree with what you say, but I will defend to the death your right to say it."

Criticism is normal in the free society and is available to everyone right or wrong. The ideas that may be expressed under this freedom are not confined only to those that are sympathetic or acceptable, for that would make the freedom more shadow than substance. To be really meaningful, it should permit the articulation of even the unorthodox view, though it is hostile to or scorned by others. One of the purposes of this freedom, in fact, is to invite dispute.

If I do not appreciate the paintings of Picasso, any one who disagrees with me may say so and explain his reasons. But he cannot attack me personally for criticizing his idol. Mr. Quezon compares me to the tyrants in the police states where unacceptable identity or thought is systematically exterminated. In the free society, ideas are countered with ideas, not pejorative names. For criticizing his kind, Mr. Quezon likens me to the Nazis and the Reds and brands me a hate-monger.

Hate is not per se objectionable as Mr. Quezon may imply. Jesus Christ hated sinners and angrily drove the merchants and money changers from the holy temple they were desecrating. Was he a hate-monger for doing so? When Winston Churchill called on his countrymen to resist the enemy with all their blood, sweat, toil and tears, was he a hate-monger in the despicable sense of the phrase? That is what Mr. Quezon would call me for criticizing his kind.

I am a hate-monger against grafters, murderers, rapists and other criminals, but I only dislike the coarse homosexuals he defends, as is his right. Also disagreeable to me are straight persons who wear loud clothes, flunkies, hypocrites, humbugs and other unpleasant figures, male and female, in our imperfect society. I have the right to criticize them even as they have the right to reply in the common exercise of our freedom of expression.

It all depends on what and whom you hate. If I criticize homosexuals who disgrace their sex with their tasteless practices and appearance, any one among them can rise in defense and say why they should not be called obnoxious. But not in an obnoxious manner.

Mr. Quezon faults me for disagreeing with some practices of his kind that I find intolerable and insists that they have the fundamental right "to those we choose to love, to have relationships with and with whom we aspire to share a life marked by a measure of domestic bliss and emotional contentment."

Who's interfering with your romances? As long as you are not violating the law, you are free with your liaisons, and I for one do not pry into your amorous affairs. Nor do I want to.

The important thing is that you have no right to demand that I agree with your pleasures or to forbid me from criticizing your "emotional contentment" if they offend the public interest. You cannot claim a preferred treatment because you are what you are even as you say you should be treated like the rest of the people despite what you are.

Finally, rejecting my reservation that my criticisms are only for the distasteful among you, you piously declare: "I will not embrace him, not for that, much less shake his hand or offer him the opportunity for civilized disagreement." That opportunity is not yours to give, Mr. Quezon, and as for not embracing me—thank God.

ibang klase ano. ibig sabihin, kung di pala bading si manolo, walang ganito. patuloy lang siya sa pagtira nga sa sangkabaklaan. parang si manolo lang ang sorry siyang na-offend... pero hindi rin. look at his last sentence. "as for not embracing me - thank god." just how homophobic can this guy really get????
i can sense na nagtitimpi siya sa column na ito. i'm sure meron pa siyang mas scathing na nais sabihin sa ating lahat. pero dahil nga sa political heir ang kanyang na-slight, ay day, "qualified apology" lang ang nakuha dito -- hindi natin, hindi ng lgbt community, kundi ni manolo lamang. sa kanya, parang si manolo lang ang na-offend. hm, bakit kasi hindi tayo political heirs ano? e kung yung lolo ng tatay ko ay barangay chairperson dati, does that count? hm, maybe not enough clout in the government...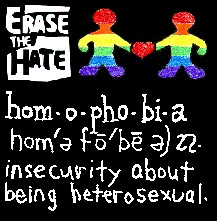 meron pa siyang "who's interfering with your romances/amorous affairs" chenelyn. is it just me or is there a sense here )okay, read between many lines na lang) na parang slight na-reject siya before ng isang mhin na nais niyang maging amor before? ewan koh, may nafi-feel akong ibang dimension sa mga tienes niya! may ongoing hypothesis nga na ang super-phobic ma mga utaw diyan ay latent lgbt rin naman... kasi nga, case in point, may ilan sa aming populasyon ang ganito noong sinaunang panahon hanggang malinawan ng husto ang pag-iisip at niyakap na sa wakas na bukal sa kalooban ang tunay naming identity. swear.
oh well. politically-motivated pa rin ang kanyang "apology" if you can even call it that. "disclaimer" is more like it. kaya kelangan talaga itong sagutin. agad! kaya nga medyo na-offend ako sa isang binanggit sa isang lgbt egroup ko nung may nagsabing hinay-hinay lang daw sa pagpapadala ng replies and responses sa pdi kasi maraming koneksyones itong ex-injustice na to na puwedeng maimpluwensiyahan at maapektuhan ng pagsulong naming lahat ng
anti-discrimination bill
sa senate ngayon. 'wag daw maging balahura sa pag-reply kahit balahura yung re-reply-an. ay, na-offend naman ang byuti ko doon. i don't think balahura ang pag-reply o pagbigay ng opinyon tungkol sa isang bagay. ayan nga o, sabi ni ms. lorna, "i wish [the inquirer] could get more letters."
hay.. well, kanya-kanya lang siguro tayo ng approach, mga lola, hane?
o sya, mahaba-haba na to. sa susunod na lang ulit. abangan na lang natin ang susunod pang mga kabanata sa ating napakakulay na buhay bilang mga pilipino sa dekadang ito.