CURRENT BEVERAGE: c2 the green one
CURRENT CHI-CHA: nada
WHO I WANT TO KILL TODAY: people who do the "othering"
WHO I WANT TO HUG TODAY: people who are treated as "the other"
pinikpikan
just closed the "batucada sa la mesa" jamming thang on studio 23 as i type this. it was just strange to hear them play without the comfort of hearing the female contribution of carol. nag-iba yung tone nang sumali si
grace nono
sa salidumay. the group's sound needs a woman's touch talaga. i never knew it could have that world of a difference without the female sound. ngayon ko lang narinig. hmm, i guess the "world" in "world music" comes from the female touch. ayuz. all the world's a woman hehe. empowering! :)
hm, maybe that's the reason why i was never totally drawn to push through with joining
kontragapi
when i was in college. the group's sound was so masculine, and i just realized that when i watched them earlier in the same show. it was like "the edru showwwww...and oh, thisensemblebehindmengapalacomposedofpeyupskids." not to mention all of my friends who were in kontra then discouraged me totally to join the group. i was so intrigued pa naman with their percussions and stuff, yung kulintang mostly. i wanted to learn how to play that thang e. well, i guess mas malaki yung daga sa dibdib ko way back then kaya nadaig din ako ng kaba, with the way they were characterizing edru. well... such is life. the closest thing i got to play is some gong thang up north with the ifugaos/kankanaeys in hapao during their ritual thingie when they were welcoming us
mekong docu fellows
. after killing a pig and making that pinikpikan literal chicken thing. ayuz.
but the interest with percs never really died with me. kaya minsan, on my own, i try to play around with borrowed djembes. pero parang hindi pang-djembe ang kamay ko, pang-drumset talaga yata. kaya pag naka-ayos-ayos na ko ng konti, pa-project-in ko yang drum set. una kong nag-aral when i was in college, too, sa house ng high school friend ko. may rickety hand-me-down set siya dun na pinaglalaruan namin. oks sanang paglaruan yung drumpad machine ko tulad nung dating pinaglalaruan ko yun when we have tong its-singing-jammings during our senior year pero hm, hindi pa pala sinosoli ni gigi yun 'til now. paging gigi...?
once, i watched this woman, a british gal, evelyn or evelina something, who was deaf but she played drums, percussions, yung super-big things na nun ko lang nakita. galing. katuwa. nakatapak siya nung tumutugtog. kewl.
i dunno what's with drums. siguro in my past life, when i was a gypsy or something, tunutugtog din ako ng some kinda tambol thang, while bellydancing hehe. that, or playing violin, another instrument i want to learn. pero parang hindi pang-kwerdas ang aking musical aspirations. ni hindi ko nga matagalan ang gitara dati eh. hay... but i like the way that in a regular drum set, your lims separately do things but combined, they fomr a coherent sound. rhythm, harmony, whatever you call it. they jive. namamangha ako sa fact na yun. saka of course yung sound. something about the thump-thump of percs makes me...calm. really. it's like when it beats, it beats with my heart or something inside, and they sync or something... basta, something like that. i dunno if you guys can remotely udnerstand what i'm saying but what the hey, you're reading this anyway :P
well, on to other things.
slight lumalabas na sa ilong ko yung konsepto ng pantayong pananaw nizeus salazar. ito yung report ko kanina sa cinema and nation class ko. eloi was kind enough to lend me her book about it and some readings pa. ayun, binasa ko ever at paulit-ulit lang namang ineeksplika yung konsepto kaya by this morning, namemorya ko na what the dude wants to happen with his theory. it's an interesting theory but it really makes me wornder how it can be pulled off. oh we of different languages, traditions, quirks, beliefs, ambitions and thinking. can one thing really unite pinoys and solidify us as one nation? hm. i don't think so. kahit yung women's movement nga may movementssss e, dahil sa dami ng pinagkaiba-iba ng pinanggagalingan at gustong patunguhan, itong bayan na to pa kaya?
well, i guess it's not bad to theorize about it. perhaps in some small way, we are sometimes connected to each other, in sync with one another, in a heartbeat or two, or whatever. it's just strange and sad that we feel that more when we are not here, when we are in a foreign land. how i wish we can feel that here, in our own land, mas madalas. well, but that's just me.
*

guilty pleasure of the night: eating good-tasting bad cholesterol while watching SMALLVILLE season4. yah di ako makahintay ng pasko break; have to have my superpowers angst-fix now! i just got to the part where most of the actors connected to christopher reeve's career appeared. i mean hey, si margot kidder!! yu gotta be kiddin. role niya ay sidekick nung scientist role ni christopher reeve. and then...insert SOMEWHERE IN TIME theme song...jane seymour. as nanay ng nyowa ni lana na na-meet nya sa paris. ano ba itich. siguro ang hinihintay ko na lang si gene hackman (as the original lex luthor sa movies nung 80s) at kumpleto na ang barkadah! pag siya pa lumitaw dun... hewan ko nah. di ba la nawindang akesh nang sumipot si superman mismo, si christopher reeve! nalokah ako dun. parang i felt like i was trapped in some space warp ng naggigitgitang time-space continuum wormhole when i saw a two-shot of clark and him. kakaiba. sabagay, si nanay nga ni clark ngayon eh, she's the same actress who played lana lang in the SUPERMAN 3 movie before, the one where superman had a doppelganger in maroon and cobalt blue shade uniform (actually, mas cool nga yung costyum ng bad superman). grabeh who could forget these things? i was but a small kid when i watched these movies on the big screen in the '80s. ansaysaya.
and now we have this.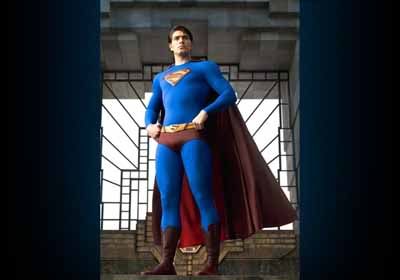 superman
returns
. next year. hm. let's see what he can do.
but dude, his colors are like the bad superman's colors! hm...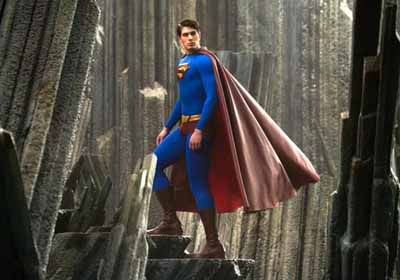 dude ain't that the set of the old movie?
what's the attraction for me? i guess the thing is, he's human (well, kinda) but he can fly. as in lipad! he's the first superhero i saw na lumilipad on his own in the movies when i was small. that makes a lasting impression man. because i myself want to fly. as in defy gravity type of flying baga. i once seriously considered to be an astronaut nga, di ba? zero gravity is for me hehe.
as for smallville, it's just fun how they reworked the superman myth na dinidiskubre pa lang nya ang powers niya. kyut konsept.
but this fourth season's hitting close to home again. something about separations and secrets, thinking of a common good and a common denominator, deciding on things and deciding where you stand in relation to them. stuff like that. daming ganyan this season, and i'm enjoying it.
*

quote of the month: "hindi natutugunan ng pag-ibig ang lahat."
naks. oo nga naman. :)
aliw to o hehe. encountered this while researching anew about dante.
The Dante's Inferno Test has banished you to the Eigth Level of Hell - the Malebolge!
Here is how you matched up against all the levels:
Take the Dante Inferno Hell Test



ayuz. hehe.
naks eto potah ako 'ata ito!!!
You are the Undying Artist. Moody, erratic, and
empassioned, you find art in the darkness. You
cultivate dark beauty and dark artists to
surround yourself and drink of the song in
their blood.
What Fictional Vampire Archtype are You?
brought to you by
Quizilla
*

palapit na naman ang pasko. [insert sigh...] at ako pa ang nilagay sa christmas committee ng upfi... [insert double sigh] don't they know who they're asking?
apparently not.
whatever yule jubilation i
have
had, well... it's stll not back, dude. even if there's something different... wala eh, same old same old.
man. wish me luck.
*

sometimes, no matter how hard you try, you just never get the family structure you imagine having. ever. no matter where you go in the world. look at superman. there's always the fear of discovering a new variant of kryptonite.
what's the point of flying, then?